List of States in United States of America
America is one of the largest Countries in the World and has 50 states with different flags. The states and territory of America have total of 435 seats in US House. The total population of the country is about 323.1 million (2016) including territories. The 50 states of USA is divided into 4 parts by US Census Bureau region, they are The West, The Midwest, The South and The Northeast. Below given list of States of America with Population and seats in the US house.
The United States of America is the world's fourth largest nation both in an area and in population. It can be roughly divided into three regions: the hilly east, the flat center, and the mountainous west. It is the most wealthy and developed country on Earth.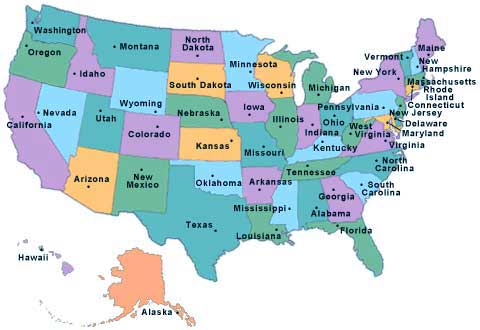 | No | Name of the States of America | Population (2011) | Seats in US House |
| --- | --- | --- | --- |
| 1 | Alabama | 4,802,740 | 7 |
| 2 | Alaska | 722,718 | 1 |
| 3 | Arizona | 6,482,505 | 8 |
| 4 | Arkansas | 2,937,979 | 4 |
| 5 | California | 37,691,912 | 53 |
| 6 | Colorado | 5,116,769 | 7 |
| 7 | Connecticut | 3,580,709 | 5 |
| 8 | Delaware | 907,135 | 1 |
| 9 | Florida | 19,057,542 | 25 |
| 10 | Georgia | 9,815,210 | 13 |
| 11 | Hawaii | 1,374,810 | 2 |
| 12 | Idaho | 1,584,985 | 2 |
| 13 | Illinois | 12,869,257 | 19 |
| 14 | Indiana | 6,516,922 | 9 |
| 15 | Iowa | 3,062,309 | 5 |
| 16 | Kansas | 2,871,238 | 4 |
| 17 | Kentucky | 4,369,356 | 6 |
| 18 | Louisiana | 4,574,836 | 7 |
| 19 | Maine | 1,328,188 | 2 |
| 20 | Maryland | 5,828,289 | 8 |
| 21 | Massachusetts | 6,587,536 | 10 |
| 22 | Michigan | 9,876,187 | 15 |
| 23 | Minnesota | 5,344,861 | 8 |
| 24 | Mississippi | 2,978,512 | 4 |
| 25 | Missouri | 6,010,688 | 9 |
| 26 | Montana | 998,199 | 1 |
| 27 | Nebraska | 1,842,641 | 3 |
| 28 | Nevada | 2,723,322 | 3 |
| 29 | New Hampshire | 1,318,194 | 2 |
| 30 | New Jersey | 8,821,155 | 13 |
| 31 | New Mexico | 2,082,224 | 3 |
| 32 | New York | 19,465,197 | 29 |
| 33 | North Carolina | 9,656,401 | 13 |
| 34 | North Dakota | 683,932 | 1 |
| 35 | Ohio | 11,544,951 | 18 |
| 36 | Oklahoma | 3,791,508 | 5 |
| 37 | Oregon | 3,871,859 | 5 |
| 38 | Pennsylvania | 12,742,886 | 19 |
| 39 | Rhode Island | 1,051,302 | 2 |
| 40 | South Carolina | 4,679,230 | 6 |
| 41 | South Dakota | 824,082 | 1 |
| 42 | Tennessee | 6,403,353 | 9 |
| 43 | Texas | 25,674,681 | 32 |
| 44 | Utah | 2,817,222 | 3 |
| 45 | Vermont | 626,431 | 1 |
| 46 | Virginia | 8,096,604 | 11 |
| 47 | Washington | 6,830,038 | 9 |
| 48 | West Virginia | 1,855,364 | 3 |
| 49 | Wisconsin | 5,711,767 | 8 |
| 50 | Wyoming | 568,158 | 1 |