The United States of America is home to hundreds of rivers, and with a land area of 9.834 million km2, the country can house several huge rivers. Approximately half of the rivers on the list are tributaries to other rivers on the list; the remaining rivers flow straight into oceans, seas, gulfs, or bays.
1. Mississippi River
Mississippi is the largest river in the United States with an average discharge volume of 593,000 CFS (cubic feet per second) at the mouth. The calculation of the discharge excluding the Atchafalaya-Red River basin.
Discharge (cfs): 593,000
Drainage area: 1,150,000 sq miles in the U.S and Canada
Source: Lake Itasca
Source Location: Itasca State Park, Clearwater County, Minnesota. 47°14′23″N 95°12′27″W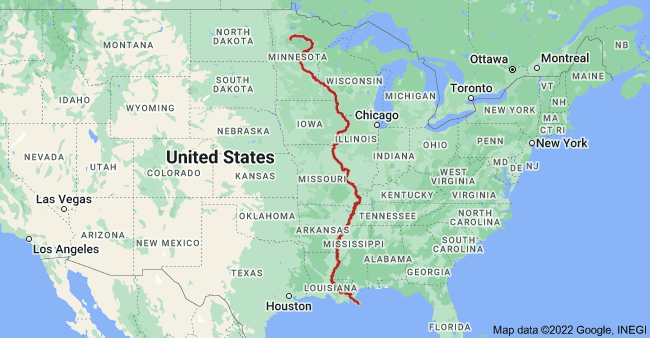 2. Ohio River
The Ohio River, located in the southern United States, is the second-largest river by discharge. Its drainage basin encompasses a portion of 14 states. The river's depth ranged from around 3 to 20 feet. It has dams and a network of reservoirs.
Discharge (cfs): 281,500
Drainage area: 203,000 sq miles
Source: Allegheny River
Source Location: Allegany Township, Potter County, Pennsylvania. 47°14′23″N 95°12′27″W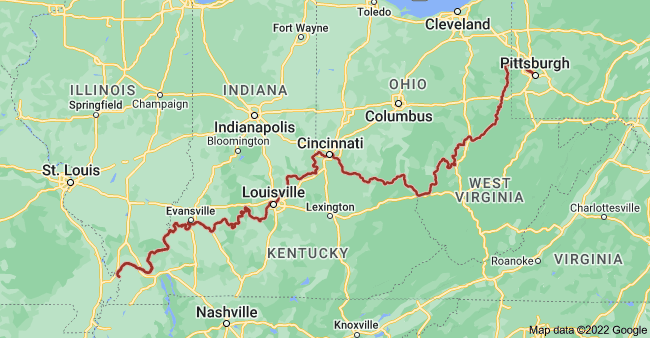 3. Saint Lawrence River
It is the second-largest river in the United States, with a discharge rate of 275,000 CFS of water emptying at the US-Canada border, making it the second-largest river in the country. The St. Lawrence River flows beside Gananoque, Brockville, Morristown, Ogdensburg, Massena, Cornwall, Montreal, Trois-Rivières, and Quebec City before draining into the Gulf of St. Lawrence.
Discharge (cfs): 275,000
Drainage area: 258,000 sq miles
Source: Lake Ontario
Source Location: Kingston, Ontario / Cape Vincent, New York. 44°06′N 76°24′W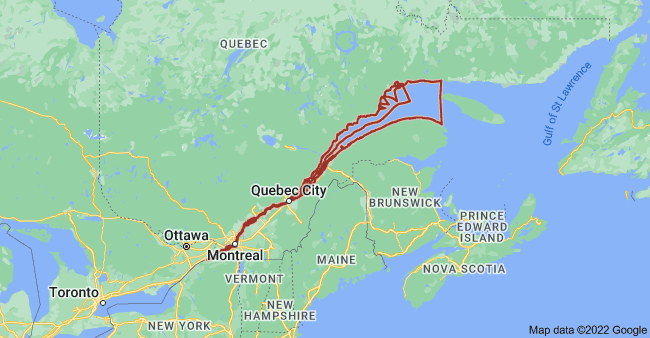 4. Columbia River
Columbia is one of the largest and longest rivers in the USA. The river originates in British Columbia's Rocky Mountains. It runs northwest and then south into Washington, then heads west to form the majority of the border between Washington and Oregon before draining into the Pacific Ocean. its largest tributary is the Snake River. Its drainage basin stretches over seven US states and one Canadian province.
Discharge (cfs): 273,000
Drainage area: 258,000 sq miles
Source: Columbia Lake
Source Location: British Columbia, Canada. 50°13′35″N 115°51′05″W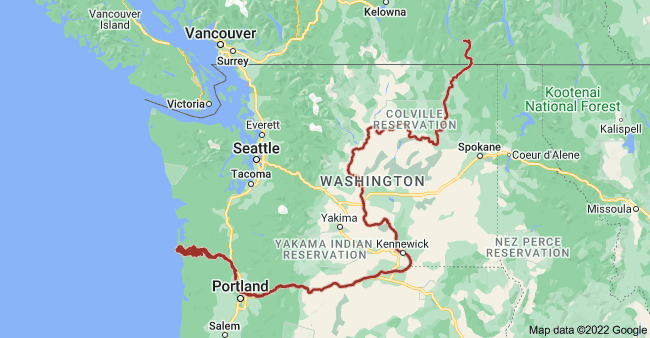 5. Yukon River
It runs across the Canadian territory of Yukon., (Yukon is Canada's territory named after the river). Yukon River is the longest in Alaska and Yukon territory. The 75%half of the river flows westward through the state of Alaska in the United States.
Discharge (cfs): 227,000
Drainage area: 328,000 sq miles
Source: Llewellyn Glacier
Source Location: Atlin District, British Columbia, Canada. 59°10′N 133°50′W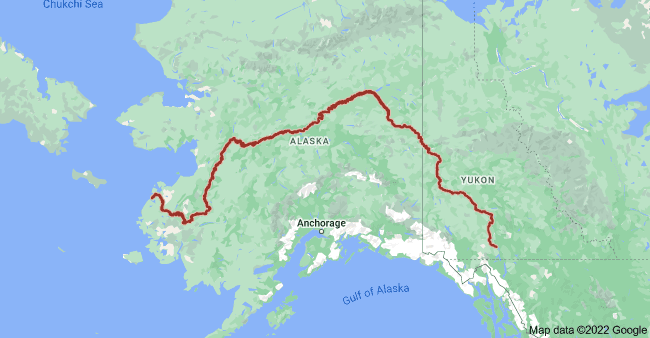 No
River
Length (km)
Average discharge
(cfs) (ft3/s)
Mouth
1
Mississippi River
3,730
593,000
Gulf of Mexico


(Pilottown, Plaquemines Parish, LA)

2
Ohio River
1,575
281,500
Mississippi River


(Cairo, Illinois / Ballard County, Kentucky)

3
Saint Lawrence River
965
275,000 (In U.S. side)
Gulf of Saint Lawrence


(Quebec, Canada)

4
Columbia River
2,000
273,000
Pacific Ocean


(Pacific Ocean, at Clatsop County, Oregon)



5
Yukon River
3,185
227,000
Bering Sea


(Kusilvak, Alaska, U.S.)

6
Atchafalaya River
220
225,000
Gulf of Mexico


(Morgan City, Louisiana)

7
Niagara River
58
204,700
Lake Ontario
8
Detroit River
51
188,000
Lake Erie

9
St. Clair River
63
183,000
Lake St. Clair
10
Missouri River
3,767
86,300
Mississippi River
11
St. Marys River
120
75,000
Lake Huron-Lake Michigan
12
Tennessee River
1,049
68,000
Ohio River
13
Mobile River
72
67,000
Gulf of Mexico
14
Kuskokwim River
1,130
67,000
Bering Sea
15
Red River
2,190
58,000
Atchafalaya River
16
Copper River
470
57,400
Gulf of Alaska
17
Snake River
1,674
55,000
Columbia River
18
Stikine River
610
56,000
Pacific Ocean
19
Susitna River
504
51,000
Gulf of Alaska
20
Arkansas River
2,322
44,500
Mississippi River
21
Tanana River
940
41,800
Yukon River
22
Susquehanna River
747
38,200
Chesapeake Bay
23
Willamette River
301
37,400
Columbia River
24
Wabash River
810
34,500
Ohio River
25
Alabama River
512
32,500
Mobile River
26
Nushagak River
450
32,000
Bering Sea
27
Alsek River
386
31,000
Gulf of Alaska
28
Cumberland River
1,120
30,000
Ohio River
29
Black River-Ouachita River
974
29,800
Red River
30
White River
1,159
29,500
Mississippi River
31
Pend Oreille River
210
27,000
Columbia River
32
Tombigbee River
320
26,300
Mobile River
33
Koyukuk River
684
25,000
Yukon River
34
Illinois River
439
24,000
Mississippi River
35
Sacramento River
719
23,500
Pacific Ocean
36
Porcupine River
916
23,000
Yukon River
37
Colorado River
2,330
22,000
Gulf of California
38
Clark Fork River
500
21,900
Pend Oreille River
39
Hudson River
507
21,900
Atlantic Ocean
40
Yentna River
121
21,000
Susitna River
41
Chitina River
180
20,000
Copper River
42
Allegheny River
523
19,900
Ohio River
43
Apalachicola River
80
19,602
Gulf of Mexico
44
Connecticut River
655
18,400
Atlantic Ocean
45
Kvichak River
80
17,900
Bering Sea
46
Klamath River
423
17,300
Pacific Ocean
47
Santee River
230
17,000
Atlantic Ocean
48
Skagit River
240
16,500
Pacific Ocean
49
Kootenai (Kootenay) River
781
27,600
Columbia River
50
Coosa River
450
16,000
Alabama River