The United States of America (USA) is one of the world's most populous and large countries, with several natural wonders. The overall height of the waterfalls, including drops, as well as the size of the waterfalls, which includes the total volume of water, are used to calculate the ranking.
Several of the world's largest and tallest waterfalls can be found in the United States, and they are popular among adventure tourists and visitors. While each waterfall is unique in its own way, picking which is the finest or most beautiful is challenging. The following is a list of US waterfalls are categorized by height and total volume (flow rate), with many of them having been officially measured.
Tallest waterfalls in the USA (by overall Height)
Here, The tallest waterfalls are measured by overall height including total drops.
1. Oloupena Falls
Total Height: 2,953 ft (900 m)
State: Hawaii
Oloupena Falls, also known as Olo'upena Falls, is the United States' tallest and unofficially the world's fourth-largest waterfall. It's located on the island of Molokai, which is located in the Hawaiian archipelago's northeastern region. It's a multi-tiered waterfall that's only visible in the rainy season (seasonal stream).
2. Pu'uka'oku Falls
Total Height: 2,756 ft (840 m)
State: Hawaii
Puukaoku Falls is a waterfall in Molokai on the Hawaiian island. It is the second tallest building in the United States and the eighth tallest in the world. It is narrow and severely carved and is located 500 meters east of Oloupena Falls.
3. Waihilau Falls
Total Height: 2,600 ft (792 m)
State: Hawaii
It is the world's 13th largest waterfall in terms of total height and the second tallest by the longest single drop. It's a Horsetail-style waterfall on the Waihilau River in Hawaii's Waimanu Valley. It has a single 792-meter-long drop.
4. Colonial Creek Falls
Total Height: 2,568 ft (783 m)
State: Washington
It's also known as Hiavaty Falls, and it's located in Washington's North Cascades National Park. Colonial Creek is the source of the waterfall, which features 14 different drops with an average slope of 65 degrees. There are 14 separate drops in Colonial Creek, with an average slope of 65 degrees. Colonial Creek is a small brook with a constant year-round flow.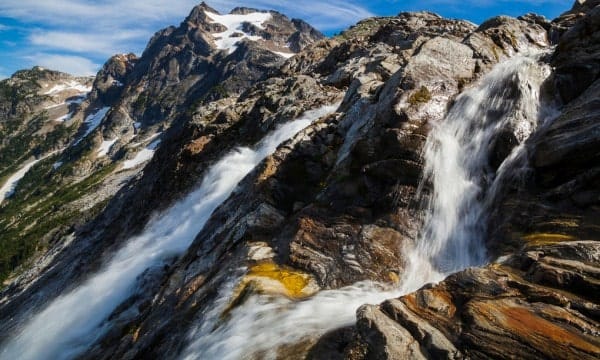 5. Johannesburg Falls
Total Height: 2,465 ft (751 m)
State: Washington
Johannesburg Falls is the world's 18th tallest waterfall, with a total of 5 drops, a pitch of 59 degrees, and a single greatest drop of 800 feet. This comes within the jurisdiction of Washington's Skagit County. The Johannesburg waterfalls get their water from the Glacier. From June through October, it falls heavily, with an average water volume of 25 cubic feet per second.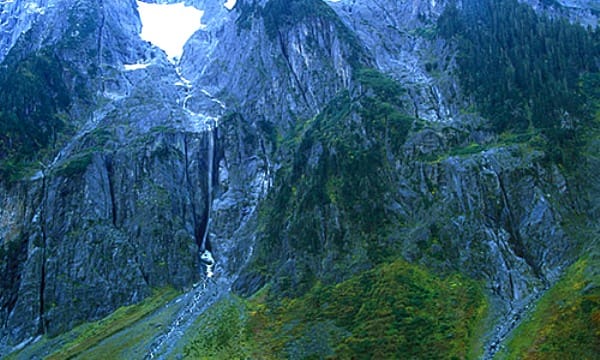 6. Yosemite Falls
Total Height: 2,425 ft (739 m)
State: California
Yosemite Falls, California's tallest waterfall, is located in Mariposa County. It has a total of six drops, each having an average width of 30 meters and an 85-degree pitch. It flows for eight months of the year, with an estimated average water volume of 250 cubic feet per second.
Largest waterfalls in the USA (by Volume)
The largest waterfalls are measured by Volume (Flow rate in CFS) which includes total drops.
CFS= Cubic Feet Per Second
1. Niagara Falls
Avg. Volume: 85,000 CFS
Water Source: Niagara River
Niagara Falls is a Cataract waterfall on Canada's (Ontario) and the United States (New York) international border. Niagara Falls is formed of the Horseshoe Falls on the Canadian side, American Falls on the USA side, and Bridal Veil Falls on the US side. The American Falls are 1,060 feet wide, while the Horseshoe Falls are 2,600 feet wide.
See Also:
2. Willamette Falls
Avg. Volume: 30,849 CFS
Water Source: Willamette River
It is the largest waterfall in the Pacific Northwest and the world's sixth-largest (1,500 feet). It's halfway between West Linn and Oregon City. Willamette Falls is 76 feet tall and has a horseshoe shape.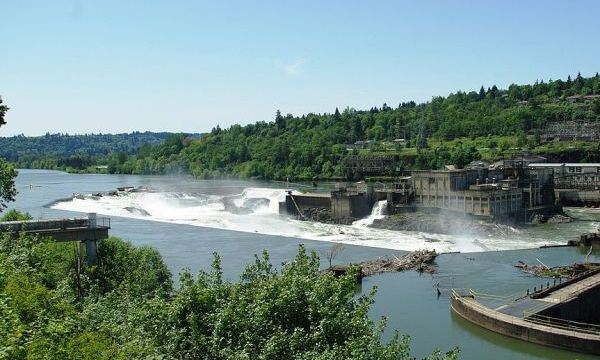 3. Great Falls
Avg. Volume: 16,750 CFS
Water Source: Potomac River
This is a notable waterfall in the United States, located in Montgomery County, Maryland, 15 miles from Washington, DC. The Potomac River's Great Falls are also known as the "Great Falls of the Potomac."
4. Kootenai Falls
Avg. Volume: 10,941 CFS
Water Source: Kootenay River
In Montana's Lincoln Country, you'll find the Kootenai Falls. With a height of 55 feet (including the biggest single drop of 30 feet) and a width of 1,000 feet, it is one of the largest waterfalls in the United States. Kootenai Falls is also known as 'Kootenay Falls.'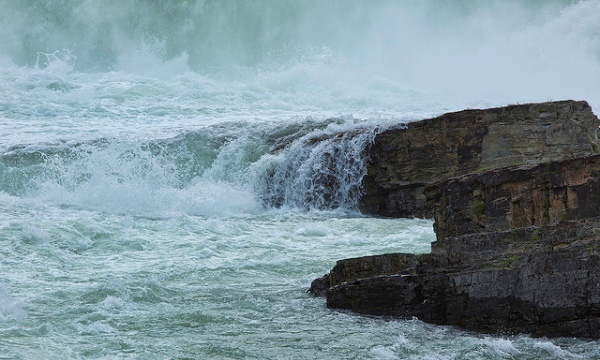 5. Sandstone Falls
Avg. Volume: 7,847 CFS
Water Source: New River
Sandstone Falls, the New River's largest waterfall, is 1500 feet wide (one of the widest falls in the US). The waterfalls range in height from 10 to twenty-five feet. The New River in West Virginia has formed this waterfall.
Inundated largest Waterfalls in the US
These waterfalls formerly existed and have since been flooded beneath the waters impounded behind a dam.
Celilo Falls
Avg. Volume: 190,000 CFS
Water Source: Columbia River
State: Oregon
Kettle falls
Avg. Volume: 165,340 CFS
Water Course: Columbia River
State: Washington