Turkey is a country in Eurasian that is located between Western Asia and Southeastern Europe. Turkish is the official language, and the country is divided into two major ethnic groups: Turks and Kurds. It covers an area of 783,562 square kilometers. With a population of over 13 million people, Istanbul is the largest city in Turkey and one of the most important cities in the world.
Capital: Istanbul
Currency: Turkish lira
Population: 73,639,596
Official language: Turkish Language.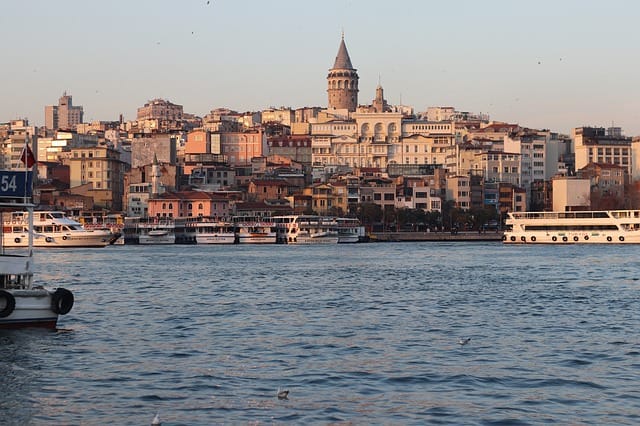 | Rank | City | Population | Region/Province | Area (Km2) |
| --- | --- | --- | --- | --- |
| 1 | İstanbul | 12,829,960 | Marmara | 5,343 |
| 2 | Ankara | 4,306,105 | Central Anatolia | 2,516 |
| 3 | İzmir | 3,276,815 | Aegean Region | |
| 4 | Bursa | 1,854,285 | Marmara | 1,036 |
| 5 | Adana | 1,563,545 | Mediterranean | 2,700 |
| 6 | Gaziantep | 1,495,050 | Southeastern Anatolia | 7.642 |
| 7 | Konya | 1,003,373 | Central Anatolia | 39,000 |
| 8 | Antalya | 955,573 | Mediterranean | 1,417 |
| 9 | Kayseri | 911,984 | Central Anatolia | |
| 10 | Mersin | 842,230 | Mediterranean | 1,772 |
| 11 | Eskisehir | 617,215 | Central Anatolia | 2,678 |
| 12 | Diyarbakır | 614,310 | Southeastern Anatolia | |
| 13 | Samsun | 511,601 | Black Sea | |
| 14 | Denizli | 492,815 | Aegean Region | |
| 15 | Sanlıurfa | 465,748 | Southeastern Anatolia | |
| 16 | Adapazarı | 399,022 | Sakarya Province | |
| 17 | Malatya | 388,590 | Eastern Anatolia | 1,582 |
| 18 | Kahramanmaras | 384,953 | Mediterranean | |
| 19 | Erzurum | 358,344 | Erzurum Province | |
| 20 | Van | 352,292 | Van Province | |
| 21 | Batman | 313,355 | Southeastern Anatolia | |
| 22 | Elazıg | 305,787 | Elazıg | |
| 23 | İzmit | 293,339 | Marmara | |
| 24 | Manisa | 291,374 | Manisa | |
| 25 | Sivas | 282,984 | Sivas | |
| 26 | Gebze | 282,444 | Marmara | |
| 27 | Balıkesir | 259,157 | Marmara Region | |
| 28 | Tarsus | 227,021 | Mediterranean | |
| 29 | Kutahya | 212,444 | Aegean | |
| 30 | Trabzon | 211,027 | Trabzon | |
| 31 | Corum | 210,822 | Black Sea | |
| 32 | Corlu | 210,362 | Marmara Region | |
| 33 | Adıyaman | 198,433 | Southeastern Anatolia | |
| 34 | Osmaniye | 197,747 | Osmaniye | |
| 35 | Kırıkkale | 192,705 | Kırıkkale | |
| 36 | Antakya | 190,377 | Mediterranean | |
| 37 | Aydın | 179,425 | Aydın | |
| 38 | İskenderun | 175,454 | Mediterranean | |
| 39 | Usak | 173,397 | Aegean | |
| 40 | Aksaray | 171,423 | Central Anatolia | |
| 41 | Afyon | 170,455 | Aegean | |
| 42 | Isparta | 166,895 | Mediterranean | |
| 43 | İnegol | 162,452 | Marmara | |
| 44 | Tekirdag | 142,602 | Marmara | |
| 45 | Edirne | 140,374 | Marmara | |
| 46 | Darıca | 140,302 | Marmara | |
| 47 | Ordu | 135,878 | Black Sea | |
| 48 | Karaman | 132,064 | Central Anatolia | |
| 49 | Golcuk | 129,713 | Kocaeli | |
| 50 | Siirt | 127,327 | Siirt | |