Ukraine is an Eastern European country with a number of minor cities as well as developing city space for inhabitant settlement. There are approximately 457 cities and municipalities, with 176 classified as Oblast Class. According to the most recent government data, Kyiv, Ukraine's capital and largest city, has a population of 2.89 million.
Capital: Kyiv
Currency: Ukrainian hryvnia
Population: 44.14 million (2020)
National anthem: Ukraine: Shche ne vmerla Ukraina
Official language: Ukrainian Language.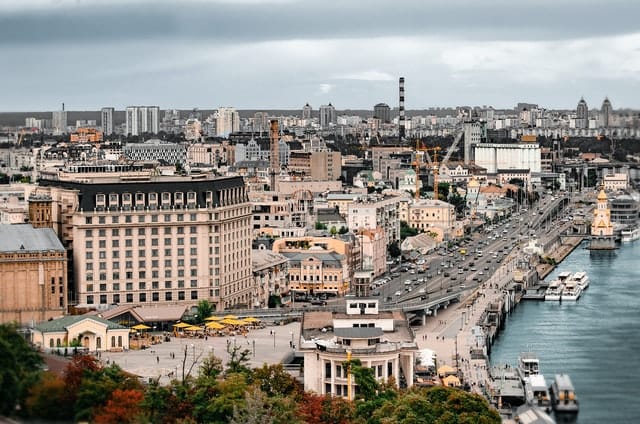 | Rank | City | Population | Oblast/Municipality | Elevation |
| --- | --- | --- | --- | --- |
| 1 | Kyiv | 2,611,327 | Kiev City Municipality | 179 m |
| 2 | Kharkiv | 1,470,902 | Kharkiv Oblast | 152 m |
| 3 | Dnipropetrovsk | 1,065,008 | Dnipropetrovsk Oblast | 155 m |
| 4 | Odesa | 1,029,049 | Odessa Oblast | 40 m |
| 5 | Donetsk | 1,016,194 | Donetsk Oblast | 169 m |
| 6 | Zaporizhia | 815,256 | Zaporizhia Oblast | |
| 7 | Lviv | 732,818 | Lviv Oblast | 296 m |
| 8 | Kryvyi Rih | 668,980 | Dnipropetrovsk Oblast | 84 m |
| 9 | Mykolaiv | 514,136 | Mykolaiv Oblast | |
| 10 | Mariupol | 492,176 | Donetsk Oblast | |
| 11 | Luhansk | 463,097 | Luhansk Oblast | 105 m |
| 12 | Makiivka | 389,589 | Donetsk Oblast | 169 m |
| 13 | Vinnytsia | 356,665 | Vinnytsia Oblast | |
| 14 | Simferopol | 343,644 | Simferopol municipality | 350 m |
| 15 | Sevastopol | 342,451 | Sevastopol Municipality | 100 m |
| 16 | Kherson | 328,360 | Kherson Oblast | |
| 17 | Poltava | 317,998 | Poltava Oblast | |
| 18 | Chernihiv | 304,994 | Chernihiv Oblast | |
| 19 | Cherkasy | 295,414 | Cherkasy Oblast | 110 m |
| 20 | Sumy | 293,141 | Sumy Oblast | |
| 21 | Horlivka | 292,250 | Donetsk Oblast | |
| 22 | Zhytomyr | 284,236 | | 221 m |
| 23 | Dniprodzerzhynsk | 255,841 | Dnipropetrovsk | 120 m |
| 24 | Kirovohrad | 254,103 | Kirovohrad Oblast | 124 m |
| 25 | Khmelnytskyi | 253,994 | Khmelnytskyi Oblast | |
| 26 | Rivne | 248,813 | Rivne Oblast | |
| 27 | Chernivtsi | 240,621 | Chernivtsi Oblast | 248 m |
| 28 | Kremenchuk | 234,073 | Poltava Oblast | 80 m |
| 29 | Ternopil | 227,755 | Ternopil Oblast | |
| 30 | Ivano-Frankivsk | 218,359 | Ivano-Frankivsk Oblast | 244 m |
| 31 | Lutsk | 208,816 | Volyn Oblast | 174 m |
| 32 | Bila Tserkva | 200,131 | Kiev Oblast | |
| 33 | Kramatorsk | 181,025 | Donetsk Oblast | |
| 34 | Melitopol | 160,657 | Zaporizhia | |
| 35 | Kerch | 157,007 | Crimea | 10 m |
| 36 | Nikopol | 136,280 | Dnipropetrovsk Oblast | |
| 37 | Sloviansk | 124,829 | Donetsk | |
| 38 | Berdiansk | 121,692 | Zaporizhia Oblast | |
| 39 | Sieverodonetsk | 119,940 | Luhansk Oblast | |
| 40 | Alchevsk | 119,193 | Luhansk Oblast | 211 m |