Coorg is India's most popular tourist destination and hill station, filled with natural beauties such as waterfalls, mountain ranges, lush green forests, and animal sanctuaries. Coorg's culture, people, natural beauty, and gastronomy are important draws that draw visitors from all over the world. Coorg is a district in the Indian state of Karnataka, around 250 kilometers from Bangalore and 150 kilometers from Mangalore.
Western Ghats range recognized by The UNESCO which spanned through this place, natural diversity is an icon for Coorg. As a Popular Hill Station in South India, it is also named for culture, Festivals, and its Historical background. Coorg is also called 'Scotland of India' 'Kashmir of Karnataka', has cool weather (15 to 24 C) in most parts of the district. There are many Tourist Places to Visit with many attractions such as waterfalls, viewpoints, trekking routes.
Coffee Estates are common in the district. The plantation is a prominent income source for the people of Coorg. Generally, People grow crops including coffee, pepper, rice, cardamom, ginger, orange, and other fruits and Spices.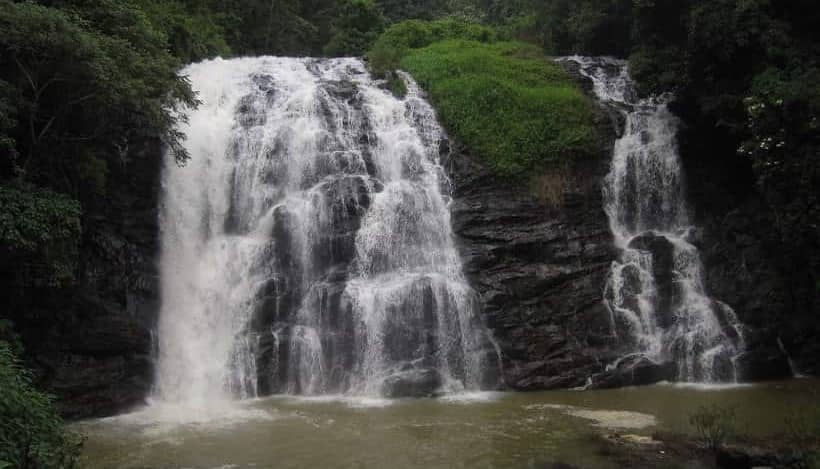 The Best Tourist Places in Coorg are Famous for local and foreign visitors the places include Waterfalls, Historical Sites, and Natural Spots.

Name of the Places
Details
Location
Madikeri
This is the Small Town and Center of the District with many sites to see such as the Palace, Raja Seat, Omkareshwara Temple, Gadige
270km from Bangalore, 140km from Mangalore
Bhagamandala
It is the tiny town with places to see Bagandeshwara Temple and Triveni Sangam
32km from Madikeri Town
Talakaveri
Famous Place in Karnataka where the River Kaveri take birth, The Vishnu Temple, Brahmagiri Hill, Wind Mill are the visiting Sites in Talakaveri
8km from Bhagamandala
Kushalnagar
Small Town on the border of Mysore with the nearby attractions of Nisargadhama, Tibetian Monastery, and is the Place for Accomodations to Stay.
30km from Madikeri
Mandalpatti
Vast Grass Green land, viewpoint, one of the must see places in Coorg.
About 24km from Madikeri
Dubare
Elephant Camp, Boating, and Safari are the attractions
15km from Kushalnagar, 40km from Madikeri
Tibetan Monastery
One of the settlements of Tibet with state of art monasteries, Garden.
2km from Kushalnagar
Nisargadhama
The government maintained Park with Boating, Elephant Safari, Bamboo House, Sightseeing
2km from Kushalnagar
Pushpagiri Hills
One of the Highest Mountain in Karnataka located in the Border of Coorg and Dakshina Kannada
36km from Somwarpet
Nalknad Palace
One of the Palace of ruler in the century ago, the palace interesting to explore around.
Near Nalkunadu Town
Thadiyandamol Peak
Highest Peak in Coorg with altitude of 1,748 meters high from sea level, other attractions are flora and fauna
Must Trek, near Nalkunad Town
Nagarahole
This is the Noted National Park in India with most Elephant and Tigers, the common Animal can be seen while safari.
70km from Madikeri

Other Attractions



Igguthappa Temple
The Padi Igguthappa Temple is located in Kakkabe near Virajpet, built in 1810 by King Ligarajendra
20km from Bhagamandala
Iruppu Falls
The tallest waterfall in Coorg, it drops by many steps and Lakshmana-Tirtha temple also another place to visit.
30kms from Gonikoppa
Chelavara Water Falls
Chelavara Waterfall located in Virajpet Taluk
25km from Nagarahole
Mallalli Waterfalls
This falls situated at the base of Pushpagiri Hill ranges and plunge over 200 ft
25km from Somwarpet
Chiklihole Dam
Small Dam to control fluid and water supply for cultivation to local peoples
15km from Kushalnagar
Abbey Falls
Most Famous falls in Coorg near Madikeri, best to visit in September and November
10km from Madikeri