List of 20 Countries by Largest Economies in Africa
Economies in Africa fair only for few Countries in African Continent, Africa comprise Trade, Industry and Agriculture. There are 54 different countries in the region. As measured by the GDP per Capital Africa is the poorest continent in the world. The total GDP of the continent is around 2.2 trillion US Dollars, and has per capital growth about 5.16% in 2004 to 2006, has 1,200 to 1,500 US dollars per capita of GDP. Africa has 100,000 millionaires that shares only 0.01% in the world. Agriculture, Mining and Drilling, Manufacturing sectors are growing in an economy. South Africa has the largest economy in the world with the Gross domestic value about 555 billion US dollars, but the Per Capital income varies on Population of the countries.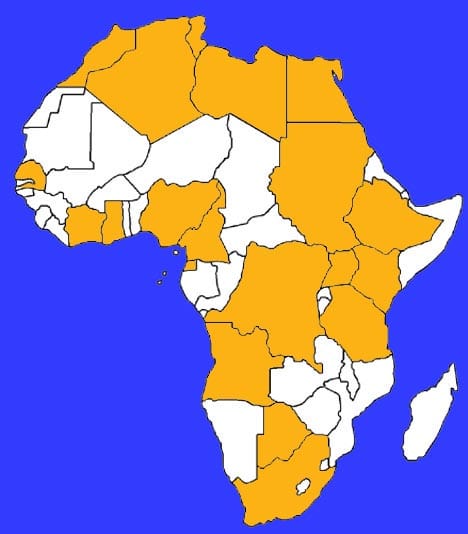 The Following list of 20 Largest Economy in African Continent referred from the different sources such as the World Bank, International Monetary Fund.
| Rank | Countries | GDP (In US $ Billions) |
| --- | --- | --- |
| 1 |  South Africa | 408.074 |
| 2 |  Nigeria | 238.92 |
| 3 |  Egypt | 235.719 |
| 4 |  Algeria | 190.709 |
| 5 |  Angola | 100.948 |
| 6 |  Morocco | 99.241 |
| 7 |  Sudan | 64.75 |
| 8 |  Tunisia | 46.36 |
| 9 |  Ghana | 37.158 |
| 10 |  Libya | 36.874 |
| 11 |  Kenya | 34.796 |
| 12 |  Ethiopia | 31.256 |
| 13 |  Cameroon | 25.759 |
| 14 |  Ivory Coast | 24.096 |
| 15 |  Tanzania | 23.333 |
| 16 |  Equatorial Guinea | 19.805 |
| 17 |  Zambia | 19.206 |
| 18 |  Botswana | 17.57 |
| 19 |  Uganda | 16.81 |
| 20 |  Gabon | 16.176 |
| 21 |  Democratic Republic of the Congo | 15.668 |
| 22 |  Republic of the Congo | 14.769 |
| 23 |  Senegal | 14.461 |
| 24 |  Mozambique | 12.827 |
| 25 |  Namibia | 12.461 |