As the world's second-largest continent, Africa is way more diverse than what is being said by mainstream media. It is home to a vast array of beautiful cultures and landscapes. Although its beauty is not defined by lush green forests or stunning white-sand beaches, you would still be captivated by the African wildlife and Saharan landscape.
Now, the question is, where can you witness the magic of Africa? Over the years, most of this beautiful land has become a national park for preservation. So, with a long list of national parks, we have summed up the top 6 most exceptional parks that you should visit.
So, what are you waiting for? Time to pack some khakis, a camera, and a hat, and get ready to travel and embark on this once-in-a-lifetime experience!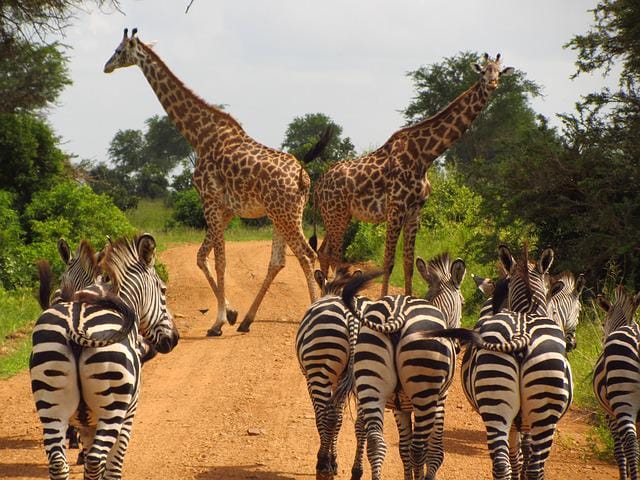 1. Serengeti National Park, Tanzania
Serengeti is not only one of the most famous national parks in Africa, but it's also protected by the UNESCO World Heritage site. With the diversity of flora and fauna, some consider this park the seventh wonder of the world. The country boasts a diverse range of national parks and conservation areas that offer unique safari experiences, there are many national park that provides tanzania safaris.
Serengeti serves to protect and preserve a big number of Africa's wildlife. In addition, one of the exciting events that take place here annually is the great wildebeest migration, which has existed for millennia. About six million of this species partake in the 40 km-long rituals during this time. Besides, Serengeti holds its reputation as a national park with a balanced number of prey and predators. This means that if you are lucky enough, you will get to spot lions, aardwolves, and serval cats on the hunt.
2. Etosha National Park, Namibia
Etosha National Park has been a game reserve where efforts are made to repopulate the region. This has been happening since 1907, after many animals like elephants and lions were hunted to the point of extinction. Nevertheless, it is still the best park to spot cheetahs.
Located in northwestern Namibia, visitors can camp in the national park to see several extended safaris while also witnessing animals in their natural habitat. Moreover, you will also get to see some endangered species, such as the black rhinoceros within the park.
Other than that, Etosha National Park also offers stunning landscapes, including savannas, grasslands, dolomite hills, and dry lake beds. So, don't forget to bring along your Xiaomi phone to capture the breathtaking scenery.
3. Kruger National Park, South Africa
Kruger National Park was established in 1898 and has been among the most popular national parks until now. It is home to the amazing African 'Big Five' – lions, elephants, rhinos, leopards, and buffalos. Moreover, this national park offers elephant back safari, self-drive safari, and mountain biking tours.
Like other national parks, Kruger boasts itself as a grassroots animal breeding and conservation center. Besides wildlife spotting, visitors can visit the historical and unique archaeological sites as well as ancient Bushman rock paintings located within the park.
Furthermore, Kruger is also one of the best-equipped parks in Africa, with signposts, restaurants, and gas stations. If you are unable to visit the park, you can watch the park's live webcams, where you will get to see the animal activities. And if you are planning to visit this park, don't forget to bring along a Cetaphil sunscreen to avoid sunburn.
4. Virunga National Park, Democratic Republic of the Congo
If you are looking for a broad diversity, Virunga National Park should be at the top of your list. It's where you will get to see rainforests, savannas, mountains with glacial peaks, and swamps, all in one place. In addition, when you climb further to the top of Mount Nyiragongo, you will witness a full view of the largest volcanic lake in the world.
Adding to that, Virunga National Park is also home to lowland gorillas and chimpanzees. In 2014, Virunga National Park was featured in a documentary, 'Virunga', which showcased the park's strong effort to protect the mountain gorillas that were on the brink of extinction. It also portrayed how the forest rangers work every day to ward off poachers.
5. Lake Nakuru National Park, Kenya
As the bird watcher's paradise, Lake Nakuru has a type of algae that attracts millions of flamingos, which feed on the algae. Not only that, but the park is a shelter for an ecologically large number of animal species, including white rhinos, warthogs, baboons, giraffes, and cheetahs.
Apart from that, Laku Nakuru was recently enlarged to provide a sanctuary for the endangered black rhino. Besides that, visitors can also find other bird species, such as the pied kingfisher, Goliath Heron, and African fish eagle.
6. Ngorongoro National Park, Tanzania
Ngorongoro National Park is one of the best national parks located in East Africa. It is mostly populated by native Maasai pastoralists. It is a protected area and a UNESCO World Heritage Site. The Maasai are an ethnic group located in northern, central, and southern Kenya as well as northern Tanzania. Besides, in Maa (the language the Maasai speak), Ngorongoro means the 'gift of life.
In addition, this national park is a site for the Ngorongoro Crater, which was formed after a large volcanic explosion more than two million years ago. This is the largest inactive, intact, and unfilled volcanic caldera in the world. So, if you're visiting this national park, you definitely need to visit this crater.