Ever imagined yourself watching the sun rising from the horizon while riding a hot-air balloon? Or perhaps you've dreamed of soaking in the world's highest infinity pool?
Lucky for you, all these once-in-a-lifetime experiences can happen in one place: Dubai.
Many people dream about vacationing in the City of Gold for the wonderful experience they could have there. In fact, some even consider Dubai as one of the best places to tick off some adventures on their bucket list.
If you're one of the latter, you might want to include the six amazing experiences below and add them to your list. If you schedule your visit wisely, you can even watch the finest entertainment show in Dubai during your stay.
1. Ride a hot-air balloon over the Dubai desert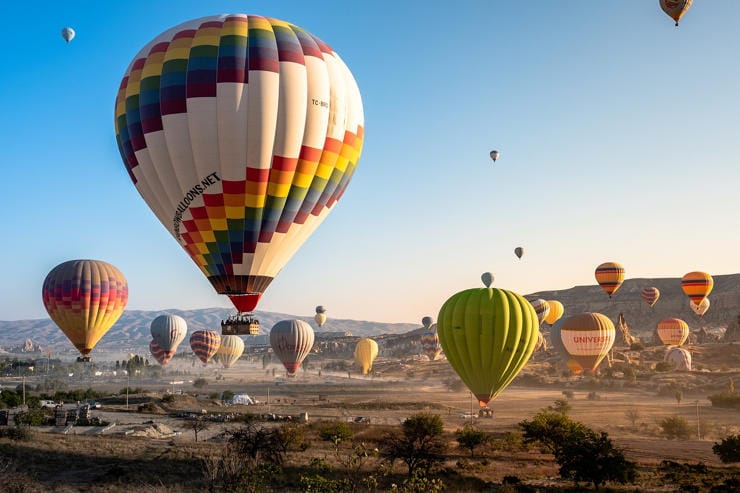 Flying in style isn't only about private jets and luxurious cabins. In fact, when in Dubai, you absolutely have to try riding a hot-air balloon over the wide expanse of the desert.
There's nothing more surreal than literally rising with the sun early in the morning while watching the horizon change colour. You might even get lucky and spot some wild gazelles and desert wildlife running across the desert, dancing to the tune of Mother Nature's song.
Some hot-air balloon rides also come with a front-row seat of the pure magnificence of the peregrine falcon – the fastest flying animal in the world and national symbol of the United Arab Emirates.
As a bonus, you can also journey through the dunes and feast on a traditional Bedouin breakfast at camp to start your epic adventure in the City of Gold.
2. Swim with sharks at Dubai Aquarium
Though the UAE comprises mainly deserts, it does have a couple of world-class water attractions, like the Dubai Aquarium. In fact, it is deemed as home to the biggest collection of sand tiger sharks in the world.
Face your fears of the deep and get your adrenaline pumping in this 10-million-liter tank that over 33,000 aquatic animals call their home. You might even find a couple of stingrays and a colourful collection of reef fishes.
If you have an Open Water diving certification, you can participate in Shark Dive to rub elbows with different species of sharks, including sand tiger, nurse, and zebra sharks.
Of course, you can still get some thrilling encounters with the ocean's most powerful predators even without a driving license – safely inside a diving cage. If that isn't enough thrill for you, a shark encounter package could offer you a higher level of excitement.
3. Soak in the world's highest infinity pool.
Newly added to Dubai's record-breaking concepts is the world's highest infinity pool found at The Address Beach Resort.
While most infinity pools are built on the same level as the sea, the one being described here is located 77 storeys up. In other words, you won't be soaking up the view of just the sea and the horizon; you'll also be able to enjoy a mesmerizing view of the Arabian Gulf, Palm Jumeirah, Ain Dubai, and Dubai Marina.
As of this writing, the pool is only accessible to guests at the hotel. It is also open to those who want to hire a cabana.
4. Take yoga classes under a full moon.
You're probably thinking: "Who would want a yoga class on their bucket list?"
Actually, many people would actually love to include one particular yoga class that marries luxury and spirituality together. At the Talise Spa, you can enjoy a yoga session under the full moon while breathing in the luxurious tropical landscape of Madinat Jumeirah.
If a one-time, night-time yoga isn't your thing, they also offer daily sunset yoga for frequent visitors of Dubai.
5. Explore the souks of Dubai.
No trip to Dubai is complete without a trip to the souks – the most culturally rich spots in all the city. These colourful shops include some of the best spots to shop for local goodies, including the Perfume Souk, Spice Souk, and the most sought-after Gold Souk.
Gold Souk
Dubai got the moniker "The City of Gold" not only because of its rich economy and bustling economy but also because it actually houses plenty of gold stores.
Whether you're looking for a statement piece or just hunting for a souvenir that will remind you of the city, the Gold Souk is where you'll find some of the best tradesmen and artists who can get you precisely the type of gold you want.
Spice Souk
This is a famous souk located close to the Gold Souk. Filled with aromatic spices, this spot is the ultimate bucket list destination for aspiring chefs, home cooks, and professional restaurateurs.
Perfume Souk
If you follow the road from the Spice and Gold Souks, you'll end up in another wonderfully fragrant stall: the Perfume Souk. Everything here is scented, be it body fragrances, incense sticks, essential oils, and even exotic oud perfumes.
6. Imagine wonders with IMAGINE shows in Festival City.
Festival City's IMAGINE in Dubai is another record-breaking attraction you shouldn't miss. Located at Festival Bay, this unique form of entertainment offers a multi-sensory experience like no other, enough to win a spot at the Guinness World Records.
Combining stellar storytelling and jaw-dropping choreography with lights, waterworks, and music, IMAGINE is not only the largest water screen projection and permanent projection in the world. It is also the best kind of entertainment to end your adventure in completing your bucket list.
Side trips worth considering
Apart from the above six amazing experiences, if you have a few days to spare, then consider adding side trips to the following Dubai destinations:
Dubai Miracle Garden: This massive 72,000-square-metre garden in the desert is a true miracle, with 250 million plants and over 50 million flowers in bloom when it opens during the winter season.
Dubai Museum and Al Fahidi Fort: Although this part of Bur Dubai is currently closed for renovations, if you happen to be there when it reopens, do drop by. Here, you'll have a chance to appreciate the history and culture of the Emiratis.
Global Village: This microcosm of the world features 78 cultural displays and products from all around the world. You'll take hours taking in all the attractions and sampling the many cuisines available. It will be open from October to April this 2021.
Fulfil Your Dubai Bucket List
Dubai is an excellent venue for completing your bucket list.
Fulfill your heart's greatest desires with hot air balloon rides, a dive with sharks, and an awe-inspiring experience in IMAGINE Dubai.