List of Aquariums in Dubai
Dubai Mall Aquarium
This is in the Dubai Mall and operated by Oceanis Australia Group, This is the list of Guinness World Record for the world's largest Acrylic Panel that in the area of 32.88 m wide, 8.3 m high, 750 mm thick, and weighing 245,615 kg. It gives a clear view of over 33,000 marine animals on display.

Burj Al Arab Aquarium
This is also called Al Mahara situated inside the Burj Al Arab 5 Star Luxury Hotel. It is a large seawater aquarium for marine animals and holding about 990,000 liters of water in the tank. This tank is made of acrylic glass to hold the water pressure and the glass thickness is about 18 cm.
Aquarium of Atlantis
This aquarium is situated in the Atlantis 5 star resort, it holds 11 million liters of water. This Aquarium kept whale sharks and sharks released back into the ocean due to the campaigns, the whale shark was released to the ocean in March 2010.
Dubai Creek Golf and Yacht Club Aquarium
This is an Aquarium restaurant with delicious seafood and seafood prepared in the open kitchen that offers views of the chefs in action.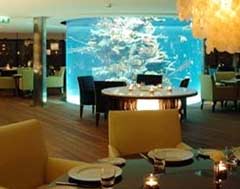 List of Dolphinariums in Dubai
Dubai dolphinarium
This Dolphin bay is located in Atlantis Resort, the guest of Atlantis swim and interact with dolphins. The Dolphins are trained by experts. The Dolphinarium is an unforgettable experience that includes Dolphin Encounter, Dolphin Adventure, Royal Swim, scuba Dive, Photo Fun, Observer Pass, Personalized Events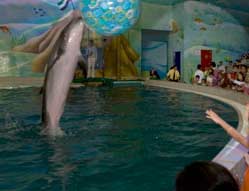 Dolphinarium in Atlantis
Dubai Dolphinarium is a place with a lot of programs and exciting interactions with the dolphins. This Dolphinarium has Education and Event options like Kids Activities, Birthday Parties, School Field Trips, Arabesque dance schools.