Weather Reports of Zurich by Months
Zurich is the Popular City and Tourist Place in the country Switzerland, is the wealthiest city in Europe and attracts hundreds of thousands of visitors throughout the year. This city has coolest weather in the winter and around23oC in the summer, is located elevation of 556 meters above sea level. January the coldest month means temperatures are measured with -0.5o C (31.1o F) and warmest measured in July with 23oC (32oF), Zurich has an average of 1,482 hours of sunlight per year and around 1,136 millimeters (44.7 in) rainfall spread out all over the year.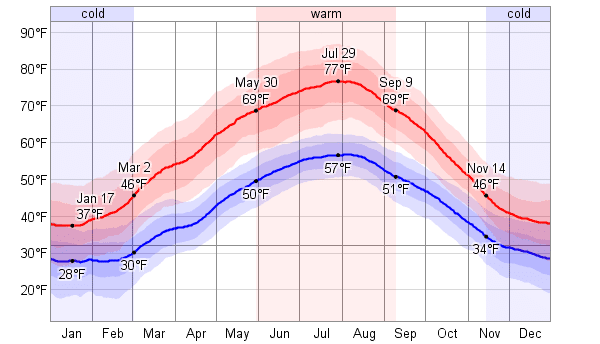 Zurich surrounded by icy mountainous ranges that keeps the city cooler all around the year, indeed the city famous for tourists from all around the World. The list below shows the Weather of Zurich City with climate changes for every month in the Year.
| Month | Average high oC (oF) | Average low oC (oF) | Precipitation mm (inches) | % humidity | Avg. precipitation days | Mean monthly sunshine hours |
| --- | --- | --- | --- | --- | --- | --- |
| January | 2 (-35.6) | −4.1 (24.6) |   67 (2.64) | 86 | 10.9 | 35 |
| February | 4.5 (40.1) | −3.2 (26.2) | 68 (2.68) | 81.5 | 9.5 | 69 |
| March | 8.8 (47.8) | −0.7 (30.7) | 68 (2.68) | 75.5 | 10.9 | 115 |
| April | 13.2 (55.8) | 2.5 (36.5) | 78 (3.07) | 72.8 | 11.6 | 144 |
| May | 17.9 (64.2) | 6.4 (43.5) | 96 (3.78) | 72.4 | 12.4 | 176 |
| June | 21.2 (70.2) | 9.7 (49.5) | 115 (4.53) | 72.9 | 12.2 | 191 |
| July | 23.6 (74.5) | 11.6 (52.9) | 106 (4.17) | 72.2 | 11.2 | 223 |
| August | 22.7 (72.9) | 11.2 (52.2) | 121 (4.76) | 75.2 | 11.5 | 195 |
| September | 19.5 (67.1) | 8.5 (47.3) | 83 (3.27) | 78.9 | 8.4 | 155 |
| October | 13.7 (56.7) | 4.9 (40.8) | 70 (2.76) | 84.9 | 8 | 92 |
| November | 7.0 (44.6) | 0.2 (32.4) | 84 (3.31) | 85.4 | 10.1 | 49 |
| December | 3.1 (37.6) | −2.8 (27.0) | 74 (2.91) | 86.1 | 10.4 | 31 |
| Avg/Total in the Year | 13.1 (55.6) | 3.7 (38.7) | 1,031 (40.59) | 78.7 | 127.1 | 1,475 |