Air transportation is an important and expanding transportation system in India. All of the Airports are equipped with modern facilities which providing high-class services to the passengers from check-ins to departure. The Air Traffic of International and Domestic flights increased constantly compared to previous years.
Airlines are offering budget to business class services and flights to the major cities. Airports in India have been upgrading their safety and technology to control air traffic and control passengers.
Bengaluru International Airport, also known as 'Kempegowda International Airport' is the largest in India which is built with modern technology and has large floor space, and handles high traffic. Delhi International Airport takes over 35 million passengers annually, is the largest airport by total passenger movement. The Largest Airports listed below are ranked on total Floor Area, Passenger Traffic, and Aircraft Movement.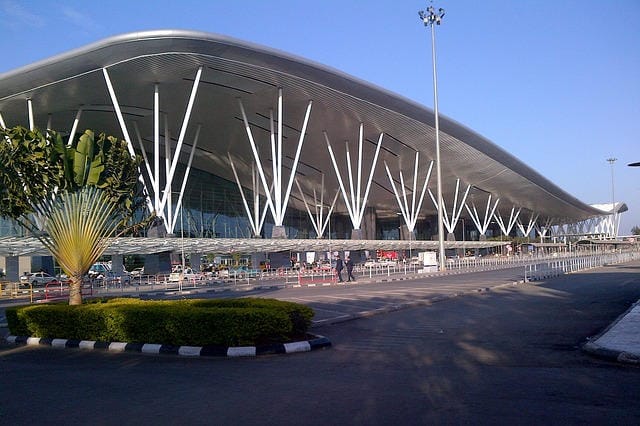 Rank

Airports

Passenger Movements

Aircraft
Movements

Runway
(In meters)

Location

1
Bangalore International Airport
12,000,000
224,000
4,200
Devanahalli, Bangalore, Karnataka
2
Delhi International Airport
35,881,965
345,143
4,500
Delhi, India
3
Mumbai International Airport
30,747,841
251,492
3,700
Mumbai, Maharashtra
4
Chennai International Airport
12,925,298
120,127
4,000
Tirusulam, Chennai, Tamil Nadu
5
Rajiv Gandhi International Airport
8,444,431
99,013
4,260
Shamshabad, Hyderabad, Andhra Pradesh
6
Kolkata International Airport
10,303,991
99,843
3,860
Kolkatta, West Bengal
7
Cochin International Airport
4,717,650
40,181
3,900
Nedumbassery, Kerala
8
Ahmedabad International Airport
4,695,115
40,506
3,599
Ahmedabad, Gujarat
9
Dabolim Airport
3,521,551
27,430
3,458
Vasco da Gama, Goa
10
Trivandrum International Airport
2,814,799
27,239
3,400
Thiruvananthapuram, Kerala
11
Chaudhary Charan Singh International Airport
2,975,878
14,205
2,743
Lucknow, Uttar Pradesh
12
Calicut International Airport
2,059,979
16,690
2,860
Kozhikode, Kerala
13
Srinagar Airport
1,039,505
9,016
3,685
Srinagar, Jammu and Kashmir
14
Coimbatore Airport
1,243,823
14,276
2,990
Coimbatore, Tamil Nadu
15
Dr. Babasaheb Ambedkar International Airport
1,236,732
14,961
3,200
Nagpur, Maharashtra
16
Mangalore International Airport
845,700
9,431
2,450
Mangalore, Karnataka