Romania is a country that borders the Black Sea and is located at the crossroads of Central and South-Eastern Europe. The country has a land area of 238,391 square kilometers, making it the ninth largest country in the world, and a population of around 19 million people as of the 2011 census, making it the seventh most populous country on the European continent. Bucharest is Romania's largest capital city, with a population of over 1.6 million people. In Spain, there are many cities and towns; according to 2006 statistics, 54 percent of the population lived in urban areas.
Capital: Bucharest
Dialing code: 40
Currency: Romanian leu
Population: 21,390,000 (2011)
GDP: 179.8 billion USD (2011)
Official language: Romanian Language.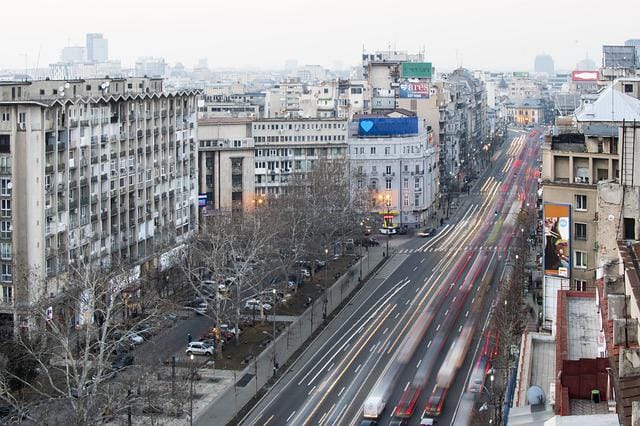 | Rank | City name | County | Population |
| --- | --- | --- | --- |
| 1 | Bucharest | Bucharest | 1,677,985 |
| 2 | Cluj-Napoca | Cluj | 309,136 |
| 3 | Timisoara | Timis | 303,708 |
| 4 | Iasi | Iasi | 263,410 |
| 5 | Constanţa | Constanţa | 254,693 |
| 6 | Craiova | Dolj | 243,765 |
| 7 | Galaţi | Galati | 231,204 |
| 8 | Brasov | Brasov | 227,961 |
| 9 | Ploiesti | Prahova | 197,542 |
| 10 | Oradea | Bihor | 183,123 |
| 11 | Braila | Braila | 168,389 |
| 12 | Pitesti | Arges | 148,264 |
| 13 | Arad | Arad | 147,992 |
| 14 | Sibiu | Sibiu | 137,026 |
| 15 | Bacau | Bacau | 133,460 |
| 16 | Targu Mures | Mures | 127,849 |
| 17 | Baia Mare | Maramures | 114,925 |
| 18 | Buzau | Buzau | 108,384 |
| 19 | Botosani | Botosani | 100,899 |
| 20 | Satu Mare | Satu Mare | 94,948 |