The corporate world requires much more than the basic skills of delivering your role efficiently. Along with being professional and able to communicate verbally, employers require efficiency in technical skills as well, which involves writing your ideas appropriately. This implies being clear and concise in your writing so that you can deliver your ideas to the host most efficiently and succinctly.
The Key Components to Focus Upon while Writing
Writing something may be complicated when you need help knowing where to start. For instance, while documenting a draft, summarizing a passage, crafting new ideas into an essay, or communicating with new clients, the foremost concern is choosing the right tone to strengthen one's image. 
When it comes to communication skills, many people confuse it with verbal skills only. However, 77.8 percent of employers are also looking for people who can be adamant in their writing skills.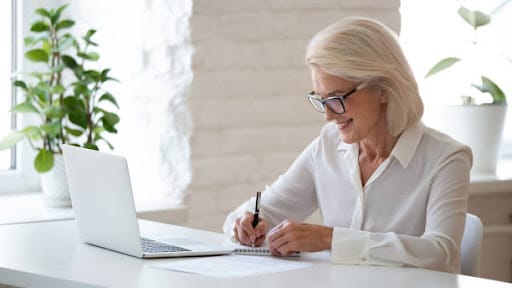 To simplify the task, it is just a matter of following some easy steps, and you can successfully develop a new skill.
Research well on the topic at hand.
Write the first draft
Clear and organized sentences
Proofreading.
Grammar, vocabulary, and spellings.
Avoid plagiarism and add References.
How to Improve Your Writing
Writing is a skill that requires practice and it improves with time. The more you write the more your writing skill gets polished. However, beginners can follow some basic steps that can help them write their first few pieces of content with decent quality and precision. Here are the steps you can follow to improve your writing.
1. Research
Research is the most essential part of writing anything. It allows a person to avoid any form of mistake. Research accuracy would enable you to powerfully impact the reader and make building on the material you already have easier.
2. Writing a Draft
With whatever material you have collected, you can now type or pen down your ideas more efficiently in less time. Your ideas regarding the material you will build will allow you to be more precise with your thoughts. The draft needs to be a rough sketch of all your material on your topic.
3. Organization and Clarity
Organization and clarity of sentences are the most crucial and impactful components of writing. When each paragraph syncs with the next, it makes the reader stay focused on the main idea of your text without losing pace. Each paragraph should start with the main argument it focuses on delivering, and the following paragraph should be a completely new idea or in sync with the previous one if both have the same central idea.
4. Proofreading
Proofreading should be done when you are done writing your text. This is when you can go through your final drafts to extract unnecessary material and add new things if necessary. It allows the writer to pinpoint their own mistakes, improve the quality of their writing, and make the text sound more persuasive and appealing to the reader. A third-party opinion also can help bring new changes to the paper.
5. Grammar, Vocabulary, and Spelling
Where grammatical and spelling mistakes must be avoided in any kind of text to sound more professional, vocabulary depends on what you are writing and who your audience is.
Errors can be avoided using a grammar checker tool like Grammarly, which can help you analyze your text thoroughly and edit it without a problem.
6. Improve your Vocabulary
A good vocabulary is a prerequisite for any content. You don't need to use difficult words, but unique words that are easy to read and understand. Reading books, blog posts, articles and magazines are some ways to learn new words.
Another good way to improve your vocabulary is to play word puzzles. Playing these kinds of word puzzles enhances your vocabulary while having fun. Using an online tool to find new words can help you solve jumbled words and save you tons of time. You can enter a few letters from the jumbled word and it will create the possible words from the letters. These tools work for a variety of puzzles.
7. Plagiarism and Citations
Plagiarism must be avoided at all costs. Your material must be based on your ideas and research to be distinctive and natural. Any claims or facts must be referenced or cited according to the material you have used for your research to avoid misinformation or unintentional plagiarism.
Conclusion
With that in mind, you have yourself a new and valuable technical skill developed. Writing should not be hard for anyone and it definitely should not be an exhausting task. With the use of smart writing assistant tools, it can also be more fun to write anything you want in the minimum time possible.