Switzerland is a beautiful European country with stunning scenery. Here you will find high mountains, cold temperatures, and unique scenery. There are several tourist attractions in Switzerland, some of the more well-known of which are included here.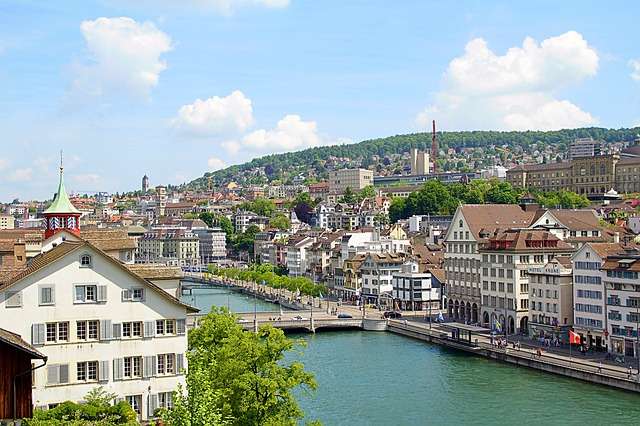 Geneva
It is Switzerland's second most populated city, with hundreds of tourist attractions and heritage monuments. The primary attractions are churches and historic structures. Geneva is recognized for its pleasant temperature and breathtaking scenery.
Lucerne
With a population of almost 250,000 inhabitants, this is the most populated city in central Switzerland. This is the center of culture and events, which are organized in a traditional manner by the locals. Old buildings, bridges, landscapes, rivers, churches, and museums are all popular tourist attractions in the city.
Zurich
It is the largest city in Switzerland, situated at a height of 408 meters above sea level. This city is one of the wealthiest cities in the world and there are dozens of sites to visit such as Churches, Museums, Parks and Nature, Architecture, and World Heritage Sites.
Interlaken
One of Switzerland's most popular tourist spots. It is located at a height of 570 meters above sea level. Mountains, a railway station at 3,450 meters, Mystery Park, Theme Park, skydiving, canyoning, hang gliding, paragliding, and skiing are the primary attractions and places to visit in and near this location.
Basel
This is one of the country's most popular tourist destinations, offering road, rail, and air transportation options. At 260 meters above sea level, this city is located. Churches and Monasteries, Secular Buildings, Archaeological Locations, Museums, Archives, and Collections are the principal attractions, and there are many old buildings and sites with historical origins.
Bern
With a population of 133,000 people and a height of 542 meters above sea level, this is one of Switzerland's most populated cities. Heritage sites, Rathaus, clock tower, Palace, Churches, Bearpit, Stadttheatre, and Festivals are the key sights to view in and around this city, with local culture being the finest event to watch.
Brig
It has a population of 12,467 people and is located at a height of 691 meters. The entire old town is part of the Swiss historical sites, and it is surrounded by natural beauties such as landscapes, rivers, and cool green vistas. One of the attractions is Stockalperpalast.
Chur
The highest point in this area is around 1885 meters, and it is located in the canton of Graubunden in the Pressure District of Switzerland, with a population of 33,756 people. Historical buildings, churches, museums, landscapes, tombs, and other typical tourist attractions are among the most well-known tourist attractions.
Fribourg
This is the capital of the Swiss canton of Fribourg, which is located in the region of Sarine. This town has a population of 34,897 people and is located at an elevation of roughly 701 meters. Historic Old City, Museums, Festivals, Churches, Bridges, Fountains, Old Buildings, and numerous Heritage Sites are the main attractions in this town.
Grindelwald
This village is located in the Swiss canton of Bern, in the region of Interlaken-Onerhasli. This location, which is encircled by Big Mountains and has a verdant surface, and is 1,034 meters above sea level, is truly heaven. Tourists may enjoy winter sports and hiking paths. Mountains and landscapes, as well as churches and historic structures, are attractions in this hamlet.
Heidi Area
It is one of the villages in Switzerland have many beautiful attractions and important tourist site in Switzerland. This village is named after the Heidi Book. The Landscapes and Environment is the attraction, many documentary films shot here.
Neuchatel
This is the capital and largest city of the canton of Neuchatel, with numerous historical buildings and tales to tell. This is Switzerland's largest lake, with a length of about 15 kilometers. Lake Neuchatel Cruise, Eglise Collegiale, Maison des Halles, Hotel Du Peyrou, Botanic Garden, Garden of Scents, Gor de Vauseyon are the primary attractions, with additional popular activities like sport, shopping, events, and museums.
Winterthur
With a population of 101,203, it is the sixth most populous city in the Swiss canton of Zurich. This city is 687 meters above sea level. This is a tourist attraction with several museums, art galleries, churches, and historic buildings.