Switzerland is the European country, filled by scenic beauty. High mountains, cool weather and rare landscapes found here. there are several tourist places to visit in Switzerland, some of the most famous tourist places listed below.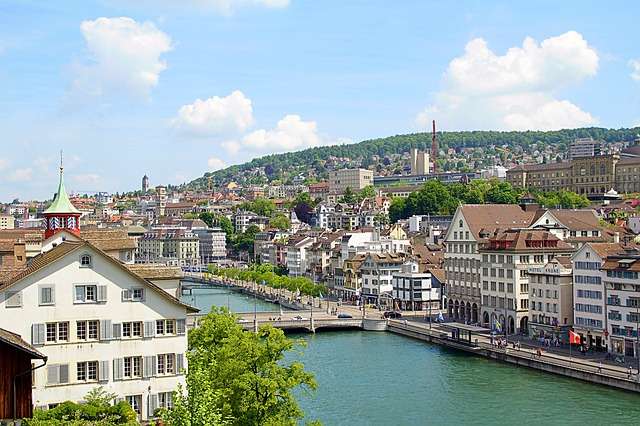 Geneva
It is the second populous city in Switzerland and there are hundreds of attractions with heritage sites and attractions. Churches and old buildings are the main attractions. Geneva is known for its cool climate and awesome landscapes.
Lucerne
This is the most populous city in central Switzerland with a population of about 250,000 people. This is the hub of Culture and Events that are conducted by the local people with traditional style. The attraction in the city is Old buildings, Bridges, landscapes, Rivers, Churches, and Museums.
Zurich
It is the largest city in Switzerland, situated at a height of 408 meters above sea level. This city is one of the wealthiest cities in the world and there are dozens of sites to visit such as Churches, Museums, Parks and Nature, Architecture, and World Heritage Sites.
Interlaken
One of the best tourist destinations in Switzerland. It situated at 570 meters above sea level. The main attraction and spots to see in and around this place are Mountains, railway station situated at 3,450 meters, Mystery Park, Theme Park, and skydiving, canyoning, hang gliding, paragliding and skiing.
Basel
This is one of the tourist interested sites in the country with transport facility of Roads, Railway and Air. This city Situated at a height of 260 meters above sea level. The main spots and attractions are Churches and Monasteries, Secular Buildings, Archaeological sites, Museums, Archives and Collections, there are many old buildings and sites with historical background.
Bern
This is one of the populous city in Switzerland with a population of 133,000, it stands at 542 meters above sea level. The main sites to see in and around this city are Heritage sites, Rathaus, clock tower, Palace, Churches, Bear pit, Stadttheatre and Festivals and local culture also the best event to see.
Brig
It has a population of 12,467 and stands at an elevation of 691 meters. This the small town surrounded by natural beauty such as landscapes, rivers, and cool green views, the entire old town is part of the Swiss heritage sites. Stockalperpalast is also one of the attractions.
Chur
The highest elevation of this area is about 1885 meters and has a population of 33,756, located in the canton of Graubunden in Pressure District of Switzerland. The famous tourist attractions are Historical Buildings, Churches, Museums, Landscapes, Tomb and other common attractions.
Fribourg
This is the Capital of Swiss canton of Fribourg of the district of Sarine in Switzerland. The elevation of this place is about 701 meters and the population of this town is 34,897. Main attractions in this town are Historic Old City, Museums, Festivals, Churches, Bridges, Fountains, Old Buildings, and there are many Heritage Sites.
Grindelwald
This Village lies in the district of Interlaken-Onerhasli in the canton of Bern in Switzerland. This place is really heaven surrounded with Big Mountains and with a green surface, and the elevation is 1,034 meters above sea level. Tourists can enjoy the winter sports and hiking trails, Mountains and the landscapes are the attractions in this village along with Churches and old buildings.
Heidi Area
It is one of the villages in Switzerland have many beautiful attractions and important tourist site in Switzerland. This village is named after the Heidi Book. The Landscapes and Environment is the attraction, many documentary films shot here.
Neuchatel
This is the city and capital of the canton of Neuchatel and has many Historical Buildings and story. The Lake in this place is the largest in Switzerland covered about 15 km. The main attractions are Lake Neuchatel Cruise, Eglise Collegiale, Maison des Halles, Hotel Du Peyrou, Botanic Garden, Garden of Scents, Gor de Vauseyon and other common entertainments are Sport, Shopping, Events and Museums.
Winterthur
This is the sixth largest populated city in the canton of Zurich in Switzerland with a population of 101,203. This city stands in the height of 687 meters. This is one of the tourist interest places with many museums, Art galleries, Churches, Old Buildings.