1. Abraj Al Bait Towers
This is the Building complex located in Mecca in Saudi Arabia which is constructed started in 2004. This building also holds many records such as tallest hotel in the world, tallest clock tower in the world and largest clock space. This Building Floor area is 1,500,000 square meters and has 120 floors.
2. Dubai International Airport
This Airport is situated in the Al Garhoud in Dubai, and main Airport of Dubai. As one of the largest airport in the world it holds record of 13th busiest airport in the world by passenger traffic and 4th busiest airport in the world by international traffic. The total floor area of this airport is 1,185,000 square meters, length of this airport 25,300 meters.
Photo Credit: Removal Group
3. CentralWorld
Central World is a Complex and Shopping Plaza, situated in Bangkok in Thailand and opened to service on 1990. The Complex which includes an office tower and hotel, theatres, Stores and This Complex owned by Central Pattana. The total floor area of this building is about 1,024,000 square meters.
Photo Credit: Luiz Edvardo
4. Aalsmeer Flower Auction
This is the flower auction located in Aalsmeer in Netherlands and also the largest flower auction in the world, covering the floor area of 990,000 square meters.
Photo Credit: cwhilbun
5. Beijing Capital International Airport
This is the main international airport which is located in Beijing in China and also ranks as world's busiest airport in the world and 14th busiest airport in the world by cargo traffic. The airport covers total floor area of 986,000 square meters.
Photo Credit: ssr.ist4u
6. The Venetian Macao
It is the hotel and casino resort in Macau, the construction of this building completed and opened for services on 2007 which has 980,000 square meters floor space, the resort has 3000 suites, 3400 slot machines,800 gambling tables and 15,000 seat arena for entertainment & sports events.
Photo Credit: bryanlibiternos
7. Berjaya Times Square
This is the twin tower complex, situated in Kuala Lumpur in Malaysia which is opened to service on 2003, it containing shopping centre, theaters, entertainment attractions, five star hotel and has more than 1000 stores and services. It covers 700,000 square meters of floor area and has 48 floors.
Photo Credit: Neep Alpha
8. Central Park Jakarta Complex
Central Park is the Complex of mixed use including a shopping mall, office tower, apartment and hotel covering floor area of 655,000 square meters. It is situated in Jakarta in Indonesia, and the building has parking space for over 6000 cars.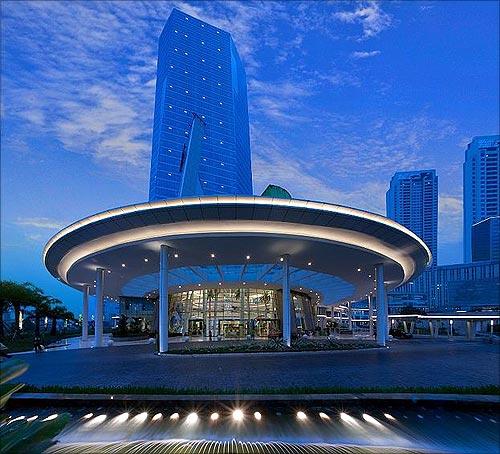 9. The Palazzo
The Palazzo is a luxury hotel and casino resort located in Las Vegas opened for services in 2007, its spread in the floor area of 645,581 square meters. It has total of 3,068 rooms and largest building in USA by floor space.
Photo Credit: brianirwin
10. Grand Indonesia
It is the mixed use complex including Residences, Office tower, Shopping mall, hotels covering total floor area of 640,000 square meters, situated in Jakarta in Indonesia. The shopping centre is cover eight levels and is separated into three main districts, the specialty, main mall and Crossroads of the World district.
Photo Credit: sigma [ tensile_tent ]