According to the latest statistics, there are 600 million blogs present on the Internet out of 1.9 billion websites worldwide. This means there is plenty of information available on the Internet.
You can even find multiple answers to one question you search for on Google. However, the real question is: which source or blog will you trust or follow?
However, this is one of the most common issues: users don't trust an online source easily. It is because they think the majority of them are scams or provide wrong information in their blogs.
So, if you also think the same way, then don't worry.
Because, after doing a lot of research, I have found some top informative blogs that you must follow right now.
They are trustworthy and reliable, and they also provide information on almost every problem you face.
So, don't miss any part of this blog.
Let's get started!
10 Best Blogs That You Must Follow Right Now
Here is a list of the 10 best blogs that you must follow right now:
1. Bit.ai: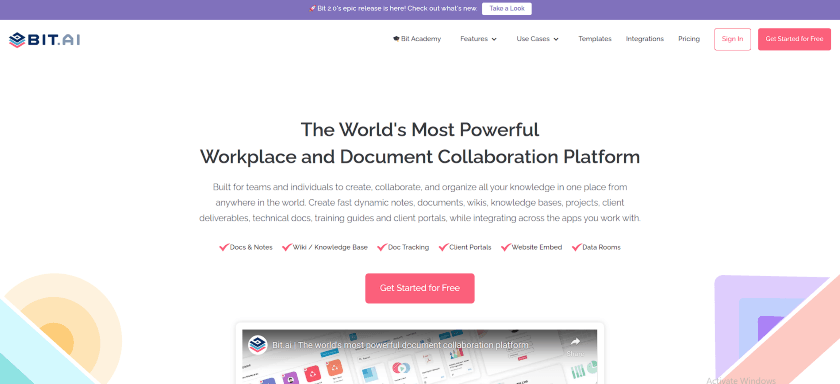 Bit.ai is a versatile platform that offers a blog packed with valuable information on collaboration, document management, and productivity. Their blog articles cover a wide array of topics, including project management tips, remote work strategies, and innovative ways to create and share documents effectively.
If you're a professional looking to streamline your work processes or simply interested in learning about the latest tools and trends in document collaboration, bit.ai's blog is a must-follow resource.
2. Searchenginejournal:
Search Engine Journal is a one-stop shop for everything SEO, content marketing, and digital advertising. To assist companies and marketers in managing the always-changing landscape of search engines, their blog offers in-depth articles, sector insights, and useful advice.
Search Engine Journal is an essential resource for anybody trying to boost their online presence and stay competitive in the competitive digital world since it has knowledgeable contributors and current information.
3. Businessinsider:
Business Insider is a well-known name in the world of business news and commentary. A variety of articles on money, technology, politics, and other topics are available on their blog.
For entrepreneurs, investors, and professionals looking for the most recent information on market trends, corporate strategy, and global events, Business Insider's skillfully selected material is an essential resource.
4. Neilpatel:
Neil Patel, a well-known digital marketing guru, blogs about his expertise and ideas. SEO, content marketing, social media, and entrepreneurship are just a few of the online marketing topics that are covered on NeilPatel.com. Neil's blog offers readers practical advice, case studies, and techniques to succeed in the world of digital marketing, thanks to his years of experience and knowledge.
In order to succeed online, Neil Patel's blog is a goldmine of knowledge for marketers of all levels.
5. Stuffablog.com:
Stuffablog.com, which provides a wide selection of articles on lifestyle, health, travel, and technology, is a hidden treasure in the blogging community. This site is differentiated for its unique combination of educational material, entertaining tales, and useful guidance.
Stuffablog.com offers interesting material that appeals to a broad audience, whether you're looking for holiday inspiration, health and wellness advice, or tech gadget reviews.
6. Techcrunch:
TechCrunch is a popular website for technology fans and industry professionals. The most recent tech news, startup stories, product reviews, and intelligent commentary are all covered on their blog.
Because of its commitment to covering cutting-edge developments in technology, trends, and creative companies, TechCrunch is a vital tool for keeping up with the rapidly evolving tech scene.
7. Mashable:
Mashable is a major player in the fields of technology, entertainment, and digital culture. Their site features a variety of information, such as the most recent news on technology, popular culture, and social media trends.
Mashable's blog provides something for everyone, whether you're a computer-knowledgeable person or just interested in being engaged and educated about the digital world.
8. HubSpot:
HubSpot's blog is a treasure trove of marketing, sales, and customer service information. HubSpot focuses on inbound marketing and offers helpful tools, resources, and advice to assist companies in luring in, keeping, and delighting their clientele.
No matter if you work in marketing, sales, or as a business owner, HubSpot's blog is a crucial tool for expanding your company and improving client interactions.
9. TechTarget:
TechTarget is a dependable resource for IT experts and tech lovers. They provide thorough coverage of corporate technology on their blog, with articles on cloud computing, cybersecurity, data management, and other topics.
TechTarget is a great resource for staying current on the most recent events in the IT world because of its in-depth research and knowledgeable opinion.
10. Forbes:
Forbes, a well-known brand in business and finance media, has a blog where a variety of themes are covered, from leadership and entrepreneurship to business and investment.
The Forbes blog publishes posts written by subject matter experts, thought leaders, and prosperous business people, giving readers insightful information, pointers, and motivation for pursuing their careers.
Final Thoughts
For both personal and professional development, having access to credible and educational blogs is essential. The ten blogs listed above are must-read sites for anybody looking to keep educated, inspired, and on-trend since they provide an array of information, insights, and experience in a variety of fields.
These blogs have a lot to offer, whether you're interested in digital marketing, technological developments, business methods, or just seeking lifestyle and leisure material. You may improve your expertise and gain insightful knowledge that will benefit your profession, company, and general well-being by reading and participating in these blogs on a daily basis. Start following them right away if you want to make use of these excellent informational resources.