If you and your better half love traveling around the world together, then perhaps the best place to propose is away from home.
You've picked out the perfect diamond engagement ring to propose to her with, and you even know what you want to say. However, you're a bit stuck on figuring out the best place to do it.
You could do it at home where you can celebrate afterward with family and friends. Or, you could make the experience unforgettable and jet away to one of the best romantic travel destinations.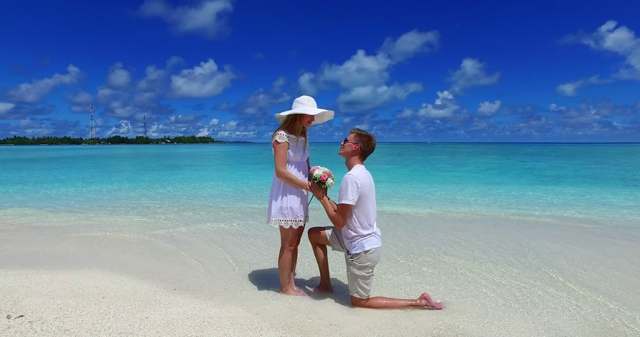 Let's check out the top five travel destinations for engagement proposals.
1. New York, New York
New York is at the top of many people's ultimate travel destinations list. If you're someone who loves the bustle of the city and metropolitan skylines lit up at dusk, then you may want to consider New York for your engagement proposal.
Whether it's the Bow Bridge in Central Park or at the top of the Empire State Building, impress her with your planning skills by taking her to New York.
2. Santorini, Greece
If you and your partner prefer private villas with a view of the beach and wineries dotted around the countryside, then you may want to make Santorini your engagement proposal destination.
This unique island destination is perfect if you want to get away from the crowds and make the proposal a private affair. You could even cook her a homemade meal in the villa you're staying in and set the mood for a memorable, intimate moment.
3. Venice, Italy
Venice is a place where anything can happen, and it likes to keep its visitors on their toes.
This bustling Italian city has romantic gothic architecture and narrow canals that you can glide down. With historical churches marking the landscape and Michelin star restaurants making Venice a sought-after destination, the only issue you'll have is deciding on the ultimate place to propose.
4. Sunset Cliffs, California
Sunny California is a somewhat obvious and perhaps cliché place to propose to your loved one.
While you may have already disregarded this west coast state as your proposal destination, there are some places that are easily overlooked, and underrated.
Sunset Cliffs located just outside of San Diego offers perfect weather all year round, so you don't even have to worry about when you want to do it. With 180 degree views of the Pacific Ocean, this is an idyllic choice if she likes breathtaking scenery.
5. Cliffs of Moher, Ireland
If neither of you is too fussed with warmer weather and prefers to keep it cool and crisp, you could try proposing on another cliff that's located on the other side of the world.
The Cliffs of Moher in Ireland meet rough seas that bring a more whimsical ambiance to your proposal setting.
Final Thoughts
While you could propose to the love of your life anywhere, you only get to do it once. This is as good of a reason as any to make it as unforgettable as possible.
Whether you take her breath away in front of hundreds of New Yorkers or steal her away to the isolated, moody Cliffs of Moher in Ireland, you're bound to make your engagement proposal a memorable experience that you'll be able to remember together for the rest of your life.