Imagine an environment so lovely, serene, and rejuvenating that being there can improve your health and well-being. That's a short rundown of the Nicoya Peninsula, one of the best places to visit in Costa Rica. Most mainstream tourists have typically avoided this region of Costa Rica because it is one of the country's least developed.
Recently, the peninsula has become more popular with surfers and people who want a quiet place to spend their free time. And those looking for something unusual and unique off the typical tourist trail will find paradise here.
Are you also planning to go to Costa Rica, but you're not sure where to go with your family? Well, the Nicoya Peninsula can be your vacation spot to spend some time away from the hustle and bustle of life. The Nicoya Peninsula is one of Costa Rica's most pleasant off-the-beaten-path vacation spots to visit with family.
It is 80 miles long and 40 miles wide, blessed with extensive pristine sandy beaches and mountainous rainforests filled with diverse flora and fauna. Surfing, yoga retreats, beach combing, water sports, and seeing turtles in their nests during nesting season are among the most popular things in the Nicoya Peninsula that you can enjoy with your family.
We have mentioned some essential things you should know before visiting Nicoya. These pointers will help you plan a hassle-free and obstacle-free vacation.
Nicoya Peninsula: The Secret to a Long, Happy, and Healthy Life
The Nicoya Peninsula in Costa Rica is one of the world's five original Blue Zones and is one of the healthiest and happiest places on the planet. This northwest region has the largest concentration of centenarians on the planet thanks to the lifestyle Nicoyans follow. People here are typically twice as likely to live to be 90 as people in North America. Experts attribute this to the local diet, consisting of organic fresh vegetables, close-knit families and communities, calcium-enriched water, and a strong sense of purpose.
The way Nicoyans live hasn't changed much throughout the years and is still primarily based on agriculture. Locals don't retire; instead, they keep working the land as long as they can with their families. Naturally, you don't have to settle here to enjoy the benefits of the pristine nature and variety of stress-relieving activities Nicoya offers. Even the most stressed-out soul will feel revitalized after a Costa Rica adventure vacation on the Nicoya Peninsula.
Read on to know the essential things you and your family can do here in this enchanted location in Costa Rica.
Best Time to Visit the Nicoya Peninsula
The Nicoya Peninsula, Blue Zone in Costa Rica, has pleasant temperatures and offers comfortable conditions all year long; be cautious in October when the rainy season kicks off. The best time to travel is from January to April because constant sunshine during these months makes everyday life more beautiful, pleasant, and joyful.
Best Beaches to Visit Near the Nicoya Peninsula
You can find some of Costa Rica's famous beaches in the Nicoya Peninsula, a blue Zone in Costa Rica; each one provides a unique experience. Many of these beaches are reachable from San José with ease. The good news is that no matter which Nicoya Peninsula beach you choose, they will not disappoint you. All beaches are beautiful, with blue waters, gentle waves, sparkling sands, and breezy palms. It all depends on how adventurous you want your beach vacation to be.
1. Playa Santa Teresa
Playa Santa Teresa is a paradise for surfers and wellness enthusiasts. It is also heaven for yoga lovers. The waves on the southernmost tip of the Nicoya Peninsula are perfect for novice and expert surfers.
2. Playa Samara
Another of Costa Rica's hidden gems is this secluded beach on the Nicoya Peninsula. Most of the week, the beach is quiet and peaceful. On the weekends, though, locals who want to relax and enjoy the sea start to gather. If you want to stroll off the beaten path, you should visit this beach.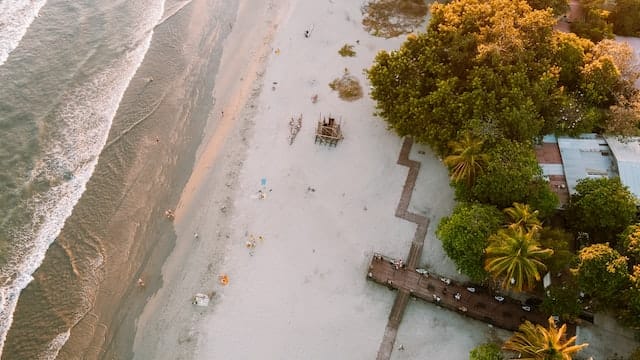 3. Montezuma Beach
The charming beach town of Montezuma is the most popular tourist destination in the Nicoya Peninsula. Montezuma provides action-packed activities between swimming and resting, with adorable beach bars and a ziplining route through the canopies nearby.
4. Playa Janquillal
The calm Playa Janquillal is one of the Nicoya Peninsula's best-kept secrets. Because of the strong waves, this beach is more suited for lounging on the smooth sands than swimming.
5. Playa Hermosa
Playa Hermosa, to the south of Nicoya, is a dazzling half-moon cove with calm surf. This beach is charming and has several excellent hotels and restaurants, perfect for spending your vacation with family and friends.
Best Things to do in the Nicoya Peninsula
Apart from visiting the beaches, you can enjoy the activities with your family and friends on the Nicoya Peninsula.
1. Enjoy Wildlife-watching at Palo Verde National Park
Palo Verde, one of Costa Rica's magnificent mangroves, is a hive of biodiversity that attracts a diverse mix of migratory birds from December to April, joining a variety of resident species. Everyone accompanying you, including your children, will enjoy this experience.
2. Explore Cabo Blanco Absolute Nature Reserve
Cabo Blanco is the southernmost cape of the Nicoya Peninsula. In addition to being breathtakingly beautiful, Cabo Blanco is renowned for being Costa Rica's first-ever protected area. Since most of the reserve is genuinely impenetrable, it is preferable to visit Cabo Blanco on a one-day hike.
3. Spend Your Day Exploring the Montezuma Waterfalls.
A trio of waterfalls just east of Montezuma town will tempt you to splash around in the cool water for the entire day. Take pleasure in the river hike, and treat yourself to a picnic, swim, and pleasant afternoon. Depending on your fitness, the three-level waterfall trip will be easy or challenging, but whatever it is, you will have a good day.
4. Visit Bahia Rica to Witness the Wonder of Bioluminescence.
Observing the surreal bioluminescence at Bahia Rica, on the southern tip of the peninsula, is one of the best nighttime activities in Nicoya. The best evenings to see these glow-in-the-dark plankton are cloudy ones, and remember, on such evenings, the local kayaking tours will get booked quickly. So, it is advisable to get your tickets beforehand.
5. Stay in a Luxury Villa Near the Nicoya Peninsula
If you want a bit of luxury on your adventure trip to Nicoya, you should stay in a luxury villa in Costa Rica. You can find a few beautiful, luxurious hotels on and around the Nicoya Peninsula.
Now, you are ready to travel to the Blue Zone in Costa Rica with this Nicoya Peninsula travel guide. Check out this guide and book a luxury villa in Costa Rica for your stay before going on a family vacation in Costa Rica to make the most of your time.