Karnataka has roughly 300 kilometers of coastline and is home to hundreds of beautiful beaches. The three districts, Udupi, Uttar Kannada, and Dakshina Kannada, are located on the coast. Mangalore is a coastal city in the Dakshina Kannada district with numerous well-known beaches. Uttar Kannada and Udupi districts are well-known tourist destinations with beautiful beaches.
Gokarna is a town in Uttar Kannada, and there are three beaches nearby. Karnataka's coast is known not only for its beaches, but also for the many small islands, temples, and forts that can be found there.
Accommodations: Hotels, lodges, and resorts are abundant in the seaside cities and towns.
Transportation: Seaside cities have good connections by road, sea, and air transport.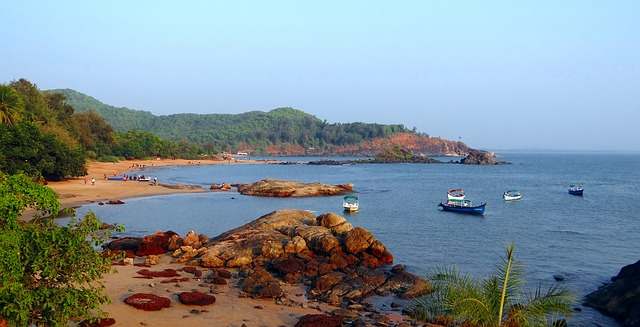 | Beaches | From Mangalore | From Bangalore | Nearest Airport | Best Season to Visit |
| --- | --- | --- | --- | --- |
| Gokarna | 225 Km | 460 Km | Belgaum, Mangalore | September to May |
| Karwar | 275 Km | 525 Km | Goa, Belgaum, Mangalore | September to May |
| Kaup Beach | 50 Km | 410 Km | Mangalore | October to December |
| Kudle Beach, Gokarna | Nearest to Gokarna Town | Mangalore | October to December | |
| Kurumgad Beach | 268 Km | 525 Km | Goa, Belgaum, Mangalore | September to May |
| Malpe Beach | 60 km | 425 km | Mangalore | October to December |
| Marawanthe Beach | 110 km | 450 km | Mangalore | October to February |
| Murudeshwar Beach | 165 km | 455 km | Mangalore | May |
| Om Beach, Gokarna | Nearest to Gokarna Town | Goa | Mangalore | September to April |
| Panambur Beach | 13 km | 360 km | Mangalore | October to February |
| Someshwar Beach | 9 km | 360 km | Mangalore | October to February |
| St. Mary's Island | 65 km | 425 km | Mangalore | December |
| Surathkal Beach | 15 km | 370 km | Mangalore | October to February |
| Tannirbavi Beach | 12 km | 360 km | Mangalore | October to February |
| Ullal Beach | 12 km | 360 km | Mangalore | October to February |