As a retail store owner, you must properly store and arrange your products, whether online or physically, a very tough ask when you have too many things to store. Racking and shelving your warehouse means having organized compartments to arrange your goods. These compartments are very beneficial since they save on space, store goods in bulk, and reduce the risk of damage.
Here are some ways racking and shelving can benefit you as an online retail seller:
The Safety of Your Products
You must prioritize safety in all warehouse storage. Warehouse shelves consist of high-quality materials, making you confident in the safety of your warehouse. Shelving is a great way to organise and store things in your space while making it safer.
Warehouse shelves are available in various sizes. Even if they are for heavy loads, you must carefully choose them based on their weight and capacity.
Enhancing Warehouse Productivity
You can improve warehouse efficiency by installing a racking and shelving system. Racking increases warehouse floor space for people and machinery like forklift trucks. The number of problems on the production floor goes down when the warehouse has more space for storage. This makes the staff more productive.
An organized warehouse storage system provides optimal storage for inventory items. It allows merchandise to be accessible or transported securely and efficiently from one location to another.
Increasing Warehouse Space
You may have limited space, but moving or expanding your warehouse storage is not an option. You can maximize warehouse space by installing a pallet racking system. Warehouse pallet racks take into account the height of the warehouse and the basic layout of the floor. Making the most of the building's height helps you save floor space and increase capacity restrictions. You can maximize warehouse capacity to store as much merchandise as possible.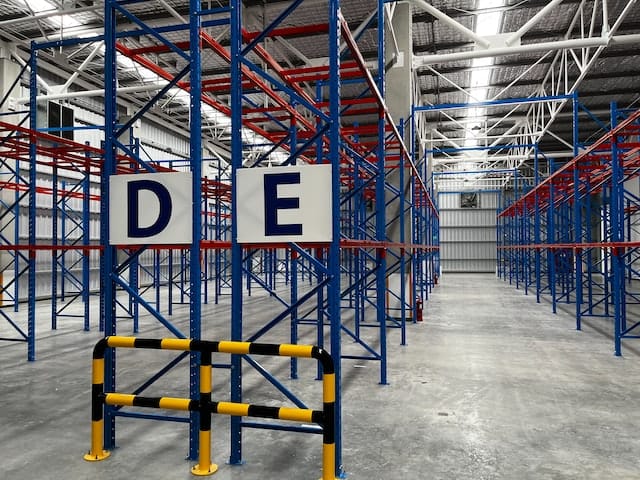 Racking maximises storage for places that require a huge stock capacity. These are:
Manufacturing organizations
Distribution companies
Large retail outlets
Improving Order Fulfilment
Customised packing and storage systems help you make better use of the space in your warehouse, which lets you fill orders faster. Modules choose and store products in an efficient manner. Forklifts do not restock products. Conveyors in large central aisles transport merchandise in and out for shipment and storage. Storage and packing systems work together to transfer items as quickly as possible. You can move, store, take items out of storage, and ship them to customers all in one step. This means there are no delays, no downtime, and no need to look for a certain item when shipping.
Enhanced Organization
Racking and shelving systems can assist online retailers in organizing their inventory. Customers find it easy to search for and retrieve items while placing purchases, increasing efficiency, and decreasing errors. You can keep your goods and entire warehouse organized using warehouse shelving. Steel racks can be set up so that your goods are easy to see and reach for both people and forklifts. This makes sure that your business runs smoothly and has little downtime.
Ease of Expansion
Racking systems can develop along with your company and goods. Begin with one level and go to the next as needed. Racking solutions ensure you only spend what you need at a particular time. You can expand current storage as needed without rebuilding entirely.
Durability
Warehouse shelving's construction usually lasts. Shelves are the best way to store things in a warehouse because they can withstand the daily wear and tear of:
Order pickers
Forklift impacts
High temperatures
Steel-gauge posts on warehouse shelves secure the shelf supports. It performs better when reinforced with scratch-resistant paint. Paint protects the shelves from potential dents and makes them more aesthetically pleasing.
With proper maintenance, racks can last for decades. The return on investment for pallet racks is high because they don't need to be replaced often. Pallet racks that improve throughput efficiency can help you save money on labour. You can devote more resources to other business objectives, boosting market competitiveness.
Ease of Assembling
Because it's easy to put together, warehouse shelving is the best way to store things quickly in a warehouse. Unlike other types of shelving, warehouse shelves are quite simple to install. You have to connect the rivets, and you are ready to go. Include this form of storage in your facilities; it takes little time. It does not take long, and you will be back in business.
Customizable
Warehouse shelving is a versatile and efficient method of product storage. It has a lot of benefits, such as quick access, easier inventory retrieval, and more efficient work by employees. Customize and accessorize it to match your warehouse's needs. Warehouse shelves can be made to fit your needs, whether you need drawer inserts or dividers.
Things on shelves are easy for company workers to find and take off because they are easy to see. They are strong and can be stacked, which makes them a great choice for storing things in a small space. Warehouse shelving is an economical technique for storing a large volume of merchandise.