There are a few places around the world that can rightfully call themselves "tropical island paradises", where holidaymakers can frolic in the sand and surf beneath the gently swaying palms in the sun's warmth from dawn to dusk. One of our favourites among them is the Maldives, an independent island nation in the Indian Ocean consisting of a chain of 26 atolls stretching across the equator. It's fair to say that the Maldives earns its place on the list of "tropical island paradises", and then some!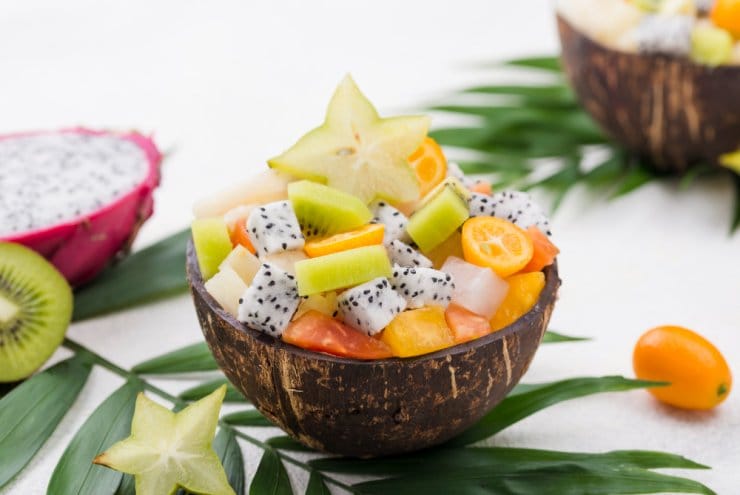 The Maldives boasts some of the best beaches and diving in the world, in fact, you can book a stay in a water villa with pool in the Maldives where you will have your very own private swimming pool and direct access right from your deck into the welcoming waters of a quiet lagoon. You can go for a swim any time you want, in saltwater or freshwater!
Usually, travellers to places like the Maldives are sharply focused on all the fun they will have in and around the spectacular ocean that surrounds you, but today we want you to consider an often-overlooked aspect of island life- the marvellous cuisine!
It seems like everybody these days is turned on to the delicious dishes of another famed tropical paradise, Thailand, and rightfully so, they're delicious, but the Maldives offers just as much and maybe more! Your villa will have a variety of restaurants and bars where you can sample the native delights beside the sea in perfect luxury. So, let's explore the gastronomic wonders the fair Maldives has on offer to her lucky guests.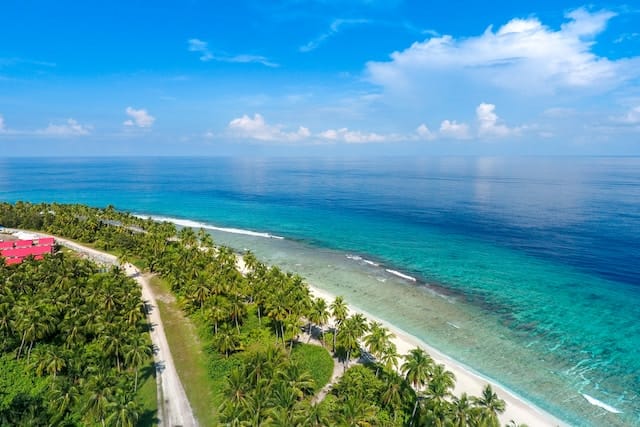 Breakfast
Start the day with the Maldives' favourite drink, Ruku Raa. This delicately sweet toddy is made from the flowers of palm trees, so it doesn't get more tropical than that! Next up is a plate of Mas Huni, a morning staple made of coconut, onion, chili, and tuna spread on freshly baked Roshi flatbread. Follow this with a cup of hot Kalhu Sai sweetened black tea and you will be well fortified for your day of sea and sun!
Lunch
You're back from the beach and all that swimming has made you extra hungry! Go with what the locals know, a plate of steaming hot rice accompanied by a scrumptious fish broth soup called Garudhiya served with fried native Moringa leaves and Thelli Mas fried fish. Now that you're fueled up, it's time to hit the beach again!
Dinner
Being an island nation seafood is king, but you might be ready for a break from all the fish, so try some amazing Kukuku Rih: marinated chicken simmered in coconut milk, onions, water, curry and pandan leaves served with rice. The curry can make it a bit spicy, but if you like big, bold flavours, this is the dish for you! The perfect end to a perfect day.
Here are some popular dishes and elements of Maldivian cuisine:
Rice and Fish: In the Maldives, rice holds the status of a staple food and is commonly paired with an assortment of fish dishes. The culinary landscape often features popular fish varieties such as tuna, grouper, snapper, and swordfish, which add to the richness of their cuisine.
Rihaakuru: In the Maldives, you'll encounter Rihaakuru, a delectable brown fish paste with a rich, thick consistency. This delightful condiment is meticulously crafted from boiled tuna, the enchanting essence of coconut, and a harmonious blend of spices. Embracing the palates of locals and visitors alike, Rihaakuru gracefully accompanies the beloved rice dishes, adding a burst of flavor to every delightful meal.
Mas Huni: Creating Mashuni is a culinary breeze, yet its flavor prowess is awe-inspiring. The shredded smoked fish imparts a luxurious, smoky essence, complemented by the delightful sweetness and creaminess of grated coconut. With the added touch of zesty onions and chilies, the dish achieves a harmonious balance of heat and acidity, culminating in a true delight for the taste buds.
Garudhiya: The symphony of tuna, coconut, and an array of spices intertwines harmoniously to create an exquisitely flavorful fish broth. This delectable creation finds its perfect companionship alongside steamed rice, while a spritz of lime adds a refreshing zest that elevates the entire culinary experience.
Hedhikaa: Maldivian snacks, reminiscent of the beloved Indian samosas or pastries, delight the taste buds with their unique charm. These delectable treats come in a delightful array of shapes, generously filled with a tantalizing blend of fish, coconut, and aromatic spices, offering a true taste of the island's culinary magic.
Fihunu Mas: Grilled fish, grilled fish reigns as a cherished culinary tradition, celebrated widely for its exquisite seafood preparation. Embracing a tantalizing ritual, the fish is lovingly marinated with an aromatic blend of spices before it meets the dancing flames of an open grill, unveiling a symphony of flavors that enchant the senses.
Sai Baji: Frequently served with rice, this delightful vegetarian dish features a medley of spinach, coconut, and a captivating array of other vegetables. Together, they harmonize into a delectable creation that satisfies both the palate and the soul.
Bambukeylu Hiti: Immerse yourself in the enchanting realm of sweet indulgence with this delightful delicacy. Encased within a tender banana leaf, a delightful blend of grated coconut, jaggery, and rice flour is lovingly steamed to perfection. The result is a divine treat that transports your taste buds on a journey of pure bliss.
Sorpotel: Drawing inspiration from the flavors of Portuguese cuisine, this dish presents tender diced meat marinated to perfection in a delightful medley of spices.
Fruit-based desserts: Blessed with a tropical climate, the Maldives boasts an abundance of luscious fruits, such as papaya, mango, and coconut. These delightful treasures frequently find their way into mouthwatering desserts and sweet delicacies, adding a refreshing and tantalizing touch to the island's culinary delights.
For more tips visit the Maldives tourism website. We hope you enjoy your marvellous Maldives meals!