What's the main goal of your email signature marketing practice? What are the most effective signature tools? Read more about our top relevant solutions to pick yours.
The progressive development of digital marketing strategies opened the door to a dynamic business capacity of an email signature. So much so it is now considered an exclusive marketing technique with extended functionality. Generating brand recognition is the least that an email signature can do. Furthermore, it's a great way to get more website traffic, promote new products and offers, and as a result, increase conversion. Whatever your aim is, you should be aware of the advantages and opportunities email signature software produce. The following selection of tools shows you a brief review for each so you can pick the most suitable one for your needs.
Newoldstamp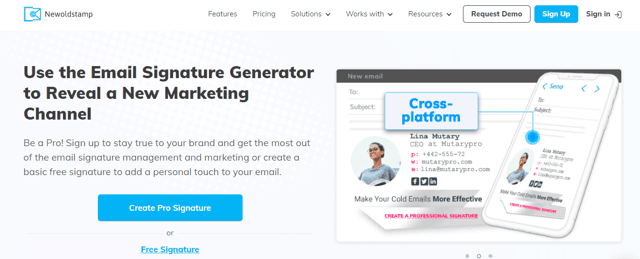 NEWOLDSTAMP is a flexible email signature generator that works across all email clients without the involvement of any technical knowledge from your side. Build your signature with the help of professionally crafted templates or create your own branded layout. Pump it up with a variety of CTAs, links, and social media icons; run banner campaigns. You can also centrally manage all your company's signatures from the user-friendly dashboard. It is conveniently structured in departments with an ability to set a default design for each. The auto-update will revise your signatures with the latest version for all team members. And a feature of track analytics allows you to manage its effectiveness and contribution to email marketing objectives.
Sigstr
This email signature solution provides a proven platform to develop and maintain business relations through your inbox. An intelligent targeting feature is aimed at taking personalization to the next level and get the most from your marketing campaigns. Sigstr offers robust analytics to supplement a much-needed picture of marketing performance. And integrations with sales automation software helps to maintain client relationships. Even the basic Sigstr package includes a whole lot of useful functions to grow your company. Get a demo to start right now.
MySignature
This affordable mail signature tool is a perfect fit for small enterprises and individuals. With the selection of creative, meticulously designed templates and promotional banners, MySignature is aimed at saving your valuable time in favour of business priorities. The dashboard is very straightforward and accessible from different devices, including mobile. The preview option is available too. In fact, everything you need for a simple, neat email signature is in this one instrument.
CodeTwo
CodeTwo is software that provides not only email signature management services, but also data migration, online collaboration, and backup tools. The platform is focusing on security and high quality of its niche products also offers a powerful email signature marketing solution for Exchange, Office 365, and Outlook. Apart from central management, banners, social icons, and disclaimers, CodeTwo allows you to position a signature anywhere throughout your correspondence. With an extensive 24/7, 5 days a week online support, you'll get all the technical nuances sorted in the most convenient way. The tool works well from all types of mobile devices.
Opensense
Opensense recognizes the suitability of email signature management across all teams in a business. As well as Sigstr, Opensense works great with email programs such as Gmail, Office 365, Salesforce, Microsoft Dynamics, G-Suite. A signature turns into the media channel ready to promote any content, with the help of creative designs and integrated sales insight. Run targeted banner campaigns and follow their performance on the smart, comprehensive dashboards. What's more, Opensense solutions are entirely GDPR compliant to ensure the perceived trustworthiness of your outbound messages.
Exclaimer
A professional email signature management platform that, like previous ones, concentrates on Microsoft system-based mail clients. The signature template editor is convenient in use and includes dynamic fields, images, social links, and the ability to adjust text format. The comprehensive central management system enables the distribution of signatures between various departments or teams. There is an option of multiple signatures per user, which can be used on different occasions. Besides, Exclaimer provides a bespoke archiving technology for Microsoft Exchange that will fit for the company of any size.
All in all, the variety of email signature marketing platforms and their advanced functionality can fulfil the preferences of any enterprise. There surely will be new tools and technologies as the digital marketing landscape develops extensively. But the fact that mail signature is an essential element of business communication remains undeniable. And it's a reasonable investment in the growth of your company.