Interior decor today has branched out in so many ways that homeowners are indulged in choices when selecting how to lead the renovation. Instead of just obsessing over paint or wallpapers options, nowadays it is more about the ambiance, individuality, and personality of the family that reflects in the house. After all, a house becomes a home after you inject your personality into it.
Tiles have a massive role to play in home renovation. It is safe to say that tiles can make or break the decor. Their styles, varieties, and patterns significantly contribute to how the other aspects of your interior fall into place.
Today, you can find tiles in a variety of materials, patterns, colors, sizes, and finishes. However, the variety of options can often prove to be confusing. Which will suit your space or what pattern and color combinations can enhance the beauty of the space are some of the questions often asked by homeowners.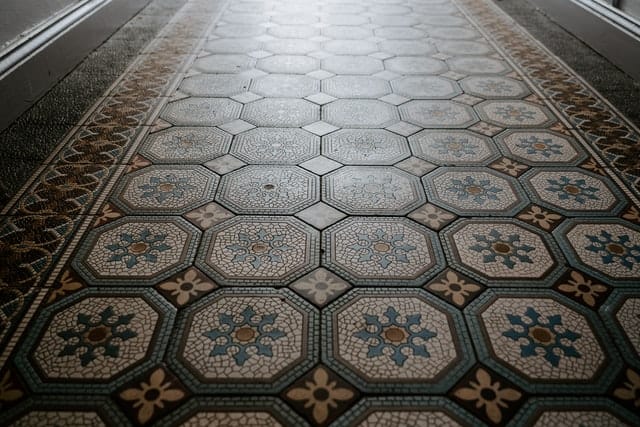 A great place to start then is to find out exactly what you, as a homeowner, are looking for and what is your vision regarding the space you are decorating or redecorating. This will help you narrow down your choices and make it easier to make a choice.
In that light, let's start with some of the most popular tile choices based on the materials.
Marble Tiles: The Most Sought-After
Marble tiles are some of the most sought-after titles. They emanate the luxury and class of a marble stone while giving the durability of tiles, making for a two-for-one package on whole. While the patterns are similar to those of marble stones, they are much easier to clean and provide absolute, timeless beauty.
Moreover, as marbles are vulnerable to spills and stains, marble tiles eliminate that risk and give you a low-maintenance alternative. Some of the popular tile sizes when it comes to houses are 600×600 mm, 200×1200 mm, and 1200×600 mm, although they are also available in smaller sizes.
Wooden Tiles: The Vintage Option 
Wooden tiles, or wood-look tiles, are stronger alternatives to wooden flooring. Unlike hardwood floors, these tiles possess better durability that remains solid against scratches and spills. They can withstand a certain amount of water absorption and moisture that makes them long-lasting, something that is missing in natural wood.
Most often, wooden tiles are either porcelain or ceramic. However, despite this fact, it is impossible to differentiate between wooden flooring and wooden tiles regarding the looks.
Porcelain Tiles: Water-Resistant Options 
Porcelain tiles are immensely durable. Moreover, when it comes to water absorption rates, they stand at less than 0.5%, which is excellent for most practical purposes. The clay used to make porcelain tiles is usually denser and can be glazed or unglazed as per the finish. This factor makes porcelain tiles more sturdy and long-lasting than their ceramic counterparts. These tiles are chiefly used in bathrooms and toilets, thanks to their low water absorption capacity.
Vitrified Tiles: Extremely Durable 
A major differentiating factor between ceramic and vitrified tiles is that the latter tiles undergo a process called vitrification. In this process, the tiles are made by hydraulic mixing of clay, quartz, feldspar, and silica that gives them the vitreous surface. Simply put, this vitrification process makes these tiles low porous, exceptionally durable, and resistant to moisture, spills, and even scratches.
Terrazzo Tiles: Value For Money 
Terrazzo is a flooring material that is produced by exposing marble chips on the surface of concrete and polishing the surface to make it smooth. While terrazzo was deployed in ancient Egypt as mosaics, nowadays you can find terrazzo tiles that, once sealed properly, minimize water and stain damage. Due to their durability, these tiles are used in public building facades, and can also be refurbished. At the same time, they can also be used in living rooms, dining rooms, and bedrooms. And while they may prove expensive compared to their counterparts, terrazzo tiles give value for your money.
Indian Patent Stone: Traditional Flooring 
The Indian Patent Stone, commonly known as IPS, is mainly used as flooring that is usually observed in old houses. They are essentially polished concrete floors that were made of cement, sand, and granite chips. They can be grey or colored, like, for instance, red oxide flooring. However, due to its labor intensity, it is losing its popularity in the construction business, especially with several other durable options in the market. However, with a wax coat or a sealer, the color of the IPS flooring can be preserved for a very long time.
Granite Tiles: Old School Charm 
Harder than travertine or marble, granite tiles are resistant to scratches and stains. In houses, or spaces with heavy foot traffic, these tiles make for a great addition. For instance, these tiles will go well in kitchens, playrooms, and living areas, where you entertain, and greet family and guests.
These tiles free you of worries about resealing or maintenance. In fact, as granite tiles resist color fading in sunlight, they retain their look and feel for a long time. The only factor to consider here is that granite tiles require precision installation. Consequently, it is always advised to get them installed by highly-trained professionals.
Mosaic Tiles: Do It Yourself 
Mosaic tile is a combination of any size, color, or pattern set in a sheet for easy installation. They can be either ceramic, porcelain, natural stone, or even metals and mirrors. Commonly installed in kitchen backsplashes, they can also be deployed for accent walls. They are cost-effective, low on porosity, and durable. These easy-to-clean tiles were usually associated with areas like swimming pools, although you can now find them across different spaces.
Cement Tiles: Weather Friendly 
Cement tiles have been used in Indian homes for the longest time. Besides the traditional aspect, these long-lasting tiles also have a visual appeal. Cement tiles can make for a great addition to your kitchens and bathrooms, as they work well in wet areas. They are less slippery and environmentally friendly as well. Notably, cement tiles have a high thermal mass. This means that they can hold their temperature well, which is beneficial for homes in varying temperature conditions. Installing a cement tile floor can, thus, help keep your home cool in the summer and warm in the winter.
These were some of the tile options that most Indian homeowners opt for when renovating their homes. You can also choose the flooring or wall tile option for your homes from one of these. If visualization is your forte, try features like TriaLook to see your space with the tiles of your choice with a single picture upload. If you are still confused as to which one might work best in your favor, you can always connect with tile experts who are well-equipped to answer your tile-related queries.
Author
Isha Tandon has worked within the architecture and interior design industry as a flooring consultant expert – specializing in tiles, stones, and terrazzo. She has worked with Orientbell Limited, a leading tile manufacturer in India, as a product development manager in the design team and has recently joined the marketing team as their digital content expert. Her experience comes in handy in understanding the audience as she creates value-driven functional & informational content for the readers. She creates lifestyle pieces that focus on interior design products, trends, and processes. She loves to travel to historic places with rich architecture.