Everyone loves to travel. The fun and excitement among other things make it worthwhile. If you have taken any trip before even a short one, then you already know that to enjoy the many perks attached to traveling; choosing the right location is key. That's usually the secret to turning a supposedly disastrous trip into an exciting adventure.
Every place is unique in its own way. But different locations work best for different purposes. Yet, there are some that are truly phenomenal.
So, here are 7 Brazilian beaches (in no particular order) you can't afford to miss when planning your next trip.
Copacabana, Rio De Janeiro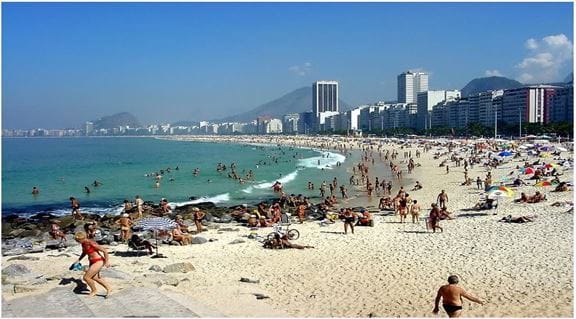 There's a lot that can be done here. Flanked by high-rise hotels in the foreground and mountains in the background, this place is perfect in a lot of ways.
First of all, you can decide to bake in the sun to get a good tan. Alternatively, you can cool down with a swim or surf in the turquoise waters at Copacabana.
But if you prefer some "land" activities, you can opt for a game of soccer, volleyball or join impromptu dance parties. This is an infamous party and festival area, and it is filled with guests during events like the hosting of the World Cup.
And although most of Brazil's famed beaches are wild and privy, Copacabana is located at the very heart of Rio De Janeiro. That in addition to the comforts it offers make it easy to visit with a little planning.
However, should you visit, be extra careful at night. Stay off the sands and you will safe from crime.
Lencois Maranhenses National Park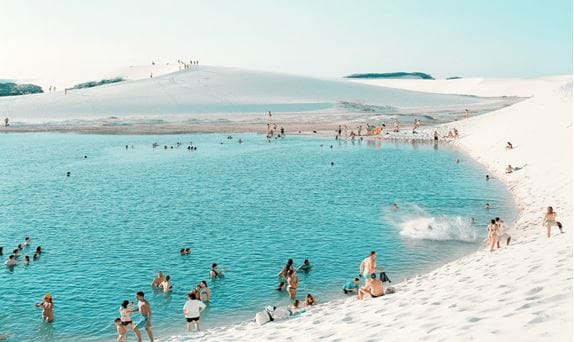 What's a park doing on a beach list? Famous for its sand dune lagoons, this is a to-die-for beach-like destination.
In the rainy season, Brazil's 570 square miles' region of white sand dunes transforms to a beautiful turquoise blend. This is not really what we are used to when a place is termed as a "beach". But hey, it got water and sandy banks. It will just have to do.
It's a perfect mix of desert and ocean conditions. A great spot for photographs and just mere chillaxing … However, you can't truthfully boast among friends about surviving in desert-like conditions. This is because Lençóis Maranhenses gets 47 inches of rain annually, which is 37 inches more than the amount a desert gets.
Alter do Chao Beach, Para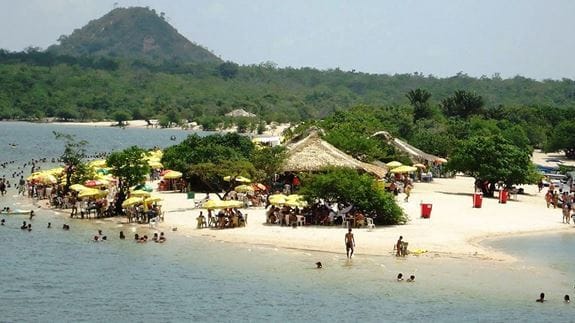 The beach located in Alter do Chão, Pará is next on my list because of the beautiful white sand. And the fact that it's completely mosquito-free.
While there, one can take boat trips out to Lago Verde (Green Lake) and up the Igarape dos Macacos. It's an ideal spot for bird-watchers to do what they enjoy doing.
If you are a lover of nature and beautiful scenery, head over to Ponta de Curucu to catch the sunset. And also, watch the dolphins as they play.
Praia Vermelha, Rio De Janeiro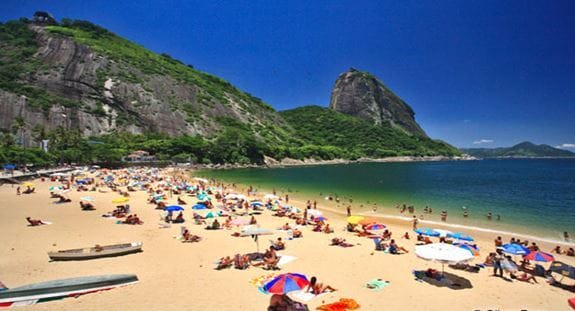 This place is quite small but its features make it quite popular. First, there's a cable car that takes anyone interested up Pão de Açúcar (a mountain which is 1,300-foot tall). Imagine the thrill of being so high!
For those who love hiking, there is a paved hiking trail along the rocky coastline that goes on for a mile.
Also, it lies in a cove so one is less likely to see anything but calm waters. In addition, there's a park behind the beach where you can sit and relax. It's a great destination for those who appreciate the serenity and wish to move from the noisiness of the world.
This beach is so secluded – it can only be reached by taxi and not public transport.
Pipa Beach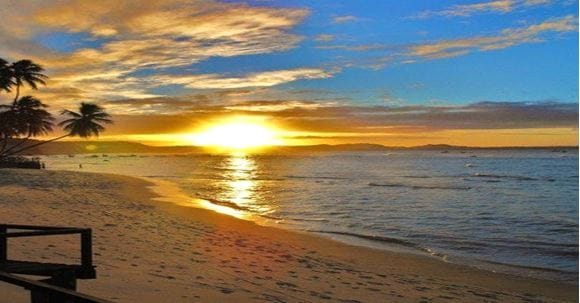 Its clear waters, turtles, dolphins, and beautiful sunset qualified it to be on my list. So yes, maybe I just love dolphins and sunsets. Hotels, pousadas, and nightlife are easy to find. It's an ideal spot for travelers who like to think out of the box as to their choice of vacation.
But if you are a city-lover, this is not the place for you. It's quite colloquial.
Barra da Tijuca Beach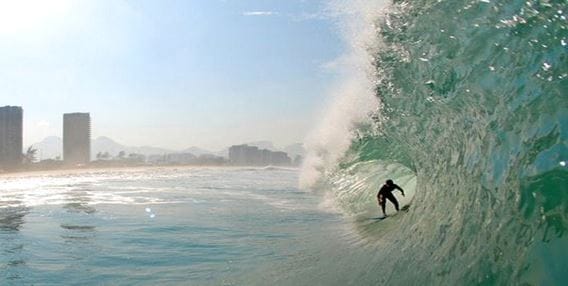 Barra da Tijuca, Rio's longest beach, stretches on for an astonishing 11 miles. Because of its usually excellent waves and water conditions, it was home to many Summer Olympics 2016 venues.
If you are athletically inclined – a long or shortboard surfer, bodyboarder, kitesurfer, or windsurfer, etc. – come and take advantage of these prime conditions.
And if you are a novice, no need to watch from the shore! Just stop by any one of the numerous "surf schools" along the beach to sign up for the lesson.
Prainha Beach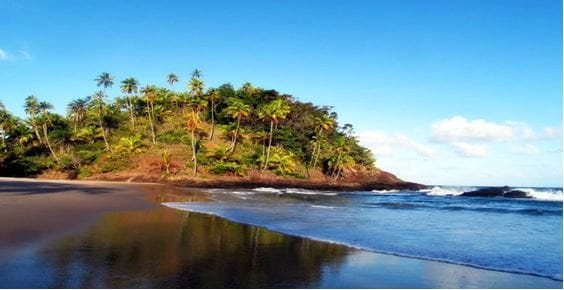 The sands here are soft and white, and the waters are bright blue. This is a great spot for families. It's beatifically quiet and has a sensational crescent of sand flanked by rainforest-covered mountains.
To reach Prainha, it's easiest for tourists to take a taxi from their hotel. This is because it is not easily reached via public transport.
So, the next time you are deciding on a destination you wish to head to, add any one of these beaches to your list of options. They are great for relaxation purposes and having fun in general. But if Brazilian beaches are not your ideal destination, you could always try other options.