Cloud backup solutions have simplified how businesses back up their data. They provide a fast automated solution, unlike the conventional method that uses manual hard drives and physical server backups, which are much slower and labor-intensive.
Most cloud backup solutions are provided by third-party companies, but internal IT experts play a role in supporting the backup process in collaboration with the service provider. All that is needed is to ensure that all devices such as computers and mobile phones are connected to the cloud backup and stay connected to the internet to complete the backup at the set intervals.
The good news is that cloud backup solutions are more useful now than ever. Therefore, this is the ideal solution for any business, whether small or big. To help you leverage cloud backup solutions in your business, we've shared insightful steps that you can easily follow.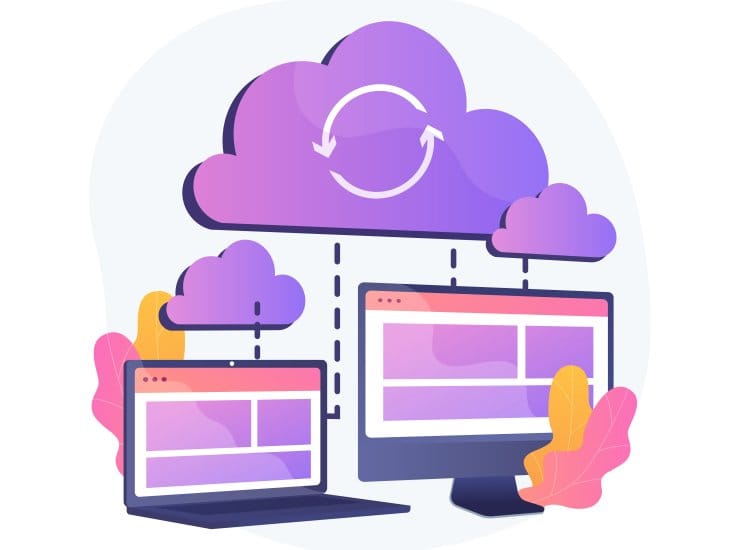 Assess Your Backup Needs
Different businesses have different backup needs depending on the data they process every day, the devices they use, and the operations model, among other factors. Before choosing the cloud backup solutions to suit your business, it is essential to assess your back up needs.
Firstly, identify the amount of data you process per day to know how much space you need to back it up. Most cloud backup solutions providers offer packages in space sizes so it will be easier to choose an appropriate package or make a budget.
Secondly, determine the complexity of your data processing and operations to understand what other services you will need when seeking cloud backup solutions. These may include integrations with other solutions to process your data while in the cloud and more. 
See also: 7 Main Features of Cloud Services
Choose the Best Cloud Backup Solutions
Now that you know your needs, the next crucial step is to choose an appropriate Cloud Backup Solutions provider. Right now, this is a common business, and you will have a hard time choosing a services provider in a crowded marketplace.
So, take your time to go through the most reviewed cloud backup solution providers and choose one that offers you the best deal. Most importantly, look for a provider with all the solutions that your business needs. Lastly, consider the pricing, which should be within your budget, especially since this is a monthly, quarterly, or annual subscription.
Setting Up and Automating Backups
Of course, the cloud backup solutions provider will assess your setup and provide the most appropriate backup solution. However, you need to be on top of the game through your IT department to ensure that all data is backed up.
More often, the setup seeks to automate the backup rather than do it manually. It is worth noting that there are different backup options depending on the cloud backup solution provider, so check well and choose the most effective option. You can pick real-time backup, daily, or any other backup interval.
Set the Security Parameters
Data security and integrity are vital in any business. Whether you are handling data in your organization or doing data backup, having a security plan is mandatory. Most cloud backup solutions provide data security through encryption, two-factor verification, user login setups, and the use of secure servers, among others.
As an entrepreneur, it is good to confirm that all security configurations have been accordingly, and plans to monitor, update, and maintain have been put in place. You should never leave your data exposed at any time. 
See also: 5 Pillars of Cloud Security
Seek Integrations
With time, it is good to distribute your data across more than one cloud backup solutions provider. Most big companies do not rely on one service provider, hence the importance of working with solution providers who integrate with their competitors.
Apart from such integrations, you can also seek other integrations such as data security providers, data management and analytics providers, and others to help your back up your data effectively while enjoying other solutions.
Maintain Your Cloud Backup
Having a great cloud backup solution is one thing, and maintaining it is another. It is good to focus on good data backup maintenance practices for efficient data recovery, utilization, and more. This is the only way to ensure the availability of data whenever it is needed.
So, how do you do this? The most important things are to pay the service providers on time, monitor the used space, and keep an eye on the overall performance of the entire cloud backup solutions system. If there is a need to do any corrections, upgrades, or any other service to make the backup effective, it should be done on time.
Conclusion
It is important to have an effective cloud backup solution in your business regardless of size. Many businesses can attest to how useful a backup is, especially when the internal system fails or if there is an accident that wipes out the data. If you want your business to guarantee smooth operations at all times, ensure that you have an effective data backup using the six-step process that we've just discussed.