In this article we will tell you where it will be warm, resorting, and interesting in the colder month, so you can plan an awesome vacation. In autumn, travel is cheaper than in the summer months – there are fewer tourists, and the market always responds to reduced demand with discounts. The beaches of many countries will definitely be freer and more welcoming. Fall travel across Europe is the best, and people are consciously waiting for autumn to see famous sights and relax without crowds.
A real tourist paradise begins in the cities around fall time: fairs, festivals, various excursions, and the moderate air temperature contributes to a special atmosphere when walking through historical places. It should be noted that knowledge of the language is important. During the trip, there will be a need to speak English, Turkish, Spanish, French, German, Chinese, or other languages. It is necessary to have a vocabulary of at least 50-100 most used words in the local language because English is not as universal as everyone thinks.
Albania
The cozy Adriatic Sea is a great choice for the beginning of autumn. The Adriatic Sea generally warms up faster than the neighboring Ionian Sea. The water at this time along the coast is very comfortable for swimming – from 23.5 degrees. The best times to visit Albania are May, June, and September. In the Albanian Vlora, the pearl of the two seas, you can check the temperature difference between the Adriatic and Ionian waters: there, in a very picturesque place, is where they meet. There is also a mountain range and the Prokletije National Park in Albania for students to explore.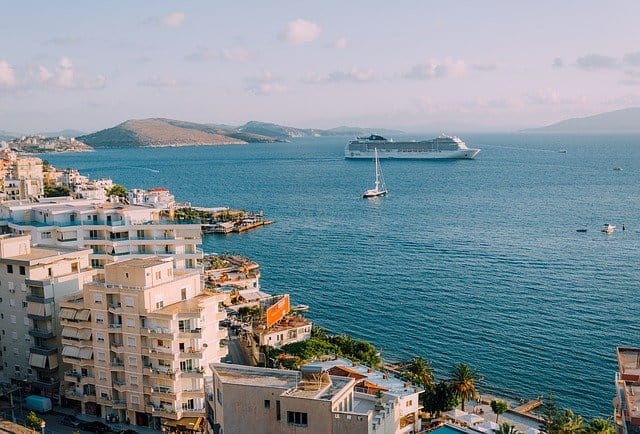 Madeira
This island is considered an all-season resort. It will seem chilly to some, but not to surfers, who can enjoy excellent conditions to practice their sport until December. Resort housing in Madeira is built with tourists' thirst for swimming in mind – you can swim in both an ocean and swimming pools. And if you suddenly have a rainy day and can neither swim, nor enjoy walking along the beautiful mountain meadows, you can visit Funchal – a wonderful city with its own zest. If you have already heard about the museum in honor of Cristiano Ronaldo, you can walk through the once abandoned Santa Maria Street, which has now become an art museum. A local artist asked residents of Santa Maria Street to let the facades and doors of their houses be painted by artists. Here in Funchal, you have an amazing Bohemian tourist street with many restaurants where you must try the swordfish. And to immerse yourself in Bohemian Madeira, you need to go to the market Mercado dos Lavradores. It's best to do it on a Friday or Saturday when local farmers sell their fresh produce.
Croatia
Here you should look at the islands and take ferries and yachts. The peninsula of Istria is especially noteworthy. Tourists will enjoy the unique gastronomic offers of Istria, where oysters, truffles, and olive oil are produced. Autumn is the season to do it: you can just go from farm to farm and taste the oil from the producers, attend cooking workshops, learn how to choose wine for dishes, etc. This is where the grapes are harvested, too. A group of tourists just follows the specified route and gets to the wineries, tastes this year's young wines and best vintages. Along the way, tourists can expect a variety of entertainment, delicious food, and complete immersion in the local culture of wine consumption.
Montenegro
The Balkans are not just for swimming – there are also wonderful mountains there. For example, the beautiful Durmitor National Park in Montenegro. Even if you do not like to hike in the mountains, driving there will still be a great pleasure. In Montenegro, if you can spend some time trekking. The local mountains attract many tourists, as it is not too crowded.
By the way, while traveling, don't forget about your academic papers and a college application that you need to prepare. If you don't have needed writing skills and think: "can somebody write my research paper?", don't waste your holiday and nerves and go to a skilled service to help you. 
The United Arab Emirates
It is every tourist's dream. Who does not dream of getting into an Arab fairy tale? This exotic land will give you unsurpassed sensations, fill your vacation with the taste of sea waves, and the aroma of oriental spices. The main feature of the UAE is its ability to combine almost incompatible things – antiquity, the achievements of modern civilization, unique Arab culture, and impeccable service.
Greek islands
Corfu, Crete, Rhodes are still quite accessible and comfortable for a beach holiday in the fall. The island of Lefkada has fabulous turquoise seawater. From the mainland, it is easy to get here by car, and in September its rent will be much cheaper. Lefkada is connected to the mainland by two bridges and an underwater tunnel. When the bridge moves apart and ships come to the island en masse, the spectacle is unforgettable. You can also rent a boat and take part in the regatta.
Fall Student's Budget Trips
This fall, you can safely go to the beach resorts of Croatia, Spain, Egypt, Montenegro, Madeira, Georgia, Cyprus, Tunisia, the Greek peninsula of Halkidiki, and the Antalya coast of Turkey and Albania until the end of October. Also until mid-October, there are many flights to the most popular resorts in Greece, Corfu, and Rhodes. The cost of tours can be quite flexible in the colder months. In general, using our tips, also remember that you can use couch-surfing and other budget-friendly solutions. This helps not only to save money but also to get familiar with locals. Take public transport – it's another great way to get introduced to local life. Also, at fairs, food is usually even tastier than in a café, so make sure to try some local seasonal cuisines.