Ah, wouldn't it be great if science could hurry up and discover teleportation so we can just jump from one end of the world to another with no fuss involved? While visiting beautiful countries and enjoying exclusive locations is absolutely amazing, waiting at the airport and worrying about documents and luggage is decidedly less so. How's a person supposed to stay stylish and show off their unique sass and fashion sense with all that stress going around? These were really good debate topics. But after long discussions and with our own traveling experience – we're here to tell you.
Carry stylish luggage
Buy a set of big, luxurious suitcases that are both practical and beautiful. Sturdy leather is a good choice, and you want to make sure that they have wheels and can easily be pushed or pulled around. Match your luggage to your passport covers, tags, and your personal bag if you really want to be dripping with style. It's really just like your everyday clothes. You want to color-coordinate and tell a story through the things you carry. A fun, bright suitcase speaks of a tropical paradise, a sensible leather bag talks of a fashionista businesswoman who's going to an important congress for the weekend.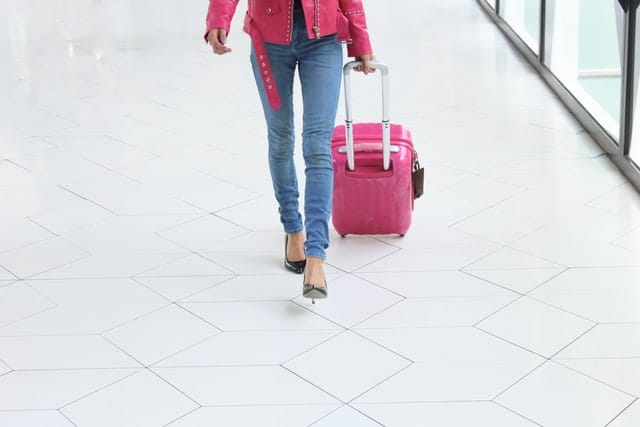 Bring a few things to freshen up
Long trips are stressful, and they tend to leave us looking exhausted. If you don't want to lose your glam, bring a small bag of useful little things such as a pre-pasted disposable toothbrush, mini deodorant, wet wipes, a comb, and lip balm. Your makeup bag is optional of course, but it can really help you feel better if you add a dab of lipstick and a hint of mascara before you arrive at your destination. Another great thing is a small can of thermal water or another type of face mist that you can use to easily freshen up. Also, pack a sheet mask and mini-sized version of your favorite cosmetics so you could afford yourself a little spa moment when you finally arrive at the hotel.
Plan your outfits
To make the trip really memorable, you want to plan the outfits that you're gonna wear every day. Get versatile things that can easily be matched with multiple pieces, and make sure you have a lot of light clothes that can easily be layered up in case the weather requires it. Bring a few beautiful dresses that photograph well – you want to be ready for those selfies and group photos.
A sweet floral dress paired with a simple denim jacket and a pair of ballet flats is cute as hell and very easy to pull off. You also want to make sure you have an evening combo – a black slip dress is sexy, sleek, and can easily be made more demure with an addition of a sharply-cut blazer, or given a dash of naughty if you leave your shoulders bare and just wear a statement necklace.
Comfort before all
Look, when are you really going to get a chance to wear those stilettos? Clothes, and especially shoes, need to be comfortable and practical. Cute yoga pants, stylish jeans, loose cardigans, sneakers, flats, flat sandals and boots, oversized sweaters, cotton blazers – travel essentials you can rely on to both look pretty and allow you to spend many hours in them as you walk around and explore.
Better way to pack
Forget the traditional way of packing. Want more space in your suitcase? Try a few packing hacks, like clothes rolling, and you'll have more space and ensure that nothing gets wrinkled and has to be ironed before use. You can stuff your socks inside your shoes for even more storage space, and never wear full bottles of anything. Just buy empty travel-sized containers and use that instead.
With a few practical, glam outfits, some luxurious-looking luggage, and a perfect pair of sunglasses you can look like a cool jet-setter diva on her way to Paris Fashion Week or a tropical resort. Now the only things you'll need are nice weather and a good mood, and you're guaranteed to have an unforgettable trip.