Alabama is a state in the USA with various areas of interest such as National Parks, Museums, Mountains, Water Parks, and Zoos. The United States has several natural parks that attract thousands of tourists each year; here we have selected 20 of the best (not rated) and significant sites of interest in various places of Alabama.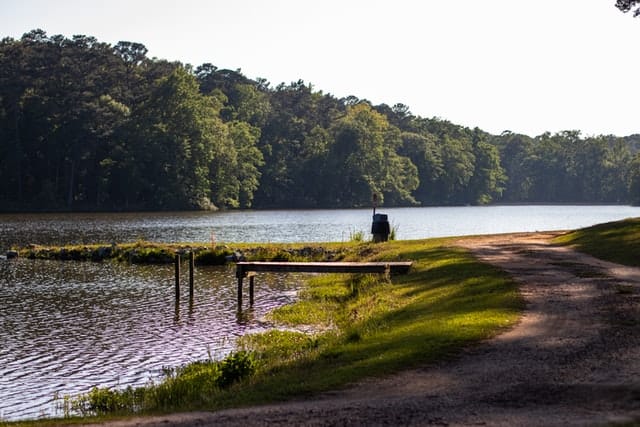 U.S. Space & Rocket Center
The Museum in Huntsville, founded in 1965 and designed by David Crowe, is the best attraction, showcasing many sorts of rockets, spacecraft, achievements, and relics. This is the only spot where you can see the rockets almost. The Museum is operated by the state of Alabama and exhibits the United States space program. It is open seven days a week, from 9:00 a.m. to 5:00 p.m.
Location: One Tranquility Base, Huntsville, AL 35808
Battleship Memorial Park
This is the Military Memorial Park in Mobile, which displays aircraft and museum ships on the shores of Mobile Bay. The Battleship USS Alabama (BB-60), Submarine USS Drum (SS-228), Bomber and Fighter (B-52, P-51 Mustang, A-12 Blackbird), PBR (River Patrol Boat), Skysweeper M51 anti-aircraft gun, M4 Sheman, Missile are all on display in the museum.
Location: 2703 Battleship Pkwy, Mobile, AL 36603, United States
Brimingham Zoo
The Birmingham Zoo, founded in 1955 on 122 acres, is home to approximately 800 animals representing over 200 species, including several vulnerable species from six continents. Babec (Western Lowland gorilla), Kwanzaa (Lion), and Akili are among the prominent animal displays here (Lion).
Location: 2630 Cahaba Rd, Birmingham, AL 35223, United States
Cheaha State Park
Cheaha is Alabama's oldest operational state park, with 2,799 acres located in northern Clay and southern Cleburne counties, and it encompasses the Cheaha Mountains, Alabama's highest point.
Location: 2141 Bunker Loop, Delta, AL 36258, United States
Waterville USA
It is an Amusement and Water Park, which was founded in 1986 and is only one-fourth mile from the Gulf of Mexico. Waterville USA is 30 acres of enjoyment for kids and adults on weekends and holidays. Cannonball Run, Triple Dog Dare, Screamin' Demon, Rainbow Falls, and Jet Stream are among the popular rides.
Location: 906 Gulf Shores Pkwy, Gulf Shores, AL 36542, United States
Barber Motorsports Park
The Birmingham Motorsport Park, located on 740 acres of land, is a multi-purpose racing facility named after George Barber, who established the Motorsports Park in 2003.
Location: 6030 Barber Motorsports Pkwy, Birmingham, AL 35094, United States
Noccalula Falls Park
This is Gadsden's Public Park, which has 250 acres of land and features Awesome Waterfalls named Noccalula Falls, as well as the Botanical Gardens, which exhibit a large botanical garden with over 25,000 azaleas.
Location: Gadsden, AL 35904, United States
McWane Science Center
Mcwane Scientific Center is a science museum and research achievement located in downtown Birmingham. It includes over 500,000 specimens, including over 50 kinds of marine and freshwater life, as well as an 80-foot fossil whale. The scientific center features a 280-seat IMAX Dome Theater where films and videos about science are shown.
Location: Birmingham, Alabama, United States
Fort Morgan
Fort Morgan is a historic masonry fort in the shape of a star located in Mobile Bay, covering around 101 hectares of land. The fort was finished in 1834 and is regarded as one of the best architectural works by certain historians.
Location: 51 Alabama 180, Gulf Shores, AL 36542, United States
Chewacla State Park
This is the Auburn State Park, which is 696 acres in size and includes picnicking, hiking, swimming, camping, and lodging. A 26-acre lake, playgrounds, and a swimming facility are all part of the States Park.
Location: 124 Shell Toomer Pkwy, Auburn, AL 36830, United States
Birmingham Botanical Gardens
The Botanical Gardens, which span an area of 67 acres and are located near the southern foot of Red Mountain in Birmingham, were established in 1963. This garden is available to the public all year, with over 12,000 different species of plants, 25 distinct gardens, and many kilometers of walking trails, and receives 350,000 visitors each year.
Location: Westbourne Rd, Birmingham, West Midlands B15 3TR, United Kingdom
Monte Sano State Park
This is a mountainside retreat of around 2,140 acres in Huntsville on the slopes of Monte Sano Mountain. This is one of the oldest parks, established in 1938 at an elevation of 1,608 feet. Hiking paths, picnic spaces, and contemporary campsites are available in the State Park.
Location: 5105 Nolen Ave SE, Huntsville, AL 35801, United States
Huntsville Botanical Garden
A 112-acre botanical garden in Huntsville, near the US Space and Rocket Center, with a butterfly house, aquatic and wildflower gardens. Nature Center, Biblical Garden, Central Corridor, Daylily Garden, Dogwood Trail, Fern Glade, Herb Garden, Nature Trail, and Vegetable Garden are the garden's primary parts.
Location: 4747 Bob Wallace Ave SW, Huntsville, AL 35805, United States
Alabama Sports Hall of Fame
A state museum in Birmingham dedicated to the state's sports heritage, housed in a 33,000 square foot facility with a 75-seat theater and collections displayed on three levels. The museum, which houses approximately 5,000 items, opened to the public in August 1967.
Location: 2150 Richard Arrington Jr Blvd N, Birmingham, AL 35203, United States
Ruffner Mountain Nature Preserve
A 1,038-acre preserve with Rocky Mountain views located in Jefferson County's eastern outskirts, featuring 12 miles of hiking paths. Animals such as snakes, turtles, snakes, and owls may be seen among the visitors, and the Nature Preserve is home to iron ore mines and quarries.
Location: Birmingham, Alabama
Southern Museum of Flight
It is the Birmingham Museum of Flight, which exhibits over 50 distinct civil and civil aircraft. This location is worth going to see the vintage aircraft up close since the museum spans a large space to showcase the aircraft.
Location: 4343 73rd St N, Birmingham, AL 35206, United States
Bon Secour National Wildlife Refuge
A National Wildlife Refuge is a 6,816-acre site in Mobile County that receives approximately 50,000 visitors each year. This area is home to native flora and wildlife, including over 400 kinds of birds and sightings of Red fox, Wild Pig, Coyotes, and armadillos. There are four main paths, including Pine Beach, Jeff Friend, Gator Lake, and Centennial trail.
Location: 12295 Hwy 180, Gulf Shores, AL 36542, United States
Fort Conde
The Fort Conde is a 1720s French fort located in Mobile, originally founded by Jean-Baptiste Le Moyne de Bienville, this fort guarded its citizens for almost 100 years between 1723 to 1820.
Location: Mobile, AL 36602, United States
Frank Jackson Park
Frank Jackson State Park is a 2,050-acre park with a 1,000-acre lake located on the northwest side of Opp in Alabama, offers facilities for Swimming, Boating, Picnicking, Fishing, and Camping.
Location: 100 Jerry Adams Dr, Opp, AL 36467, United States
Lake Lurleen State Park
It is a 1,675-acre park located on U.S. Highway 82 in Tuscaloosa County, The Lake is called 'Lureen' covered around 250 acres which offers Boating, Fishing, and Swimming, more than 23 miles of trails for mountain biking and hiking.
Location: 13226 Lake Lurleen Rd, Coker, AL 35452, United States