Bangaloreans like to have amusement in their holidays and weekends. There are dozens of parks for amusement including a water park, indoor games, camping, and children's entertainment. Best Amusement Parks or places to have fun are listed below.
Flight 4 Fantasy
It is the stimulator of flight and the first time introduced in India, can wonder how a pilot controls a plane. This place has 3D visual showing activities at the airport. Option to choose more than 20,000 airports, and takeoff and landing.
Address: 405, 4th Floor, the Forum Mall | Hosur Road, Koramangala, Bangalore 560095
Wonderla Amusement Park
Wonder la is a water theme park and ideal for both Young Children and Adults, it is located in a large space and equipped with modern amusement machines and architecture.
Kids Rides: Mini Pirate Ship, Merry Ghost, Kiddies Wheel, Mini Express, Moon Walker, Jumping Frog, Flying Jumbo, Lion Swing, Funky Monkey, Carousel, Convoy
Water Rides: Lazy River, Boomerang, Harakiri, Fun Racers, Uphill Racers, Banded Kraits, Twisters, Water Pendulum, Rain Disco, Play Pools.
High Thrill Rides: Wavy and Vertical Fall, Equinox, Insanity, Hurricane, Y- Scream, Maverick, Mixer, Drop Zone, Wonderla Bamba
Dry Rides: XDmax, Cine Magic 3D, Musical Fountain & Laser Show, Hang Glider, Pirate Ship, Net Walk, Wonder Splash, Techno Jump, Sky Wheel, Toon Tango, Termite Coaster & Train, Dungeon Ride, Crazy Cars, Crazy Wagon
Ticket Prices: Weekends Adult Rs. 625/-, Children Rs. 470/-, Weekdays Adult Rs. 495/-, Children Rs. 390/- (Can be changed)
Address: 28th km Mysore Road, Bangalore 562109
XtremeZone Getawayz – Manchinbele
This is the Outdoor and recreational centre and provides real camp experience, a popular weekend gateway destination for families and group.
Activities: paintball, kayaking, canoeing, rappelling , rope challenge course, zipline, team building activities and much more
Address: Dabguli Village, Magadi Taluk | Ramnagara District, Bangalore
Modern Mastii 7D
4D movies and adventurous themes are delightful experiences here, you could find Roller coaster movies. The best place to experience the 4D experience, It cost around Rs 150 for 10-minute shows, totally worth the money.
Address: 3rd Floor, Esteem Mall, Bellary Road, Hebbal, Bangalore 560024, India
Fever Pitch Basecamp
This is a Jungle and Adventure camping site located on the banks of Manchanbele dam, you can experience camping including water sports, paintball, adventure, and team activities, ideal for teams, friends, family paintball
Adress: Byregowdan Palya, Magadi Taluk | Ramanagar district, Bangalore 560096
Amoeba
It is the Game and Entertainment centres, the best place for hangout with foosball, racing game, bowling and there is the restaurant that perfect for friends, family, and groups.
Address: No.22, Church Street, Bangalore
Snow City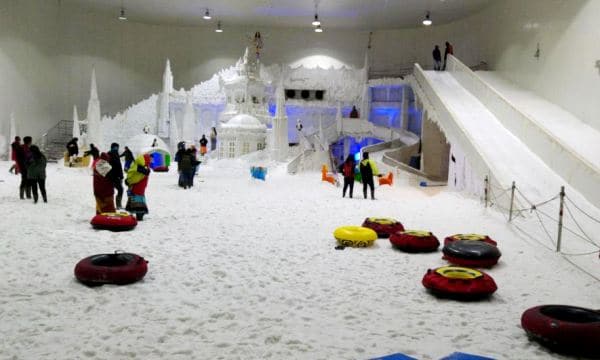 The best place to have experience in Ice with skating, playing in ice snow, and the cool atmosphere in the room feels like you are in the Himalayas. They will provide Jackets, boots, gloves, shocks.
Address: Jayamahal Main Road, Armane Nagar, Bangalore, Karnataka | Opposite TV Tower, JC Nagar, Bangalore 560006.
Innovative Film City
A theme park with many kinds of rides, located in the Bidadi. Here, the amusements including cart racing, swimming pool, provide food and soft drinks inside the park.
Address: 24 & 26, Bidadi Industrial Estate, Bangalore 562 109
Lumbini Gardens
The pool located on the outer ring road, and has several entertainment options including a Floating Coffee Shop, Boats, Rides, Children's Pool, Spanish bullfights, and also houses a nursery of 20,000 different species of plants, restaurants, and food courts.
Address: Nagawara lake, Hebbal – Ring Road, Bangalore – 560 045. India
Star City
Star City located near Palace ground, just 4km from Shivajinagar and 5km from popular landmark Vidana Soudha. Star city one of the well-maintained water theme parks in Bangalore.
Address: Opp to Tv Towers, Palace Grounds, Bangalore.
Fun World Palace
Located in the best place in the city, it houses many kinds of rides and entertainment options, an excellent place for amusement for Bangaloreans on the weekends and holidays, good place for family, children's.
Timings: Daily from 11 am to 8 pm
Address: J.C. Nagar Main Road, Bangalore
Club Cabana
It has recreational and sporting facilities in 350000 sq ft, located in devanahalli just 25km from Bangalore center, the best place for a picnic, parties and for fun.
Infrastructure: Thunderball, Social spotlight, Magical restaurants, Water sports, Club sports, Kids Play Area, Archery & Dart
Services: Theme Parties, Get Together, Conferences, Teambuilding exercises, Cultural Events, Annual Day Function, Corporate events, Corporate Outing
Address: Address: Jade Garden, NH 7, Devanahalli, Sadahalli Village, Bangalore, 562110
Iamgame
The laser tag game and is India's first laser runner tag arena. I am game holds Golf Simulator, Ultra Pin, Megatouch, Foos Ball, Air Hockey, Xbox and PS3, Kinect and Move Gaming Consoles, and conducts competitions in the special seasons.
Address: 818, 80 Ft road, 8th block, Near Koramangala Police Station, Koramangala, Bangalore 560095
Urban Valley
The Urban Valley houses water sports activities like Aqua glide, Rain dance, Swimming pool, Paintball, and many more fun options to choose.
Address: Vaderhalli, Bangalore
Crazy Waters
It is famous for its giant water slide, located on Bannerghatta main road. Crazy waters offer games including Mini Twister, Water Chute, Mini Train, Flume Ride, Lazy River, Telecombat, Circular Slide, Swimming Pool, Family Slide, Mono Rail, Formula -2, Bouncing Castles, Wonder Wheel, Family Train, Parachute Tower, Peddle Boats, Harakir Glider, Break Dance, Columbus, Surprise Fountain, Musical Fountain.
Address: Bannerghatta Main Road, Gottigere Village, Near Meenakshi Temple, Bangalore.
Neeladri Amusement and Water Park
The Neeladri Amusement park located 19km from the electronic city, holds 45 different impressive fun rides. It spreads in over 30 acres. The popular rides are Formula 2, Family Slide, Zyclone, Guided Cars, Bouncing Castles, Bumping Cars, and Water Chute including Restaurants, Ice cream parlor, fast food, and simulation games.
Address: Behind Electronic City, Bangalore – 561229
Regd. Office: Ground Floor, 127/5, Opp. Bangalore High School, Bull Temple Road Cross, Chamarajpet, Bangalore – 560019
Hippocampus Children's Company
This is a fun place for children, it operates a large book collection and popular events like Halloween and Xmas, and there are many attractions that help to entertain children.
Timing: Sun, Tue-Sat 10:30am-7:30pm
Address: 525, 16th Main, Koramangala 3rd Block, Bangalore 560 034
Fantasy Lagoon
It is the amusement and theme park located in KR Puram, they offer many rides and entertainment options to choose from, best to have fun to relax yourself, and especially for young and old children.
Fee: Adults: Rs 30, Children's: Rs 15
Address: Vengaiana Kere, Old Madras Road, K.R Puram, Bangalore- 560036
Complex Arcade
This is the Video game station located near Jayanagar shopping complex you can play the latest games with opponents and shop for Computer games, movies, and documentaries.
Address: 26, Eastern Block, Jayanagar Shppngcmpl, Jayanagar, Bangalore.
Note: The Fees of the particular services could have been changed.