Situated on the auspicious location of the place where the holy river of Ganga touches the plains of North, this sacred town developed on its banks is probably one of the holiest destinations in India. The entire ambiance and surroundings of Haridwar are laced in a peaceful and spiritual essence. Although there is no dearth of religious places to visit in India, Experiencing the positive and spiritual vibes of Haridwar is something else that has earned it the title of 'gateway to the Himalayas'.
Once in Haridwar, you will have a plethora of activities to indulge in which are distinct from one another and some of them are:
Pilgrimage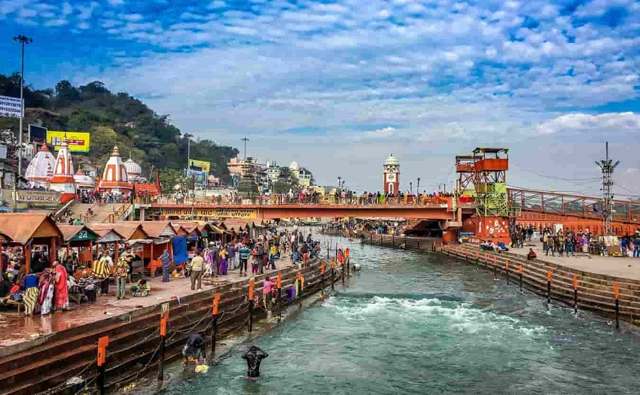 Haridwar has a unique personality that is not only limited to Har ki Pauri or its temples but this seeps through its narrow winding streets and every step of the way you feel the blessings of the lord on you. You will be able to avail the famous Chardham Yatra package from Haridwar for which this sacred destination is famous and springs to life during the peak pilgrimage months. Apart from this people come here as a part of their Ardh Kumbh and Kumbh Mela or just to visit some famous temples in and around this region.
Trekking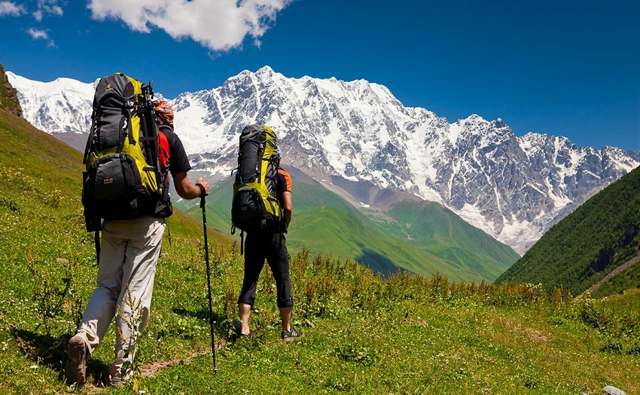 Haridwar is not only a popular destination for people seeking spirituality and going on pilgrimages but it is also used as a base for trekking to some further destinations as well. The rich biodiversity here is worth exploring and going on long trekking journeys will allow you to come face to face with the thriving nature. Here are some trekking destinations for which Haridwar is the gateway: Chopta – Chandrashila trek; Dayara Bugyal, the valley of flowers, har ki dun, Roopkund trek, Nag Tibba, kuari pass trek and so much more. Trekking in Uttarakhand is an exhilarating experience that will open your perspective and make you come in contact with the untouched natural beauty of the Himalayas.
Camping
Haridwar itself has a number of camping options like the one in Shivpuri, by the blue clear banks of the holy river of Ganga. Camping has been recently curbed by the officials since people are being reckless and causing harm to the pristine beauty of nature. Camping in bugyals takes place in limited and a regulated manner along with the requirement of a permit. Some of these camping options from here are – Deoria Tal, Tungnath, Bedini Bugyal, Gorson Bugyal and so much more. Pitching a tent under the clear open skies and sleeping under innumerable glittering stars will be an experience to remember.
Skiing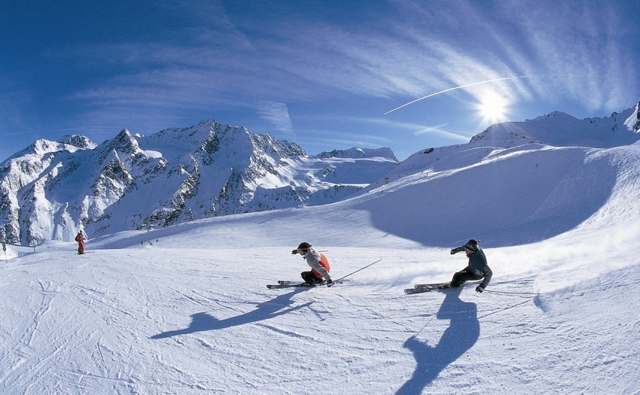 This is probably one of the rarest adrenaline-pumping outdoor sports activities in the world which can be experienced in Uttarakhand. The lush green meadows that get covered in snow on high altitude ranges then these slopes are converted into a skiing slope where people from far and wide visit ski on the Himalayas. People make their way from Haridwar to higher altitude regions which are the only places in the state offering this exhilarating sports experience. From here you will be making your way to Khaliya top, Mundali tourist spot in Chakrata, and of course the magnificent slopes of Auli.
White Water Rafting
Riding the Himalayan waters is probably one of the most fun-packed experiences that you can gain in Uttarakhand. White water rafting is predominant in Rishikesh and Shivpuri which is located at a distance of just 1 km from here. There are several adventure camps offering various white water rafting activities which will definitely appeal to the adventure seeker in you. For rafting you can make your way from Haridwar to various places like – Yamuna river to juddo, tons river, Kali river, etc. there are different grades of rafting experiences available for you to choose from.
Bungee Jumping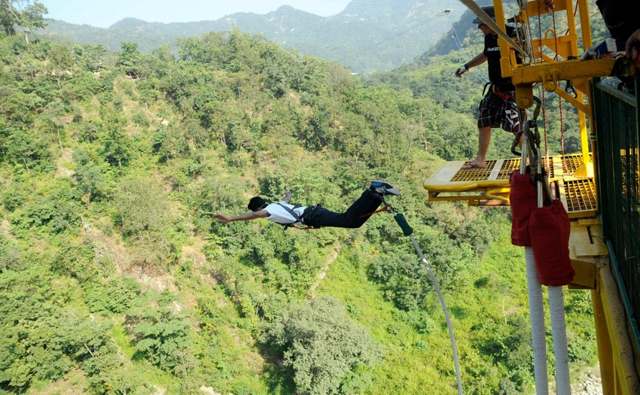 Free falling through a tall building and screaming your lungs out can be surprisingly one of the most refreshing experiences which you will never forget. If bungee jumping is on your bucket list then Uttarakhand is the place to be. Rishikesh is home to a number of companies offering bungee jumping facilities with the best grade level of equipment and highly trained professionals which will allow you to have a safe jump. Jump in heights in Rishikesh is one such place along with various places like Shivpuri and Mohan Chatti.
Giant Swing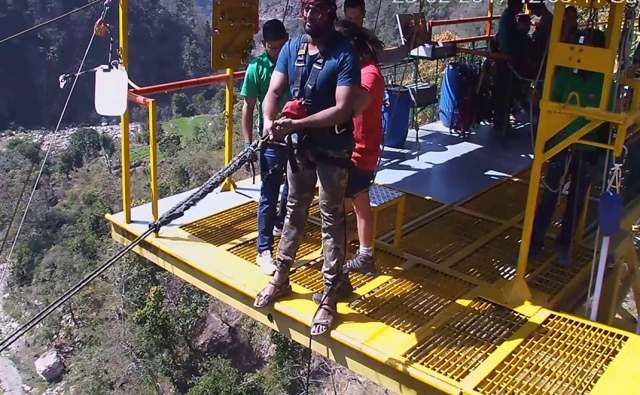 I bet you would have never thought about going on this massive swinging journey when you were just a kid playing in the park swing. This is that simple swing multiplied by extreme sports experience. This exhilarating experience can be felt by swinging through the air in a simple yet massive-sized swing. With the open sky above and the river flowing gracefully underneath your feet, a giant swing will allow you to have one of the most ultimate travel experiences in Uttarakhand. Currently functioning in Rishikesh, Shivpuri, and other surrounding areas you should definitely go there for a lifetime's worth of experience.
Flying Fox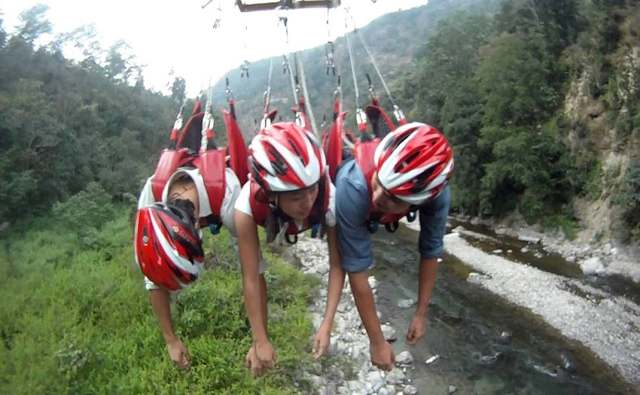 Sailing horizontally through the air at a peaceful pace and seeing the ground running away underneath your body this is one of the most refreshing adventure activity which can be done by almost anyone. This activity of flying quietly and peacefully through the air and also known as zip-lining this is one of the most inexpensive things to do if you are looking to pump up your adrenaline. This generally takes place in Mohan Chatti (25 km from Haridwar) and Rishikesh by various adventure sports activities providers.
Paragliding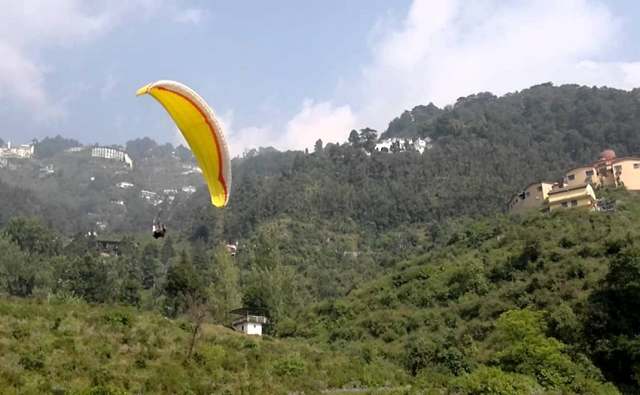 This place is every adventure junkie's delight and what is better than gliding in the air amongst some of the most scenic Himalayan surroundings and you will also be able to witness some fascinating views. Due to its undulating terrain and mountainous geography, there are several options for you to go on paragliding adventures especially in places like – Pithoragarh, Mussoorie, Nainital, Bhimtal, etc. the best part about this activity is that it is a great adventure for people of all ages groups since they will be accompanied with a professional. All you will have to do is sit back, relax and be thankful for the bountiful nature.
Yoga / Meditation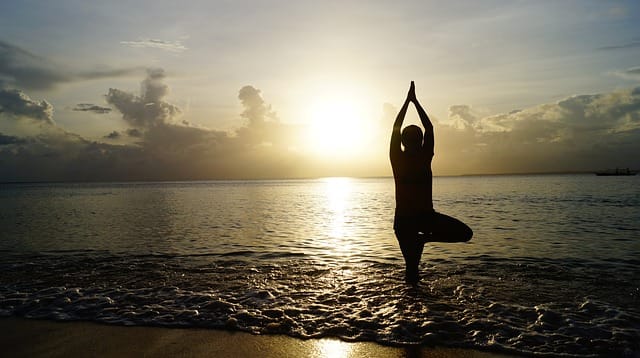 When it comes to yoga the mind is automatically directed towards the Himalayas and Haridwar works as the perfect gateway for anyone seeking to get some yoga experiences. It doesn't matter if you are a beginner learner or a professional yogic this place is undoubtedly the perfect opportunity for you to have a stress-free experience. Here are a few places where you can spend some meaningful time performing yoga –from the Patanjali yoga foundation in Rishikesh to other places which include ashrams in Almora, Nainital, Chamoli, Chopta, etc. no matter where you go the sheer beauty of this place is purely intoxicating and will enable you to perform meditative practices and yoga.