Your university years are some of the best in your life. While the experiences you'll have in university are priceless, money always seems to be an issue with students. Money is needed to survive in university, so one must ensure it is being spent wisely. Daily meals and commuting are unavoidable expenses. If you're a coffee-lover, daily coffee runs add another dent in your budget. Even with the tuition and accommodation requirements taken care of, there are umpteen things that students need money for. From socializing with friends, to bar hopping on weekend nights, there are plenty of activities for students to indulge in while at university. A little more cash will prove beneficial and help students to make the most of their time there.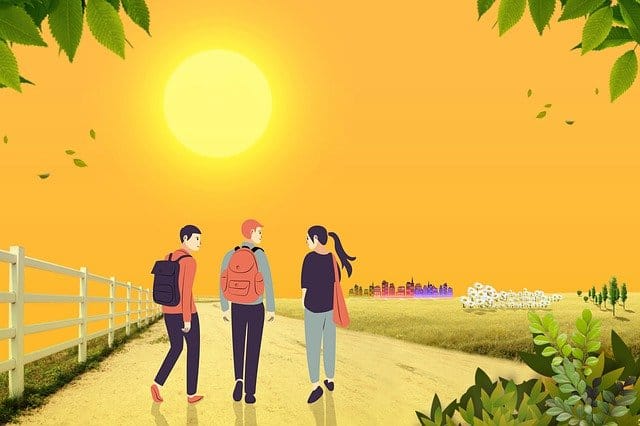 In this blog, we will uncover new ways for students to help save money abroad.
1. Plan Your Budget
Planning your budget is one of the most important steps toward saving money during your time abroad. If you're spending money without planning, very soon you will run out. So, plan a budget and try to stick to it. Making a budget will also help you get more organised, so you can save some money for enjoyment. A daily documentation of your expenses is another great way to ensure your budget remains balanced.
2. Make Use of Student Discounts
Most cities in the UK are student-friendly, helping students live a comfortable and affordable life. The cities offer plenty of student discounts everywhere you go. Getting an international student ID will ease the process for you. You can avail student discounts for commuting within the cities without spending too much. Many cities have bike stations around, which are cheaper alternatives. These discounts are also available at bars, cafes, restaurants, and other events taking place. Don't hesitate to ask!
3. Cook at Home
Eating out may seem like the best thing to do when you're away from home, but in most circumstances, it's not. If you're looking to save money during your time in university, we suggest learning how to cook, especially local cuisines. Ingredients used in the local cuisines are easily available and often more affordable than others. This is a great way to balance your budget and also ensure you're having healthy, fulfilling meals.
4. Look for Affordable Accommodation
Accommodation happens to take up a large chunk of the budget, so you must look for cheaper alternatives to save money. If you looking for accommodation in Belfast, there are plenty of affordable student accommodation in Belfast options available at Best Student Halls. Whether you choose to stay in the university halls or share an apartment with your flatmates, go with something you're most comfortable with. Living off-campus is a great way to reduce your expenses since university student halls in Belfast tend to be more expensive. Choosing to share your accommodation with more flatmates will further help cut costs. 
5. Wait to Shop During Sales
Students love to shop! We understand how tempting shopping can be, especially when you're in university. Going to the mall and blowing your money on the latest trends that hit the market may seem appropriate. However, that is not the wisest thing to do, especially if you're a student on a budget. We recommend waiting until the sales hit, so you can get better deals on your favorite picks. Garage sales are another great option to explore when you're low on cash and want to shop without spending too much.
6. Find Out About Cheaper Phone Service Options
One device that you're going to be relying on during your time abroad is a mobile phone. Be it staying in touch with your family and friends back home to connecting with your new friends, your phone will help you with it all. So, if you do not want your mobile phone bills to eat up on your finances, look for a cheaper phone service provider. Speak to the locals or your friends to get to know more about it.
7. Save Up on Broadband Bills
The Internet is a necessity in the modern world. For students, the internet can be a tool they rely on for everything from assignments to staying in touch with the family back home. If you're opting for private student accommodation options, you'll have wifi access. You can use the wifi at restaurants and cafes to do your assignments too. You'll be able to save a lot if you follow this.
8. Avoid Impulse Buys
We've all been there. That beautiful shoe that fits perfectly, or a dress that caught your eye has you in two minds to splurge on it or not. This is where your self-control is put to test. Resisting the urge to shop for things mindlessly is a great way to ensure you can save a few bucks. Learning to differentiate between 'needs' and 'wants' will prove beneficial, not only during your university years but also later in life.
9. Cut Down on School Supplies
Who doesn't love the feeling of writing with a new pen on a fresh notebook? Well, that's an unnecessary purchase if the same can be done on a laptop. We tend to waste a lot of precious money on buying school supplies like pens, sheets, notebooks, post-it notes, felt pens and the list goes on. Replacing these with your laptop will help you save money and will also help reduce your carbon footprint on the planet! A win-win!
10. Get Travel Insurance
You don't want to undermine the power of travel insurance in cutting costs during your student years. All travel-related issues like flight cancellations, loss of luggage, and medical expenses will be covered with your travel insurance. It's a great investment that can save you big bucks in the long run.
Saving money during your university years may seem difficult, but with a little planning, it is possible to live a comfortable life without going broke. Try to save wherever you can, even a little goes a long way!