10 Most Visited Countries in the World
Visiting the Countries is for many purposes but primarily for Tourism (watching the Places, Attractions and wonders), some of the countries have Natural Wonders that attracts people all around the world and tourism development in modern way also attracts tourists. China has great Natural Beauty such as Lakes, Mountains, Rivers, Landscapes, therefore receives huge foreign visitors, but the United States completely opposite to china that has Modern Entertainment activities and facilities such as Huge Buildings, Spa, Resort, Amusement Parks, Shopping centers. France is the most visited country in the World that receives more than 77 million visitors annually. Usually most visited countries get visitors for its natural woders, engineering wondors, business activities, and rare attractions made naturally or artificially.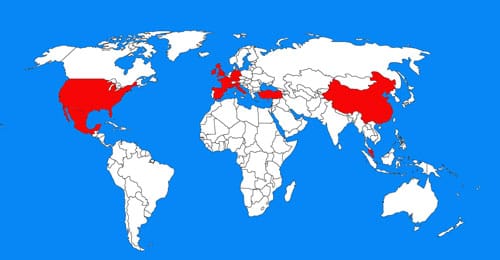 The Following List of Most Visited Countries in the World is referred by the World Tourism Organization.

| Rank | Name of the Country | Number of Annual Visitors | Famous Places to Visit |
| --- | --- | --- | --- |
| 1 | France | 77,000,000 | Eiffel Tower, Musee du Louvre, Arc du Triomphe, Mont St Michel, Versailles, Carcassonne, Chateaux de la Loire, Lascaux, |
| 2 | United States | 60,000,000 | New York City, Los Angeles, Chicago, Washington, San Francisco, Hawaii, Grand Canyon, Florida, New Orleans |
| 3 | China | 56,000,000 | The Great Wall, The Yangtze River, Terracotta Army, The Bund, Li River, Victoria Harbor, The Yellow Mountains, West Lake, The Potala Palace, Yungang Grottoes |
| 4 | Spain | 53,000,000 | Costa Brava, Costa Blanca, Costa Dorada, Costa del Sol, Costa de la Luz, Canary Islands, Majorca, Ibiza, Minorca, Formentera, Pyrenees, Green Spain |
| 5 | Italy | 44,000,000 | St. Peters Basilica and St. Peter's Square, The Leaning Tower of Pisa, Coliseum, Pantheon, Squares, Churches and Buildings, Islands of Sicily and Mt. Etna, The Last Supper, |
| 6 | United Kingdom | 29,000,000 | Stonehenge, York Minster, Portmeirion, Stratford-upon-Avon, The Roman Baths at Bath, Warwick Castle, Hampton Court Palace, The Tower of London, Edinburgh Castle, The London Eye, |
| 7 | Turkey | 27,000,000 | St. Sophia Museum, Blue Mosque - Sultan Ahmet Camii, Pamukkale, Ephesus, Cappadocia Region, Pergamum, Sardis, Aspendus, Commagene Kingdom at Mt.Nemrut, Gallipoli - Canakkale |
| 8 | Germany | 26,000,000 | Rugen Cliffs, Romantic Rhine, Frauenkirche, Lindau, Oktoberfest, Cologne Cathedral, Holstentor, Heidelberg Old City, Brandenburg Gate, Neuschwanstein |
| 9 | Malaysia | 24,000,000 | Mulu Caves, Sepilok Rehabilition Centre, Perhentian Islands, Langkawi, Petronas Twin Towers, Mount Kinabalu, Pulau Tioman, Taman Negara, Georgetown Inner City, Cameron Highlands |
| 10 | Mexico | 23,000,000 | Acapulco, Guanajuato, Dias des los Muertos, Oaxaca, Cozumel, Los Cabos, Palenque, Copper Canyon, Tulum, Chichen Itza, Teotihuacan |