If you are searching for the best and longest vacation immersed in extravaganza and luxury, then we are here to help you with the top Ras Al Khaimah hotels for vacation. Check out our pick of the ten exceptional hotels or resorts that offer top-notch service, superb cuisine, private pools with the beautiful ambiance of the Arabian Gulf, and more for a relaxing getaway with your family or friends.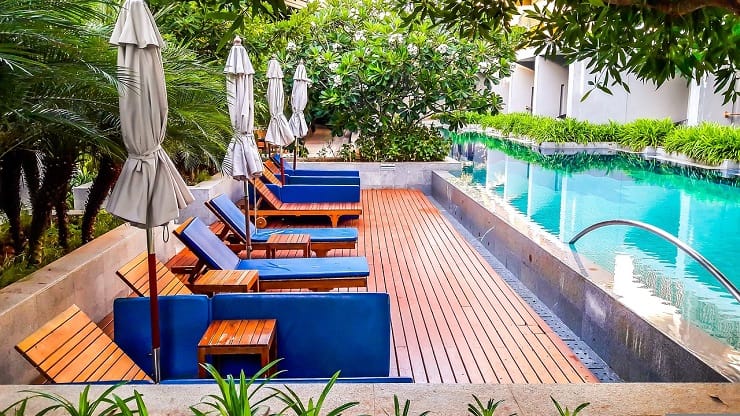 1. The Ritz-Carlton Al Hamra Beach
The Ritz Carlton, with its warm hospitality, friendly personnel, exotic locations, and Michelin-starred chefs, gives you the feeling of living on a tropical island. The bustle of the metropolitan area is far from this resort. You may experience Al Hamra beach on your own, taking a ferry there. Book one of their charming Tent Villas and enjoy floating breakfast while taking a plunge in your pool.
The Ritz-Carlton Al Hamra Beach offers boutique luxury. The resort's 32 villas provide island-style elegance to Ras al Khaimah's coastline. Each villa has a large deck that opens up to a private stretch of pristine beach where guests can relax in the tranquility of the swimming pool. In addition to dining in their villas, visitors can savor a private romantic dinner for two on the beach.
2. Jannah Resort & Villas Ras Al Khaimah
On the coastline at Mina Al Arab, Jannah Resort & Villas Ras Al Khaimah offers a serene haven. The three- and four-bedroom villas have a private infinity pool and a lot of living space, with a view of the beautiful lawns or the golden beach.
Jannah Hotel Apartments and Villas in Ras Al Khaimah offer travelers a luxurious countryside retreat away from the hustle and bustle of city life. You can spend time on the private pristine sand beach, offering panoramic views of the Arabian Gulf and year-round sunshine.
Get your pulse beating by participating in adventure activities, like the Jais Sledder, mountain climbing, and Pearl Farm, or spend the day resting at the beach or pool. Enjoy a diverse range of international culinary delights that feature cuisines from East to West, or recline and relax in the world-class spa facilities as you make the most of a dream trip filled with Arabian hospitality and ambiance.
3. Townhouse Ras al Khaimah
Townhouse Ras al Khaimah offers lodging with free Wi-Fi, air conditioning, an outdoor swimming pool, and a garden. It is located 2.4 km away from Al Hamra Mall and 27 km away from Al Manar Mall.
The villa has an ATM and free private parking, three bedrooms, two bathrooms, bed linens, towels, a flat-screen TV with satellite channels, a dining area, a fully functional kitchen, and a patio with a pool. There is a terrace at the villa. Towels and bed linen are available from the property for an additional fee for your convenience.
4. The Cove Rotana Resort
The Cove Rotana, situated on the Raqi beach, takes you to one of Greece's stunning tiered cities for a vacation. The Cove is the perfect place for a holiday because the resort offers a wide range of activities. The resort provides amenities like two sizable infinity pools, 600 meters of private beach access, and seven restaurants with a range of casual and gourmet dining options.
They include Cinnamon and Basilico, four outdoor-beach bars, and four spa and massage rooms that can accommodate multiple clients.
They offer a variety of entertaining activities for kids to make sure the little ones have fun as well. The baby pool, water sports on the beach, and a boot camp at Flipper's Kids Club keep kids entertained throughout the day. Furthermore, they provide shakes, languid afternoon drinks, and 24-hour snack kiosks for quick meals.
You can select from one of their two or three-bedroom hillside villas, each of which has a garden, a living room with access to a glittering lagoon, and sweeping views of the Arabian Gulf.
5. The Ritz Carlton, Al Wadi Desert Resort
Are you seeking a lavish Bedouin lifestyle and a desert safari? You can find them at The Ritz-Carlton, Al Wadi Desert Resort. This resort is spread across 100 hectares of a protected nature reserve in Ras Al Khaimah, a stunning oasis of dunes and desert.
It boasts every amenity under the sun. Don't miss to book the morning wildlife safari to experience the thrill of seeing wild falcons in the natural reserve that is only accessible to Ritz Carlton guests.
The Al Wadi, a Ritz Carlton's sister hotel, offers patios and private pools with tents designed in an Arabian or Swiss style. You can enjoy their delicious, farm-to-table fare, which is incredibly fresh and offers you a wide selection of Mediterranean restaurants.
This resort stands out due to its unique combination of a 5000-year-old Emirati past, forts, and deserted towns that tell a story while providing modern luxury with all of today's comforts and conveniences in the middle of the desert. The distance between Ras-Al-city Khaimah's center and The Ritz Carlton, Al Wadi is about 28 km.
6. Beach
The Banan Beach property is a chalet-style tent with a distinct beach hut feel. It provides tents in the shape of a wooden loft with a private swimming pool, swings, and outside seating.
You can choose from modest tents with private access to the beach, bright loft tents, and Greek-style cottages. Also, enjoy fresh, made-to-order Mediterranean and Continental cuisines. Moreover, Banan Beach hosts weekend walk-in pool parties where the entry fee includes food, beverages, and shisha. Ladies Day on Sundays offers unlimited drinks and access to the beach and pool all day.
7. Al Reef farm
Launched in February 2020, Alreef farm provides lodging with an outdoor pool, free Wi-Fi, a 24-hour reception desk, and room service in Ras al Khaimah. The villas at Alreef farm have a dining area, a well-equipped kitchen, a balcony, a patio with pool views, a flat-screen TV with satellite channels, four bedrooms, five bathrooms, bed linens, and towels.
There is a playground available at the villa. Visitors can go hiking nearby, and there is a garden with a barbeque at this home. Alreef Farm is located 39 km from Al Manar Mall and 36 km from Ras Al Khaimah Free Trade Zone. Ras Al Khaimah Airport is the closest one.
8. Olala Oasis Homes
Olala Oasis Homes is an ideal lodging option in Ras al Khaimah, which offers free parking, WiFi, a patio, a fully furnished kitchen with a dishwasher, a sitting area, a TV, a washing machine, and a bathroom with a shower and a hairdryer in every unit. In addition, a kettle and a coffee maker are available, along with a fridge, microwave, and oven. 
The vacation home has a terrace that visitors can utilize. Olala Oasis Homes is just 8 km from Al Hamra Mall and 14 km from Al Manar Mall. The Ras Al Khaimah International Airport, which is 15 kilometers away from the lodging, is the closest.
9. Long Beach Campground
If you want to experience being at a great camping resort, be at the Longbeach Campground, created by the BM Beach Resorts. It is an ideal place to relax and have an exciting break with your family and loved ones.
The original premium tent, the spectacular dome suite with a private Jacuzzi, the sunset terrace suite with a sauna, an outdoor Jacuzzi, a hammock, terrace seating, and direct beach access with panoramic ocean views are just a few of the tent options available.
On their 300-meter stretch of beach, only the visitors to Longbeach can engage in endless water sports like paddle boarding, kayaking, sea scooters, jet skis, water skis, knee boarding, donut rides, and banana boats. The Al Hamra Mall is around 14 km away from Longbeach Campground. Another distinctive aspect of this hotel is its floating theater, where you can amuse yourself and your family.
10. Private guest house in a five-star resort
This private guest home in a five-star resort offers beachfront lodging with an outdoor pool, a bar, a garden, and free Wi-Fi in Ras al Khaimah. It is only 9 kilometers from Al Manar Mall. You will find a private pool and unrestricted parking at this residence. The air-conditioned vacation house has one bedroom, a living area, a fully furnished kitchenette with a fridge and a kettle, and one bathroom with a hot tub and a bidet.
For a truly glamping experience, you can check into any of the Ras Al Khaimah hotels listed above.