Dubai may steal the limelight when it comes to a holiday in the UAE, but the reality is that the country's capital as well as the largest city, Abu Dhabi, is equally outstanding. The most amazing aspect of a vacation in Abu Dhabi is the sheer diversity of attractions and experiences it offers. Whether you wish to dive into the region's classical museums or discover the untouched mangroves in its protected nature parks or anything in between, it is all possible here. Check out our guide on top things to do in Abu Dhabi for more ideas.
1. Hang Out at Abu Dhabi Corniche
No matter you are traveling to Abu Dhabi on a strict budget or with a heavy wallet, this waterfront destination is one of the first points of interest you want to visit in the city. Stretching for more than eight kilometers along the exuberant turquoise waters of the Arabian Gulf, it is a super scenic yet multifaceted attraction that caters to every interest. Enjoy access to the pristine Corniche beach with the prestigious Blue Flag status and make the most of its dedicated cycling trails, pedestrian pathways, and facilities made available for volleyball, basketball, and other fun-packed sports.
You will also find plenty of cafés, restaurants, etc dotted across the region. What's more? You will even get to watch free concerts depending on the time you visit here.
Opening Hours: Open throughout but swimming in the Corniche possible only from 6:00 hrs till sunset.
Entry fee: Free (but a nominal fee is applicable for beach access)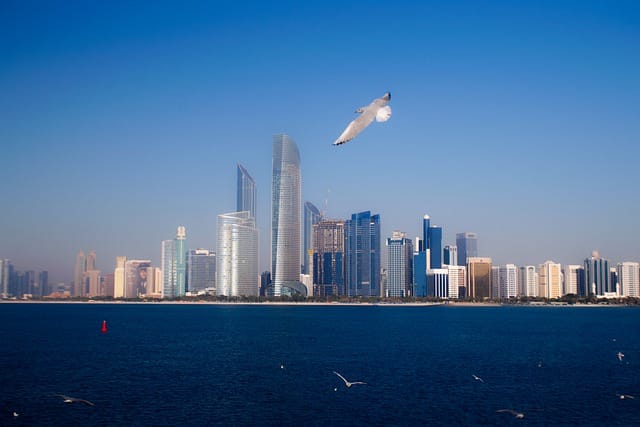 2. Seek Solitude at the Sheikh Zayed Grand Mosque
Mosques are a regular sight all over the UAE, but this colossal all-white mosque in Abu Dhabi is one of the country's most majestic and beloved attractions for its sheer beauty, revitalizing calmness, and rich features. It is so vast and large that it can easily fit in 40,000 worshippers at a time.
You will get to take in here over 1000 columns, close to 100 mesmeric domes, the sprawling courtyard (whose flooring is enhanced by floral designs), the largest of its kind Persian carpet, and mostly its striking chandelier in the main prayer hall. And yes, it is open to both Muslims and non-Muslims.
The best thing is that you can enjoy free entry here. But, make sure that you visit here as part of the guided Abu Dhabi tours; this makes your entry into the mosque as hassle-free as possible.
Opening Hours:

Saturday to Thursday: 9:00 hrs to 22:00 hrs
Friday: 15:00 hrs to 22:00 hrs

Entry fee: Free
3. Get Lost in the Splendor of Qasr Al Watan
Want to know what it is like to visit a presidential palace? Make your way to Qasr Al Watan whose literal meaning is Palace of the Nation. It is a part of the city's presidential palace complex and stands as an epitome of the unrivaled Emirati artistry, architecture, and heritage. Immerse yourself in its exquisite settings that exude royal charm and walk around to discover its diverse rooms and sections.
Be in awe as you explore the Great Hall with one of the world's largest domes, and enjoy a glimpse of how royal banquets are hosted at the Presidential Banquet room. There is also Qasr Al Watan Library and House of Knowledge, featuring a golden calligraphic structure that carries the heartwarming quote of the late Sheikh Zayed bin Sultan Al Nahyan. 
Opening Hours:

Sunday to Wednesday: 10:00 hrs to 18:00 hrs
Thursday to Saturday: 12:00 hrs to 19:00 hrs

Entry fee: AED 60
4. Catch the City Skyline Views from Observation Deck at 300
Observation Deck at 300 offers one of the ultimate vantage points to take in the whole of Abu Dhabi's skyline and beyond. It is located on the 74th level of Conrad Abu Dhabi Etihad Towers. True to its name, it is perched at a height of 300 meters, assuring you of the most impressive views over the Arabian Gulf, the Corniche, and more. There is also a café here, which makes a great venue to enjoy afternoon tea, served with a variety of premium tea, coffee, and sweet as well as savory specialties.
Opening Hours: 12:00 hrs to 20:00 hrs daily
Entry Fee: AED 95
5. Spend a Day on Yas Island
It doesn't matter you are a thrill-seeker or not; no Abu Dhabi visit is complete without making a tour of Yas Island. This man-made island is an absolute haven for those looking for endless adventure, fun, and entertainment in their Arabian holiday. Yas Island is also a favorite of racing enthusiasts, being its Yas Marina Circuit the venue of the Formula 1 Abu Dhabi Grand Prix. With KidZania Abu Dhabi in the vicinity, your little ones will also enjoy this destination to the core.
Record breaking facts about the parks:
Ferrari World Abu Dhabi – home to Formula Rossa, the fastest roller coaster on the planet, and Flying Aces, the highest roller coaster loop. This first Ferrari-branded theme park in the world offers record-breaking and one-of-a-kind experiences that will leave you wanting more.
Warner Bros Abu Dhabi – land of superheroes and the world's biggest indoor theme park boasting 29 state-of-the-art rides, attractions, and live entertainment. And with 20 dining options including Gotham City's Finest, Hollywood Trattoria, Bronto Burgers and Ribs, etc., it is also one of the must checked themed restaurants in Abu Dhabi.
CLYMB Abu Dhabi – this Abu Dhabi adventure hub has The SUMMYT,  towering at a height of 138 feet, and making it the region's tallest indoor climbing wall. It also houses the world's tallest and widest flight chamber with the record breaking height of 104 feet and width of 32 feet.
6. Head to the Mangrove National Park
Nature lovers don't have to get any far for a generous bout of fresh air and lush verdant beauty. A quick drive from the Abu Dhabi city center leads you to Mangrove National Park which is approximately 20 square kilometers of untouched coastal mangrove forests. Interestingly, this protected land (under the EAD or Environment Agency Abu Dhabi) accounts for over 75% of the country's overall mangrove area. You can consider taking a guided sightseeing or a relaxed kayaking tour to enjoy a first-hand look at the amazing flora and fauna that contribute to its awe-inspiring biodiversity.
Opening Hours: 24 hours
Entry Fee: Free; to get the best out of the visit here, it is most ideal to choose a fully guided tour that starts from AED 160..
7. Visit Qasr Al Hosn
As the oldest heritage site in the city, Qasr Al Hosn is where you get to relive the ancient past of the region. With an age-old watchtower, it is a national monument that now serves as a museum with some intriguing artifacts, collected from the pre-historic era. Apart from access to the museum complex's Inner Fort and the Outer Palace, you get to check out some of its fascinating segments such as the House of Artisans and the Bait al Gahwa where you can learn all about the Arabic coffee, along with its origin, importance in the Emirati culture, and distinct preparation style (right from roasting and grounding to brewing.)
Opening Hours

Saturday to Thursday: 10:00 hrs to 21:00 hrs
Friday: 14:00 hrs to 22:00 hrs

Entry Fee: AED 30 for visitors above 12 years and AED 15 for kids from six to 11 years
8. Discover the Artistic Treasures at Louvre Abu Dhabi
Whether you are an art lover or not, make sure that you don't skip this captivating museum on Saadiyat Island. Spanning over 24,000 square meters, it is the Arabian world's largest museum and of course the only museum by this name outside of Paris and France. Besides the timeless art masterpieces loaned from the iconic French institutions, it also displays both classical and contemporary artworks brought from different parts of the world. But, this museum is beyond its vast spectrum of exhibits; it is a true architectural wonder! You can't help but drawn to this phenomenal floating structure and fall in love with its marvelous rain of light effect (due to the perforations in its massive dome).
Opening Hours: 10:00 hrs to 18:30 hrs on all days except for Mondays
Entry Fee: AED 63 for visitors above 18 years and free entry for senior citizens (above 60 years) and visitor under 18 years
9. Desert Safari
Abu Dhabi is a desert city means it is unimaginable to culminate your holiday here without checking out the Arabian Desert. Just as you imagined, Abu Dhabi's desert landscape is massive and isolated from the main part of the city. While you can drive your own to the desert, it is most recommended to head out here on a fully guided desert safari tour. With endless sands all around you, start your safari with a heart-racing 4X4 dune bash. You further get to explore the scenic desert trails on a camel ride, quad biking, sandboarding, etc. Take a morning desert safari or an evening desert safari with BBQ dinner, traditional live performances (like Belly Dance and Tanura), and cultural activities including henna tattooing and Shisha smoking.
Opening Hours: Timing varies dependent on you choose morning, evening or overnight desert safari
Entry Fee: Price varies subject to your desert safari choice
10. Hit Abu Dhabi's Captivating Islands and Beaches
Abu Dhabi is not all about its pristine desert. It is also blessed with some gorgeous beaches and islands. After all, Abu Dhabi itself is an archipelago that comprises over 200 islands. Each of them is special and gorgeous in its own terms. If you wish to explore the region's wildlife, visit Sir Bani Yas Island which boasts of hundreds of thousands of animals that freely roam in their natural habitat. For a genuine peep into the pearl diving history, Dalma Island is one of the ultimate places to visit. More stunning islands await you by way of Dolphin Island, Happiness Island, Al Maryah Island and the historical Marawah Island.
Conclusion
As we wrap this post up, we hope that you are now armed with some cool suggestions to fill your Abu Dhabi travel program. Add all or at least a few of the above Abu Dhabi things to do – they will definitely make you fall in love with this charming Arabian capital city, enticing you to return here over and again.