What is Online Therapy?
Online therapy, also known as e-therapy, is a type of therapy that is provided via the internet. It can be done using video conferencing, email, instant messaging, or even the telephone. Online therapy has become increasingly popular in recent years as more and more people are turning to the internet for help with their mental health. These therapies can help a person to work through their problems in a safe and confidential way.
In today's world, where we can see an increase in the use of social media and the internet, people are also looking for ways to get help with their mental health without having to leave their homes or meet with a therapist face-to-face. Online therapy can provide people with the same quality of care that they would receive from a traditional therapist but in a more convenient and affordable way.
Online therapy can help people with a wide range of mental health issues, such as anxiety, depression, stress, relationship problems, and even addiction. It can be a great option for people who are not able to or do not want to meet with a therapist in person. It can also be a good option for people who live in rural areas or do not have access to quality mental health care.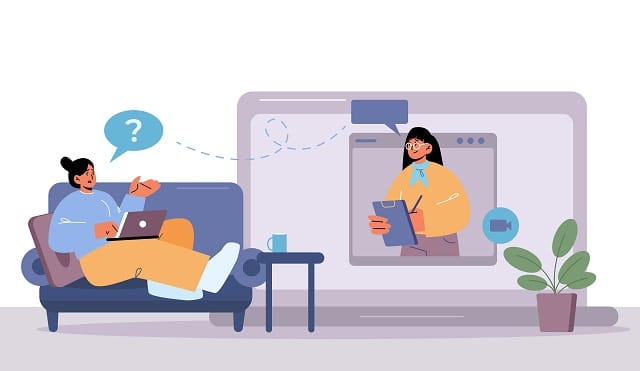 Benefits of Online Therapy
It's no secret that mental health services are underfunded and overstretched. This means that many people who need help don't get the support they need. Online therapy can be a great way to get access to mental health support without having to wait for an appointment or travel to a therapist's office. Here are some of the benefits of online therapy:
1. It's convenient
You can access online therapy from anywhere in the world, at any time of day or night. This is perfect for people who want to fit therapy around their busy schedules.
2. It's affordable
Online therapy is often more affordable than traditional face-to-face therapy. This is because therapists don't have to cover the cost of renting office space.
3. You can choose your therapist
When you book an appointment with a traditional therapist, you may not get to choose who you see. With online therapy, you can read therapist profiles and choose someone who you feel is the right fit for you.
4. You can be anonymous.
If you're not ready to share your story with a therapist in person, online therapy can be a great option. You can remain anonymous and still get the support you need.
5. Effective
Research has shown that online therapy can be just as effective as face-to-face therapy. In fact, some studies have even found that it can be more effective!
6. Accessibility
If you live in a rural area, or if you have a disability that makes it difficult to leave the house, online therapy can be a great option. You can get the help you need from the comfort of your own home.
7. It's confidential.
Anything you say during online therapy is completely confidential. This means you can feel free to share anything you want without fear of judgment.
8. You can get started right away.
If you need help urgently, online therapy can be a great option. You can usually book an appointment within 24 hours, and get started with your therapy right away.
9. Greater insights
Because online therapy is conducted via text, email, or chat, you and your therapist can go back and read through your conversations. This can be helpful in seeing patterns in your thinking, and gaining greater insights into your condition.
10. Frankness
People often find it easier to be open and honest in online therapy than in face-to-face therapy. This is because they don't have to worry about being judged or misunderstood.
If you're considering online therapy, make sure to do your research and choose a reputable provider. With so many benefits, online therapy is worth considering if you're looking for convenient, affordable, and confidential mental health support.
Conclusion
While online therapy does have its advantages, it's not for everyone. If you feel like you need more support, or if you're in a crisis, please seek help from a qualified professional in your area. A qualified professional can provide you with the support you need to get through this difficult time. Be sure to reach out for help if you need it. Remember, you are not alone. These professionals should also be able to help you find resources in your area if online therapy is not right for you.
Author:
Aheesha Chopra is a certified Counselling Psychologist at Mantra Care who majorly deals with Depression and Anxiety. Skilled in Clinical Teaching, Online Therapy, Motivational Interviewing and Psychoeducation. Experience working with children, adolescents and adults from different cultural backgrounds. Apart from this, she is also a relationship coach who has been successfully handling relationship counselling cases with an experience of two years now.