List of Top 20 Richest Countries in Africa
Africa is the Second Largest and populous continent, the continent has many richest and Poorest countries, most of them are poorest in the world. The Continent has more than a billion people, many people depending on Agriculture and small industries. Africa remains the Undeveloped and poorest continent, only a few Countries have Good GDP, Equatorial Guinea is the Richest Country on GDP per Capital. South Africa, the country economically rich in Africa with more than $500 billion of Gross Domestic Value. African Countries have fair reserves of Cobalt, Platinum, Gold, Chromium, Tantalite, Manganese, Uranium and Diamond that makes its income fair.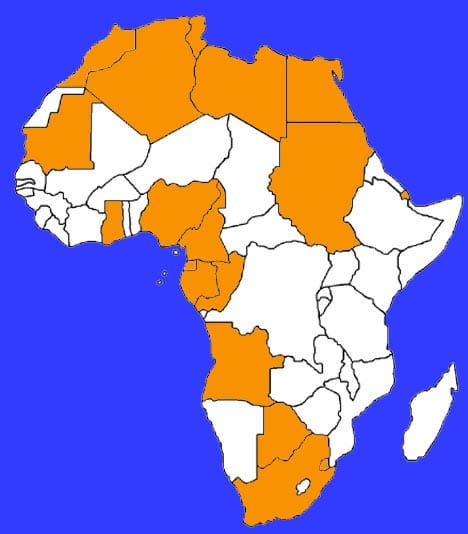 The Following List of 20 Richest Countries in the world analyzed on income per capita on total GDP of the countries.
| Rank | Countries | GDP(PPP) Per Capital | Total GDP of the Country | Year |
| --- | --- | --- | --- | --- |
| 1 | Equatorial Guinea | $36,515 | $26,147,000,000 | 2011 |
| 2 | Gabon | $15,960 | $24,571,000,000 | 2011 |
| 3 | Botswana | $14,753 | $29,707,000,000 | 2011 |
| 4 | Mauritius | $14,523 | $19,270,000,000 | 2011 |
| 5 | South Africa | $11,035 | $555,000,000,000 | 2011 |
| 6 | Libya | $10,129 | $66,941,000,000 | 2012 |
| 7 | Tunisia | $9,415 | $100,970,000,000 | 2011 |
| 8 | Algeria | $8,715 | $236,660,000,000 | 2011 |
| 9 | Namibia | $6,826 | $15,743,000,000 | 2011 |
| 10 | Egypt | $6,324 | $518,976,000,000 | 2011 |
| 11 | Swaziland | $6,099 | $6,233,000,000 | 2011 |
| 12 | Angola | $5,930 | $115,130,000,000 | 2011 |
| 13 | Morocco | $4,986 | $162,617,000,000 | 2011 |
| 14 | Congo, Republic of the | $4,429 | $18,250,000,000 | 2011 |
| 15 | Cape Verde | $4,123 | $2,052,000,000 | 2011 |
| 16 | Nigeria | $2,532 | $413,402,000,000 | 2011 |
| 17 | Cameroon | $2,383 | $47,251,000,000 | 2011 |
| 18 | Djibouti | $2,290 | $2,231,000,000 | 2011 |
| 19 | Sudan | $2,141 | $89,080,000,000 | 2011 |
| 20 | Ghana | $1,884 | $74,937,000,000 | 2011 |