Tamannaah is a well-known South Indian actress and model, and one of the prominent actresses in the Indian cinema business. In 2005, she made her debut in the Hindi film 'Chand Sa Roshan Chehra,' following which she starred in Telugu and Tamil films. Tamanna is regarded as one of South India's most prominent and successful actresses.
She appeared in a number of financially successful films, including Ayan (2009), Padikathavan (2009), Paiyaa (2010), Siruthai (2011), and Bahubali (2012). (2015). Tamanna made six films in 2011 alone and has a slew of forthcoming projects. Tamanna has appeared in over 30 films, including Telugu, Tamil, and a few Hindi films.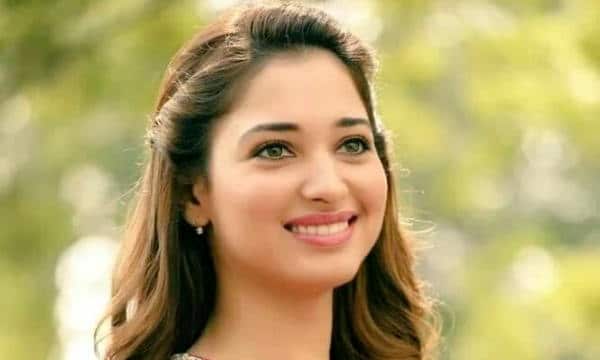 The list of Movies of Tamanna Bhatia appeared including Tamil, Telugu, and Hindi language.
| Year | Film | Role | Language |
| --- | --- | --- | --- |
| 2005 | Chand Sa Roshan Chehra | Jiya Oberoi | Hindi |
| 2005 | Sri | Sandhya | Telugu |
| 2006 | Kedi | Priyanka | Tamil |
| 2007 | Vyapari | Savithri | Tamil |
| 2007 | Happy Days | Madhu | Telugu |
| 2007 | Kalloori | Shobana | Tamil |
| 2008 | Kalidasu | Archana | Telugu |
| 2008 | Ninna Nedu Repu | | Telugu |
| 2008 | Netru Indru Naalai | | Tamil |
| 2008 | Ready | Swapna | Telugu |
| 2009 | Padikathavan | Gayathri Reddy | Tamil |
| 2009 | Konchem Ishtam Konchem Kashtam | Geeta Subramanyam | Telugu |
| 2009 | Ananda Thaandavam | Madhumitha | Tamil |
| 2009 | Ayan | Yamuna | Tamil |
| 2009 | Kanden Kadhalai | Anjali | Tamil |
| 2010 | Paiyaa | Charulatha | Tamil |
| 2010 | Sura | Poornima | Tamil |
| 2010 | Thillalangadi | Nisha | Tamil |
| 2011 | Siruthai | Swetha | Tamil |
| 2011 | Ko | Herself | Tamil |
| 2011 | 100% Love | Mahalakshmi | Telugu |
| 2011 | Badrinath | Alakananda | Telugu |
| 2011 | Venghai | Radhika | Tamil |
| 2011 | Oosaravelli | Niharika | Telugu |
| 2012 | Rachcha | Chaitra (Ammu) | Telugu |
| 2012 | Endhukante... Premanta! | Srinidhi/Sravanthi | Telugu |
| 2012 | Rebel | Revathi | Telugu |
| 2012 | Cameraman Ganga Tho Rambabu | Ganga | Telugu |
| 2013 | Tadakha | Pallavi | Telugu |
| 2013 | Himmatwala | Rekha | Hindi |
| 2014 | Veeram | Kopperum Devi | Tamil |
| 2014 | Humshakals | Shanaya | Hindi |
| 2014 | Alludu Seenu | Herself | Telugu |
| 2014 | Entertainment | Sakshi | Hindi |
| 2014 | Aagadu | Saroja | Telugu |
| 2015 | Nannbenda | Herself | Tamil |
| 2015 | Baahubali: The Beginning | Avanthika | Telugu, Tamil, Hindi |
| 2015 | Vasuvum Saravananum Onna Padichavanga | Aishwarya | Tamil |
| 2015 | Size Zero | Herself | Telugu |
| 2015 | Inji Iduppazhagi | Herself | Tamil |
| 2015 | Bengal Tiger | Meera | Telugu |
| 2016 | Speedunnodu | Herself | Telugu |
| 2016 | Oopiri | Keerthi | Telugu/Tamil |
| 2016 | Dharma Durai | Subhashini | Tamil |
| 2016 | Jaguar | Herself | Kannada/Telugu |
| 2016 | Devi | Devi / Ruby | Tamil/Telugu/Hindi |
| 2016 | Kaththi Sandai | Divya / Bhanu | Tamil |
| 2017 | Baahubali 2: The Conclusion | Avanthika | Telugu/Tamil |
| 2017 | Anbanavan Asaradhavan Adangadhavan | Ramya | Tamil |
| 2018 | Sketch | Amuthavalli | Tamil |
| 2018 | Naa Nuvve | Meera | Telugu |
| 2018 | Next Enti? | Tammy | Telugu |
| 2019 | F2: Fun and Frustration | Harika | Telugu |
| 2019 | Kanne Kalaimaane | Bharathi | Tamil |
| 2019 | Devi 2 | Devi | Tamil |
| 2019 | Khamoshi | Surbhi | Hindi |
| 2019 | Sye Raa Narasimha Reddy | Lakshmi | Telugu |
| 2019 | Petromax | Meera | Tamil |
| 2019 | Action | Diya | Tamil |
| 2021 | Seetimaarr | Jwala Reddy | Telugu |
| 2021 | Maestro | Simran | Telugu |
| 2022 | F3 | Harika | Telugu |
| 2022 | Babli Tanwar | Babli Tanwar | Hindi |
| 2022 | Plan A Plan B | Nirali Vora | Hindi |
| TBA | Gurthunda Seethakalam | | Telugu |
| TBA | Dileep 147 | | Malayalam |
Note: TBA="To Be Announced"