Kannada Actor – Sudeep Movies list
Sudeep is an actor for Indian cinema primarily works in the Kannada film industry and also appeared in in Telugu, Tamil and Hindi films. He is active since 1997 in the film industry. His complete name is Sudeep Sanjeev, born on 2 September 1973 in Shimoga district in Karnataka and presently residing in Bangalore in Karnataka.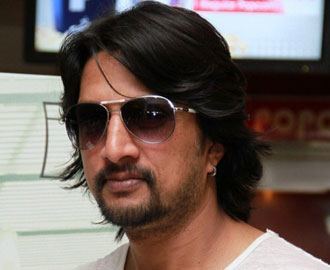 Occupation: Actor, producer, director, screenwriter, playback singer, television presenter.
| Year | Films | Language | Director |
| --- | --- | --- | --- |
| 1997 | Brahma | Kannada | – |
| 1997 | O Kusuma Baale | Kannada | – |
| 1997 | Thayavva | Kannada | V. Umakanth |
| 1999 | Prathyartha | Kannada | Sunil Kumar Desai |
| 2000 | Sparsha | Kannada | Sunil Kumar Desai |
| 2001 | Huchcha | Kannada | Om Prakash Rao |
| 2001 | Vaalee | Kannada | S. Mahendar |
| 2002 | Chandu | Kannada | P. A. Arun Prasad |
| 2002 | Thuntata | Kannada | Indrajit Lankesh |
| 2002 | Dhumm | Kannada | M. S. Ramesh |
| 2002 | Nandhi | Kannada | D. Rajendra Babu |
| 2003 | Kiccha | Kannada | P. A. Arun Prasad |
| 2003 | Partha | Kannada | Om Prakash Rao |
| 2003 | Swathi Muthu | Kannada | D. Rajendra Babu |
| 2004 | Ranga (S.S.L.C) | Kannada | Yogaraj Bhat |
| 2004 | Nalla | Kannada | V. Nagendra Prasad |
| 2005 | Maharaja | Kannada | Sai Prakash |
| 2005 | Kashi from Village | Kannada | Om Sai Prakash |
| 2005 | Gunna | Kannada | Dwarki |
| 2005 | Sye | Kannada | P. A. Arun Prasad |
| 2005 | Nammanna | Kannada | N. Shankar |
| 2006 | My Autograph | Kannada | Sudeep |
| 2006 | Thirupathi | Kannada | Shivamani |
| 2006 | Jackpot | Kannada | Niranjan |
| 2006 | Hubli | Kannada | Om Prakash Rao |
| 2006 | Care of Footpath | Kannada | Kishan Shrikanth |
| 2007 | No 73, Shanthi Nivasa | Kannada | Sudeep |
| 2007 | Maathaad Maathaadu Mallige | Kannada | Nagathihalli Chandrashekhar |
| 2008 | Gooli | Kannada | P. Satya |
| 2008 | Mussanjemaatu | Kannada | Mussanje Mahesh |
| 2008 | Kaamannana Makkalu | Kannada | Chi. Guru Dutt |
| 2008 | Phoonk | Hindi | Ram Gopal Varma |
| 2008 | Mast Maja Maadi | Kannada | R. Ananth Raju |
| 2009 | Meghave Meghave | Kannada | V. Nagendra Prasad |
| 2009 | Veera Madakari | Kannada | Sudeep |
| 2010 | Rann | Hindi | Ram Gopal Varma |
| 2010 | Just Maath Maathalli | Kannada | Sudeep |
| 2010 | Aithalakkadi | Kannada | J. G. Krishna |
| 2010 | Mr. Theertha | Kannada | Sadhu Kokila |
| 2010 | Phoonk 2 | Hindi | Milind Gadagkar |
| 2010 | Kiccha Huccha | Kannada | Chi. Guru Dutt |
| 2010 | Rakta Charitra 1 | Hindi | Ram Gopal Varma |
| 2010 | Veera Parampare | Kannada | S. Narayan |
| 2010 | Rakta Charitra 2 | Hindi | Ram Gopal Varma |
| 2010 | Raththa Sarithiram | Tamil | Ram Gopal Varma |
| 2011 | Kempe Gowda | Kannada | Sudeep |
| 2011 | Police Story 3 | Kannada | Multiple directors[a] |
| 2011 | Vishnuvardhana | Kannada | Pon Kumaran |
| 2012 | Katari Veera Surasundarangi | Kannada | Suresh Krissna |
| 2012 | Eega | Telugu | S. S. Rajamouli |
| 2012 | Sangolli Raayanna | Kannada | Naganna |
| 2013 | Varadhanayaka | Kannada | Ayyappa P. Sharma |
| 2013 | Bachchan | Kannada | Shashank |
| 2013 | Action 3D | Telugu | Anil Sunkara |
| 2013 | Shravani Subramanya | Kannada | Manju Swaraj |
| 2014 | Rangan Style | Kannada | Prashanth S. |
| 2014 | Maanikya | Kannada | Sudeep |
| 2014 | Aryan | Kannada | D. Rajendra Babu |
| 2014 | Haggada Kone | Kannada | Dayal Padmanabhan |
| 2015 | Ranna | Kannada | Nanda Kishore |
| 2015 | Baahubali: The Beginning | Telugu | S. S. Rajamouli |
| 2015 | Luv U Alia | Kannada | Indrajit Lankesh |
| 2015 | Puli | Tamil | Chimbu Deven |
| 2016 | Ricky | Kannada | Rishab Shetty |
| 2016 | Jai Maruthi 800 | Kannada | A. Harsha |
| 2016 | Chakravyuha | Kannada | M. Saravanan |
| 2016 | Apoorva | Kannada | V. Ravichandran |
| 2016 | Kotigobba 2 | Kannada | K. S. Ravikumar |
| 2016 | Mukunda Muraari | Kannada | Nanda Kishore |
| 2017 | Hebbuli | Kannada | S. Krishna |