The Hindi language also called as Hindustani language and is a major language of India. Over 25% of the population in India speaks in the Hindi Language. Hindi is one of the families of Indo-European languages. It is written in Devanagari Script. Hindi is the official language of India and majorly spoken in some countries listed below. Hindi is one of the widely spoken languages in the World. Around 258 million people in India reportedly speaking the Hindi language, most from north India.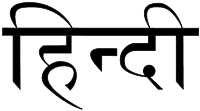 List of Major Hindi Speaking Countries
| Countries | Official language | Other languages | Major Ethnic Groups/Religion |
| --- | --- | --- | --- |
| India | Hindi, English | Assamese, Bengali, Bodo, Dogri, Gujarati, Hindi, Kannada, Kashmiri, Konkani, Maithili, Malayalam, Manipuri, Marathi, Nepali, Oriya, Punjabi, Sanskrit, Santali, Sindhi, Tamil, Telugu, Urdu | Hindu, Muslim, Christian, Sikism |
| Nepal | Nepali | Nepali, Maithili, Bhojpuri, Tharu, Tamang, Nepal Bhasa | Nepali, Nepalese, Gurkhas |
| Fiji | English, Fijian, Fiji Hindi | Nadroga | Melanesians, Polynesian, Indo-Fijians |
| Pakistan | English, Urdu | Punjabi, Sindhi, Pashto, Balochi, Saraiki, Hindko, Brahui | Punjabi, Pashtuns, Sindhis, Seraikis, Muhajirs, Balochs |
| Trinidad and Tobago | English | Spanish, French, Hindi, Bhoipuri | East Indian, Afro Trinbagonian |
| Bangladesh | Bangla (Bengali) | English, Indigenous minority languages | Bengali |
| Singapore | English, Malay | Tamil, Hindi, Mandarin | South Indians, Buddhistsm Taoists, Christian |
| South Africa | Afrikaans, English | Southern Ndebele, Northern Sotho, Southern Sotho, Swazi, Tsonga, Tswana, Venda, Xhosa, Zulu | Christians , Indians, Anglican, Dutch Reformed |
Millions of Hindi Spoken Indian migrants found in different countries including the USA, UK, and Gulf countries.