Bhavana Movies List – Malayalam Actress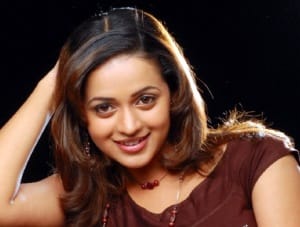 Bhavana is an Indian Film Actress, her birth name is Karthika Menon born in Thrissur in Kerala in 1986. She has appeared in over 45 films mainly in Malayalam Movies including Tamil, Telugu, and Kannada. She won many Awards for her Acting role. She debuted in the Malayalam film Nammal, which is her first movie at the age of 16, the film was huge success and gained many offers in Malayalam movies. She acted in Tamil Film in 2006, afterwards her career in film industry expanded to Tamil, Telugu and Kannada. She is acted first in Kannada movie with Punith Rajkumar in Jackie which was Big Box office Hit, and she earned good responses from Kannada film fans and one of the successful Actress in Kannada film Industry. She has many offers from Kannada, which is presently Filming. Bhavana is the successful Actress in South Indian film Industry.
List of Bhavana Movies including all language movies she acted.

| Year | Films | Role | Language | Notes |
| --- | --- | --- | --- | --- |
| 2002 | Nammal | Parimalam | Malayalam | Kerala State Film Special Jury Award,Asianet Award for Best Supporting Actress |
| 2003 | Chronic Bachelor | Sandhya | Malayalam | |
| 2003 | Thilakkam | Gauri | Malayalam | Special appearance |
| 2003 | C.I.D. Moosa | Meena | Malayalam | |
| 2003 | Swapnakoodu | Padma | Malayalam | |
| 2003 | Ivar | Nandhini | Malayalam | |
| 2003 | Valathottu Thirinjal Nalamathe Veedu | Sangeetha Varma | Malayalam | |
| 2004 | Parayam | Sudha | Malayalam | |
| 2004 | Chathikkatha Chanthu | Indira | Malayalam | |
| 2004 | Runway | Item number | Malayalam | Cameo appearance |
| 2004 | Youth Festival | Parvathy | Malayalam | |
| 2004 | Amrutham | Mridula | Malayalam | |
| 2005 | Bunglavil Outha | | Malayalam | |
| 2005 | Udayananu Tharam | Gayathri | Malayalam | Guest appearance |
| 2005 | Hridayathil Sookshikkan | Amritha | Malayalam | |
| 2005 | Police | Sethulakshmi | Malayalam | |
| 2005 | Daivanamathil | Sameera | Malayalam | Kerala State Film Award for Second Best Actress, Asianet Award for Best Supporting Actress |
| 2005 | Chanthupottu | Rose | Malayalam | |
| 2005 | Naran | Leela | Malayalam | |
| 2005 | Bus Conductor | Sugandhi | Malayalam | |
| 2006 | Chithiram Pesuthadi | Charumathi (Charu) | Tamil | Filmfare Best Tamil Actress Award |
| 2006 | Chinthamani Kolacase | Chinthamani Warrier | Malayalam | |
| 2006 | Kisan | | Malayalam | |
| 2006 | Chess | Dr. Radhika | Malayalam | |
| 2006 | Kizhakku Kadalkarai Salai | Priya | Tamil | |
| 2006 | Veyil | Meenakshi | Tamil | |
| 2007 | Deepavali | Susi | Tamil | Nominated—Vijay Award for Best Actress |
| 2007 | Koodal Nagar | Manimekalai | Tamil | |
| 2007 | Chotta Mumbai | 'Parakkum' Latha | Malayalam | |
| 2007 | Arya | Deepika | Tamil | |
| 2007 | Rameswaram | Vasanthi | Tamil | |
| 2008 | Vaazhthugal | Kayalvizhi Thirunavukkarasu | Tamil | |
| 2008 | Ontari | Bujji | Telugu | |
| 2008 | Mulla | Mentally challenged girl | Malayalam | Special appearance |
| 2008 | Jayamkondaan | Annapurani | Tamil | |
| 2008 | Hero | Krishnaveni | Telugu | |
| 2008 | Twenty:20 | Ashwathy Nambiar | Malayalam | |
| 2008 | LollyPop | Rosebella | Malayalam | |
| 2009 | Sagar alias Jacky Reloaded | Aarathi Menon | Malayalam | |
| 2009 | Winter | Shyama Ramdas | Malayalam | |
| 2009 | Robin Hood | Rupa | Malayalam | |
| 2009 | Mahatma | Krishnaveni | Telugu | |
| 2010 | Happy Husbands | Krishnendu Mukundhan | Malayalam | |
| 2010 | Asal | Sulabha Pillai | Tamil | |
| 2010 | Jackie | Lakshmi | Kannada | |
| 2010 | Marykkundoru Kunjaadu | Mary Ittichan | Malayalam | |
| 2011 | Kudumbasree Travels | Aswathy | Malayalam | |
| 2011 | The Metro | Anupama | Malayalam | |
| 2011 | Doctor Love | Abin | Malayalam | |
| 2011 | Only Vishnuvardhana | Bharathi | Kannada | |
| 2011 | Oru Marubhoomikkadha | Eliana | Malayalam | |
| 2012 | Nippu | Vaishnavi | Telugu | Cameo appearance |
| 2012 | Romeo | Shruti | Kannada | |
| 2012 | Ozhimuri | Balamani | Malayalam | |
| 2012 | Trivandrum Lodge | Malavika | Malayalam | Cameo appearance |
| 2012 | Topiwala | | Kannada | Filming |
| 2012 | Bachchan | | Kannada | Filming |
| 2012 | Yaare Koogadali | | Kannada | Filming |
| 2013 | Honey Bee | | Malayalam | Pre-production |
| 2013 | Left Right Left | | Malayalam | Pre-production |