Bangalore is a commercial hub city in India with Information technology and Technology, and even Tourism, hundreds of Multinational companies located in the city, indeed many people's want to relax at least once a week or month, they will choose clubs and pubs to hang out with friends or business partners. Bangalore has hundreds of standard Clubs and Pubs, but Top must be there on services and facilities, the below Top Pubs and Bars in Bangalore are rated by many notable Website visitors on Services, Taste of Foods, Facility, Hospitality, and interior of the Space.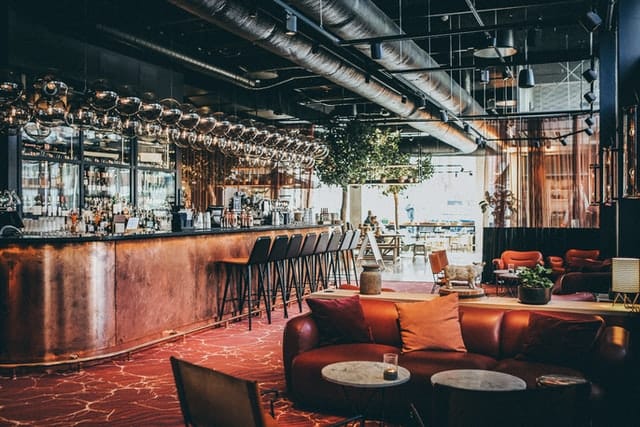 Olive Beach
Comfort. Delight. Inspiration. Our extensive variety of beverages extends something for everyone.
Address: 16, Wood Street, Ashok Nagar, Bangalore, Karnataka, 560025
Nearest Landmark Brigade Towers, Chisel
Phone: 080 4112 8400, 9945565483
Hours: 12.00 – 15.00 hrs, Evening Snacks: 15.00 – 19.00 hrs, Dinner: 19.00 – 11.30 hrs
Email: [email protected]
Seating Capacity: 110
13th Floor
A fantastic alignment of bar snacks, appetizers, and a great choice of dinner platters means you don't have to crawl out to the next dive for that top-it-up meal.
Address: Hotel Ivory Tower, Penthouse, Barton Centre, 84, MG Road, Bangalore – 560 001.
Nearest Landmark Brigade Towers, Chisel
Phone: 4178 3355 / 3356
Hours: Open 7 pm to 11:30 pm
Tavern At The Inn
Tavern at the Inn is an English Pub with a spacious and gracious ambiance that will transport you back to the Victorian Era.
Address: BJN Hotels Ltd., 1, Museum Road, Off M.G. Road, Bangalore – 560 001.
Nearest Landmark Brigade Towers, Chisel
Phone: 080 4111 3335 (Working hours), 080 4111 3333 (Non-working hours).
Manchester United Restaurant Bar
Located at the center of busy commercial area and ideal for have a party and relax with the silent atmosphere.
Address: Thavarekere Main Rd, Opp Forum Mall/ Prestige Acropolis Apartments, on the way to Christ College, Sadduguntepalya, Bangalore
Landmark: Opposite Forum Mall
Phone: 080 6451 6268, 6579 7777
Hours: 7 Days 12:00 PM to 11:30 PM
Purple Haze
Best place for hangout, Cheaper compare to other bars and pubs, A/C rooms, its truly awesome place to have a party with friends.
Address: 2nd Floor, Opp. Prestige Towers, Residency Road, Bangalore
Phone: (91) 080 – 22213758
Hours: 11:00 PM to 11:00 AM
Web: http://www.purplehaze.co.in
Bflat Bar and Dining
Address: 100 Feet Road, Above ING Bank, HAL 2nd Stage, Indiranagar , Bangalore
Phone: (080) 25278361
Timings: 6:30 PM to 11:30 PM
Features: Large Group Friendly, Notable Beer List, Wheelchair Access
Ambiance: Bar Scene, Candle Light, Open Air, Roof-Top
Payment Methods: Visa, Amex, Master, Cash
Food Type: Continental, Awadhi, Bengali, Indian, North Indian, Chinese
Aromas Of China
This is a Chinese Restaurant with Pub and Club, which offers tasty Chinese Dishes and Drinks. Address: 19, Shivshankar Plaza, Richmond Circle, Richmond Road,  Richmond Town, Bangalore
Phone: +91 080 41113355
Lunch: 12 noon to 3:30 pm
Dinner: 7 pm to 11.30 pm
Timings: 12:00 PM to 11:30 PM
Web:www.bjngroup.in/restaurants/aromas-of-china.html
Geoffrey's
Address: Hotel Royal Orchid, Airport Road, Bangalore
Phone: (080) 25205566
Fax : +91 80 2520 3366
Email: [email protected]
Timings: 12:00 PM to Midnight
Payment Methods: Visa, Amex, Master, Cash, Credit Card Accepted
Food Type: Continental, Indian
Meal Type: Lunch, Dinner
Facilities: Air Conditioned, Valet Parking, Serves Alcohol, Serves Food, Complimentary Bar, Bar Area, Live Music, DJ, Large Screen
Web:http://www.royalorchidhotels.com/
T.G.I.F(Thank God It's Friday)
Opened in 1996 in India, it has branches abroad, one of the best places for
party with your friends and close one, serves 70 of the best cocktails from around the world
Address: Bannerghatta Road, Royal Meenakshi Mall, 4th floor, Hulimavu, Bannerghatta Road, Bengaluru – 560 076
Tel: +91 -80-67080290
Email: [email protected]
Menu: Ultimates, Vodka, Tequila, Beer, Gin – Whiskey, Margaritas, Shots, Whiskey, Mojitos, Coffee, Pitchers, Wines, Rum, Top sellers, Martinis, Mocktails
Opus In The Creek
Address: No. 2, Doddanekkundi Industrial Area, Mahadevapura, Brookefields Main Road, Off ITPL Road,  Whitefield, Bangalore
Phone:  40943031, 9900002882 , 9844030198
Timings: 12:00 PM to 11:30 PM
Food Type: Multi-cuisine, Goan, Indian, Indian coastal, Tandoori, Desserts, Thai, Kebabs, Dosa
Ambiance: Bar Seating, Candle Light, Open Air, Outdoor Dining, Roof-Top
Music type: Retro, Dance, Hip Hop, Progressive, Trance, House, Rock-n-Roll
Fill n' Chill
Address: 107/2, 80 Feet Road, 4th Block, Koramangala, Bangalore
Phone: 41105142, 9686264502
Timings: 11:00 AM to 11:30 PM
Food Type: Coastal, North Indian, Tandoori, Chinese
Payment Methods: Visa, Amex, Master, Cash
Meal Type: Brunch, Lunch, Thaali, Dinner
Ambiance: Bar Scene, Bar Seating, Open Air
Samarkand
Address: Gem Plaza, 66,  Infantry Road, BangalorePhone: 41113364
Timings: 12:00 PM to 3:30 PM, 7:00 PM to 11:30 PM
Features: Large Group-Friendly, Notable Beer List, Notable Wine List
Ambiance: Fine Dining, Theme based
Payment Methods: Visa, Amex, Master, Cash
Food Type: northwest Frontier