Kilimanjaro, the 5895-meter high mountain in Tanzania, is Africa's highest peak and the world's tallest freestanding mountain. Climbing Kilimanjaro is a formidable endeavour that is achievable for an ardent walker or adventurous traveller seeking something new. You can climb or hike Kilimanjaro from the African plains through alpine meadows, grasslands, moorlands, and tropical rainforests to ice in a few days.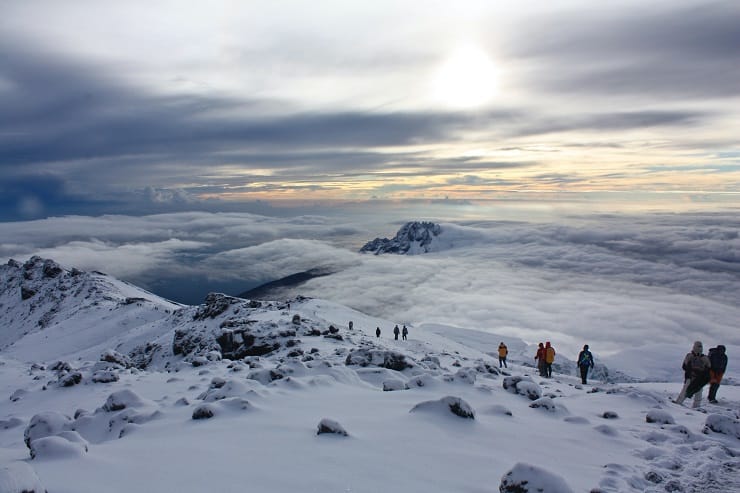 Hans Meyer, a European, was the first to reach the top of Kilimanjaro in 1889, and this led to several people taking an interest in climbing Mount Kilimanjaro. Famously called the "Roof of Africa", Mount Kilimanjaro draws lots of trekkers from all over the world who are looking for an adventure.
Location of Kilimanjaro on Map:
If you want to climb a mountain to experience different ecosystems and climates, from the dry alpine zone and rainforest region to the Arctic zone. Here is a travel guide to Mount Kilimanjaro, giving all the necessary information, including the best time to hike, what to carry with you, and ideal routes that help maintain your fitness.
You can reach the Kilimanjaro International Airport (JRO) by flying Kenya Airways from Dubai, Abu Dhabi, Muscat, Riyadh, and Dammam in the Middle East. With a leading travel website, you can search and do Kenya Airways online booking of the Business Class flight to Kilimanjaro. You can experience top-notch amenities and individualised service suited to your preferences.
Though Kenya Airways offers direct flights from some major cities to the Kilimanjaro Airport, there are chances that you may have to connect it via Arusha or Nairobi. You have to reach the base camps in Moshi or Arusha, which are about 50 km away from the Kilimanjaro Airport, to join the trekkers or climbers.
What Is the Ideal Time to Climb the Mountain?
The most ideal time in a year to climb Mount Kilimanjaro is generally between January and March and June and October. If you are one of those travellers who love snow, opt for January to March, which is the perfect time to trek on Mount Kilimanjaro because it is considerably colder, increasing the likelihood of seeing snow at the top.
Nonetheless, the busiest season is from July to October, for it falls during the summer solstice in Europe. The time coincides with Kilimanjaro's summer season and therefore, the chance of snowfall at the top is comparatively less. Being a peak season, you will find most of the trekking routes cramped during this time of the year.
What Should You Have to Climb Kilimanjaro?
Don't let the fact that Kilimanjaro is a "mountain you can walk up" mislead you into believing it is simple. You can find several trekking firms offering gear to climbers in case you need it, but as usual, dependable personal gear is invaluable. You require:
Hiking trousers and clothing, which dry quickly. For trekking on the first few days and the last few days, you will find zip-off trousers ideal.
A quality hydration sack and waterproof backpack, which is large enough to carry your clothes, food, headlamp, and camera.
If you go hiking in the drier seasons, you still need windproof or waterproof clothing as the temperature might drop very quickly.
You may need the fleece and down jackets essentially when the temperature drops. You may overlook these necessities while perspiring at the foot of a mountain in a tropical nation. When at the top of the mountain, you will experience a temperature as low as -30 degrees Celsius.
You should carry thermal clothing for hiking on chilly nights and some days. You also require gloves, sunscreen, sunglasses, and a beanie.
Don't forget to carry a medical kit and basic toiletries.
Some Popular Routes for Trekking 
There are numerous trekking routes available for reaching the summit of Kilimanjaro. You will come across each with a unique topography, degree of difficulty, and comfort level.
Marangu Route
The Kilimanjaro trek's oldest and most established route is Marangu. Climbers preferred this route before the discovery of the Machame route. The simple trekking trail of this route has made it popular as the "Coca-Cola Route".
Machame Route
The Machame path, called the "Whisky Route," is regarded as the best and most popular way to climb Kilimanjaro due to its difficult ascent. The mountain's southern slope is home to different flora and fauna, and its trail has awe-inspiring natural bounties.
Lemosho Route
The Lemosho Route, which requires seven or eight days, is longer and arguably more picturesque. While providing plenty of time for acclimatisation, it also presents some unusual difficulties, such as climbing the Barranco Wall. While trekking, you will come across stunning views and thick woods on the Shira Plateau.
Rongai Route
The Rongai Route, which takes seven days to complete, ascends Kilimanjaro from the other side, opposite the other routes, making it an excellent option if this is your second time climbing the mountain or you wish to venture off the usual path. The ideal means of travelling to Kilimanjaro is by flying. You can make Kenya Airways online booking in advance for the best deals and discounts for flights flying to Kilimanjaro directly or to Kenya, Nairobi, or Dar es Salaam for a connecting flight.