A Utility program identifies, removes, and repairs corrupted entries, also does including Frees up disk space, improves performance, deletes cookies, cache, and history of Browser and PC. The program runs on Windows, is free for download.
As a review from the user is working well on Windows PC, easy to use, detects automatically. Some official sources rated top Free PC Cleanup Utility at 2012. The Comodo Group developed and maintains this program along with many products which focus on the Safety of the PC. The Utility earned an average of 4.5 stars from notable magazines.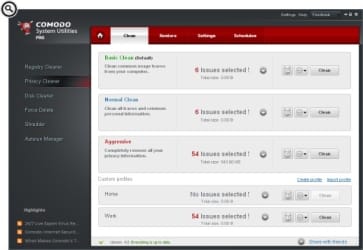 System Requirements: Windows XP/Vista/7/8 32 or 64 bits, 32 MB Ram and 20 MB Disk Space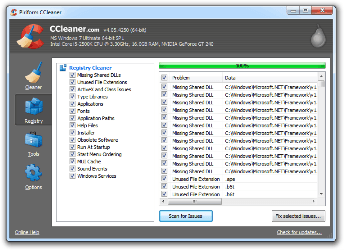 This is the utility program for PCs, used to remove potentially unwanted files and invalid Windows registry entries from a computer. It was developed by Piriform. This software cleans up every unwanted entry from your computer for better performance support on Windows OS and Mac OS, and is available in 47 languages.
CCleaner cleans temporary and unwanted files from programs including Internet Explorer, Firefox, Google Chrome, Opera, Safari, Windows Media Player, eMule, Google Toolbar, Netscape, Microsoft Office, Nero, Adobe Acrobat, McAfee, Adobe Flash Player, Sun Java, WinRAR, WinAce, WinZip, GIMP, and other entries including other applications along with browsing history, cookies, recycle bin, memory dumps, file fragments, log files, system caches, application data, and autocomplete form history. I have used this once and it is really better in performance.

Download CCleaner 4.05.4250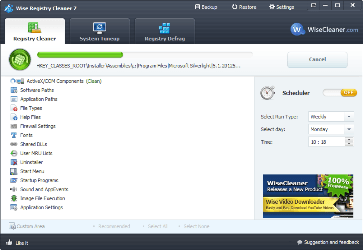 This Registry Cleaner competes with top-rated registry tools, and some ratings give it top positions in PC cleaning tools. The tools help identify and repair the problems found in the Windows registry to perform faster. Windows registry junk is common and needs to be removed often.
The tools help to remove it easily without any loss of data. The tool received many awards from companies, including PC Magazine, Snap Files, and PC Advisor. Wise Cleaner also provides a wide range of products for protecting PCs. The cleaner also provides an advanced cleaner under the name of "Ultimate," which has an option to clean deep in the system.

Download Wise Registry Cleaner
Another well-rated free cleaner developed by Bluespring has the option to customize for easy use the functions, including RAM Clean, Uninstaller, Registry Defrag, Internet Booster, System Restore, and Clean Cookies, Surfing History, Recycle Bin, and able to erase more application activity histories. This tool can be used in many languages and platforms.
Features: One Click Clean and Tun-Up, Light Easy-to-use, and Reliable Improve PC Performance, More Stable Windows System, less Crash, Faster PC Startup and Program Launch.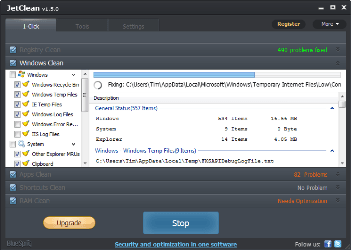 Supported platform: Microsoft Windows 8, Windows 7, Vista, XP, and 2000, including both 32-bit and 64-bit versions.

Download Jetclean
Auslogics Cleans up obsolete records and fixes corrupt references in your Windows registry. It finds system errors and random program failures caused by the Windows registry containing obsolete or corrupt records. The tool runs the PC more stable and smoothly. There are many tools from Auslogics for higher performance, scanning your computer, and giving you a complete report to remove unwanted files to free space.
This tool works well on Windows with 32 bit (Vista, XP) and 64 bits (Win 7, Win 8), which needs 10 MB available hard disk space and 32 MB RAM. It currently has 4.8 MB of file size to download.

Download Auslogics Registry Cleaner
Free registry cleaning software, will safely clean and fix Windows registry issues, remove common junk files, unwanted registry, temporary files, and corrupted entries, and prevent Windows crashes and error messages. it provides a detailed report of running programs and processes and is configured with 22 types of file extensions to find and remove unwanted entries. The size of the file to download is just 2.76 MB presently.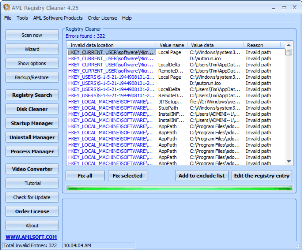 Operating System Supported: Windows XP/2003/Vista/Windows7/Windows8 (32 and 64 bit)

Download AML Free Registry Cleaner
The free and easy-to-use tool to clean your system, scan, finds and removes junk and unwanted data. The common job is that it flags temp files, history files, and internet logs and lets you decide whether to remove them or not. The performance of the PCs was best in a review of users, so they are listed in the top 10. The tools awarded by PC Mag and cnet in the year 2012
Main features: Cleaner, Optimizer, Uninstaller, Hijack Log, Windows Tools, Duplicate Finder, Shredder, Disk Wiper, Intelligent Defrag.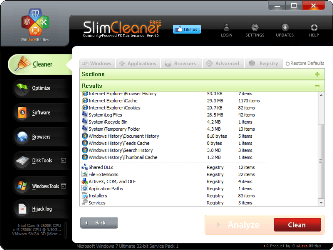 Operating Systems: Windows XP, Windows Vista, Windows 7, Windows 8

Download SlimCleaner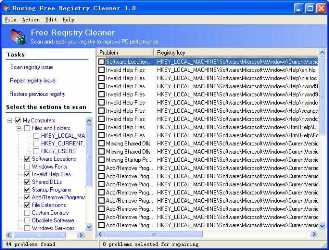 As a simple registry cleaner that allows you to find and safely clean the junk and registry problems, the tool has many features, such as: safely scanning the registry for unwanted data, automatic backup, making your computer stable and faster. 
The Registry Cleaner will clean up your Registry by finding missing Shared Dllsm, Unused File Extensions, Invalid ActiveX, Invalid Help Files, Invalid Paths, Sound and App Events, Obsolete Start Menu Order, Invalid Fonts, Invalid application paths, Invalid startup programs, Invalid custom controls, Missing Shortcut Reference, Obsolete Software Key, Invalid Installer reference, Missing File and Folder, Empty registry keys and more. Eusing received many awards, including from Softpedia, Brothersoft, PC World, and Blue Soft.

Download Eusing Free Registry Cleaner
You can scan your registry and root out problems with this tool for free. Usually, the registry contains lots of unwanted data due to a large number of install and uninstall processes. You need to optimize that with a registry cleaner, TweakNow can do that easily with some steps. The tools commonly do the job as other registry software does. This is a free tool and is supported in all Windows OS after Windows XP.

Download TweakNow RegCleaner